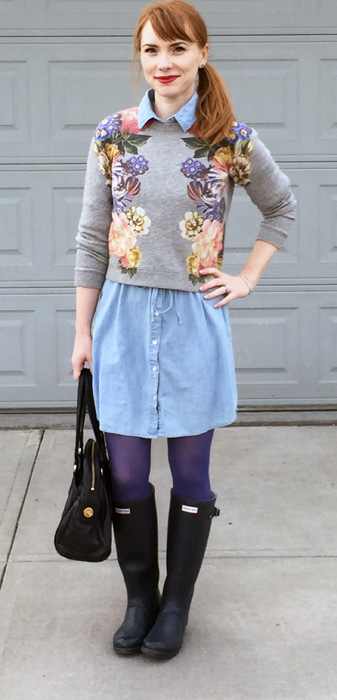 A couple of days ago we had Ugly Chic, and now we have Toddler Chic. Up to about the knees, this is a regular sort of outfit; from the knees down, this is pure Teddy: brightly coloured tights and (non-matching) rubber boots. It's what happens when the weather can't decide what season it wants to be, and I get tired of wearing jeggings to the grocery store.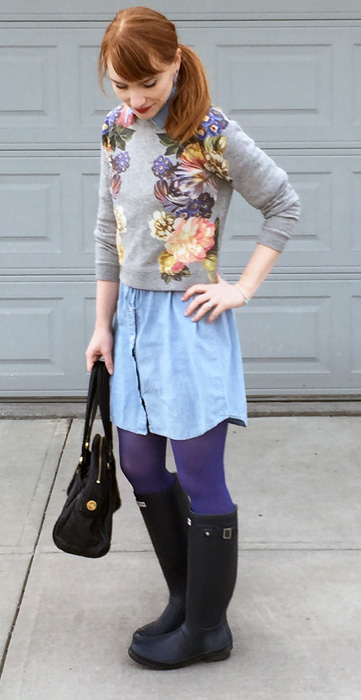 So, this is a cute combo except that the chambray dress has really bunchy sleeves, and I haven't yet found the solution to avoiding the "mutton arms" look. Part of me wants to cut off the sleeves to help the layerability (not a word, don't care) factor, but the other part questions whether that might be a cut-your-nose-to-spite-your-face situation. We usually look for sleeves in dresses, no? For what it's worth, roll-tab sleeves are the worst of the lot, so if any sleeves deserve the chop, it's these ones. Still, the weather being its unpredictable self in Edmonton, who knows when a sleeve – any sleeve – will come in (wait for it) handy.
Har har.
My puns are worse than a toddler's, that's for sure.