A few of you have asked me about my make-up routine, and you know how literal I am. So. Here is a post that you may or may not have actually wanted. We could call this Make-up For Dummies, because that reflects my skills pretty accurately. On the upside, though you may learn nothing new in terms of application techniques, I hope you might at least find some new products to try. One side-effect of my make-up non-prowess, combined with my general lack of time and innate laziness, has been the whittling down of my daily routine to the basics – and to products that have earned my (undying?) loyalty. Let's begin, shall we?
First, please excuse this terrible shot of my make-up products. What you see is what I use.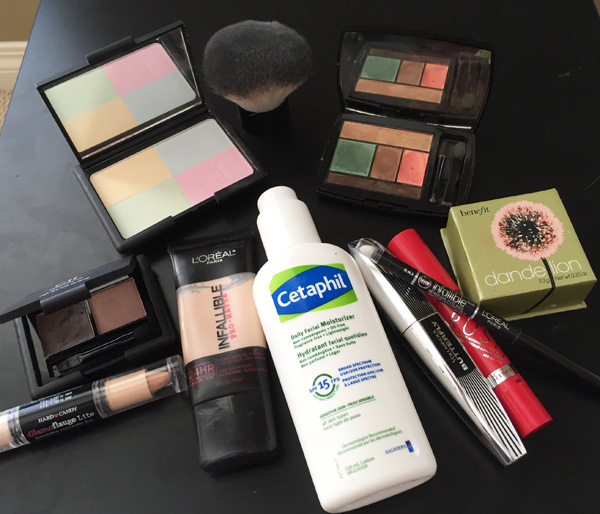 My everyday/morning make-up routine takes about 10 minutes. Maybe less. I haven't actually timed it. It takes about a third of a Backyardigans show, for reference. I don't wash my face in the morning, but I will run some toner over my face if it's looking greasy (almost never happens, as I tend to have dry skin). I mix my Cetaphil moisturizer with the L'Oreal Infallible Pro-Matte foundation, which … yes, sort of defeats the purpose of the whole matte thing. I found the foundation too cake-y on its own, so I like to "thin" it out with moisturizer. I used to do the same with the L'Oreal Youth Code BB cream I wore last summer – in that case, because the lightest BB colour was still too dark for me. #PastyGirlProblems
I used to use Bare Minerals powder foundation, until they stopped selling it at Shoppers Drugmart. (I prefer not to step foot into Sephora because #DangerWillRobinson) Since then, and as I get older, I find that I prefer liquid foundations again as I did in my early twenties. L'Oreal makes the best drugstore kind, in my opinion. I've also used the Visible Lift liquid foundation, the True Match foundation, and will probably try the Lumi as well. I honestly can't tell the difference between them in terms of formula, but admittedly I am not very observant when it comes to the minutiae of skincare. They all cover nicely without making me look like a clown. In the interests of full disclosure, I should also say that I do not have problem skin – no acne, no scarring, just the occasional blemish (in which case, I use the Hard Candy Glamouflage stick concealer – it's THE best and super cheap). So my foundation needs are pretty basic. Moving on.
I "put on" my eyebrows using the e.l.f. brow duo (medium brown). I have eyebrows, you just can't see them in their natural state. I really like this product, especially considering it's $5. I use the cream colour first (it has pretty good staying power) then "seal" it with the powder. Oh, I apply the cream colour with the little brush that comes with the compact, but use a MAC angled brush for the powder.
Next, I apply a light shadow to my eye lid (not pictured, but it's from a Lancome gift-with-purchase mini compact). It's a flat colour, about a shade brighter than my actual skin tone. I have deep(ish) set eyes, and I find this helps … um, bring them out or something. Don't ask me, I told you I don't know anything about make-up. I then apply a crease colour with my fingers (I apply almost all of my make-up with my fingers, actually, because apparently I am a toddler), and it's usually either the camel-gold or the peach colour in the Lancome compact in the pic above. If I'm feeling adventurous, I'll use plum, or mocha, or sometimes even green. #Whoa #LivingOnTheEdge #JK
Next, I put on the L'Oreal Infallible eyeliner, and thank God that's one of the few skills I did sort of master. I've used other eyeliners in the past, but I like this one for a number of reasons. The black is black enough (I hate eyeliners that don't have enough pigmentation), it has decent staying power, I don't have to sharpen it, and it's fairly affordable. Also, crayon type eyeliners are easier to put on than liquid ones. I'll take convenience over precision 7 days out of 7.
Mascara time. This, I feel very passionate about. I take my mascara seriously, as you guys know. The best mascara I have tried to date is the L'Oreal Butterfly one. I just need two coats, and I have all the volume and definition I could possibly want. (And I want a lot, because Tammy Faye Bakker was my spirit animal.) Again, full disclosure: I have fairly long (though invisible) lashes that curl on their own, so my mascara needs are pretty specific – I just want something that makes them visible. I have never had issues with the Butterfly mascara flaking off, but it's also pretty easy to take off at night, which is a bonus.
After the eyes are done, it's time for some setting powder. I use the e.l.f. tone-correcting powder for this (another $5 wonder). I'm not sure it does any tone-correcting, but it's a good colour match if you're translucent like me – it mattifies without making my make-up look cakey, or my skin orange. If you're not quite as pasty, this is probably going to be too light/white for you. Last, I apply some blush. I'm currently using the Benefit Dandelion compact, which I don't think is technically called a blush, except that it's totally a blush. It's good. I think I will go back to Coralista once this pallet is done. Benefit blushes are the best. I only use powders because I find any cream or gel just sort of slip and slide around my face. #AintGotNobodyTimeForThat
Last but not least, I pick one of my many Rimmel Color Rush crayons, which are the best things ever, the end. You've heard that tune before.
And at the end of all that, I end up looking like this: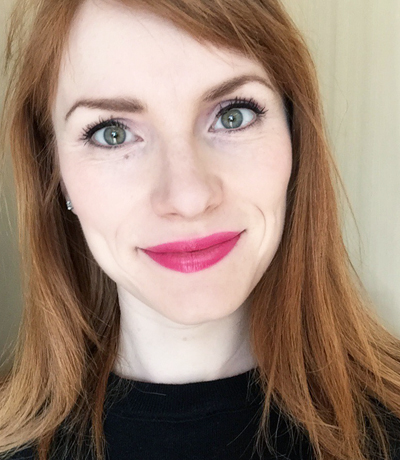 And there you have it, folks. My everyday make-up routine in way too many words. If you've got questions, you know the comment drill 🙂