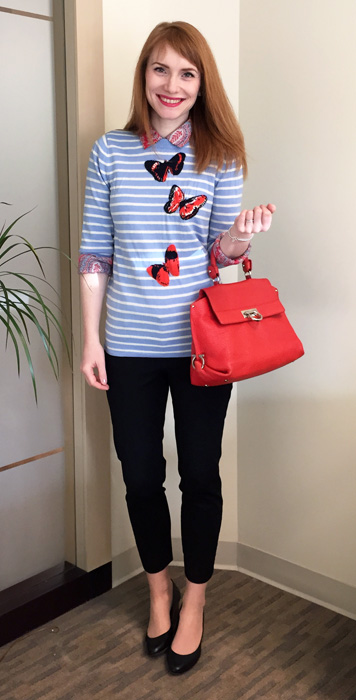 This is definitely on the casual side of "business casual" but it's sufficiently professional to pass muster in my office. Although it's a fine line, I think this falls on the professional side by virtue of being simple: just a shirt, sweater, and pants. Yes, the sweater is whimsical; but keeping the outfit uncluttered (and accessory free) makes it seem a little less "full-time blogger dressing for an imaginary office" and more "full-time actual office dweller". Ahem.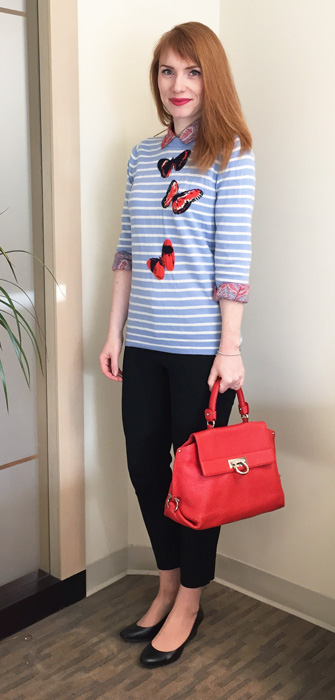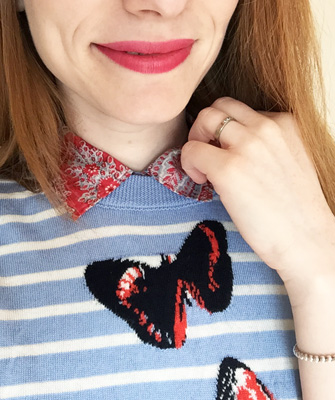 Ok, here's something you probably don't know about me (unless you're my mom, and you're not my mom, because my mom doesn't do the internet): when I was about 11, I went through an intense butterfly-collecting phase one summer. By "collecting", I mean mostly chasing, because my "net" was an old tennis racquet and, well, you can imagine my rate of success. Mostly, I keep trying to get these little guys:
Pic
Anyway, to this day I have an obsession with butterfly prints, even though collections or actual butterflies kinda creepy me out.