As promised, here is my review of the Gucci Britt tote, which I recently purchased from My Favourite Aunt's, a local consignment store.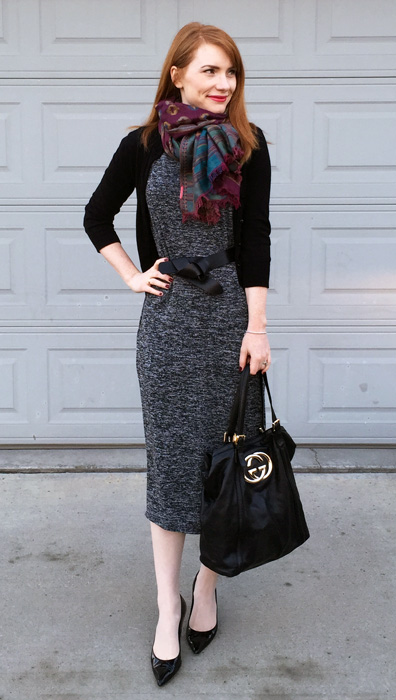 First, a bit of background. I've never really been interested in Gucci bags before, with the exception of the reissue bamboo handle ones. I especially dislike the interlocking Gs canvas print (i.e. the Gucci equivalent of the LV monogram). So it was interesting when a similar Britt tote (the "dialux" version, I believe) turned up on the IG account of a re-seller I follow, and my first reaction was "ooh, I kinda like that hardware". I know, it's big and in-your-face but … I still kinda like it. The bag on IG was too expensive for what was essentially a whim, so I forgot about it.
And then!
I popped into MFA one day and there was the almost exact same bag – except in a larger size, and for a cheaper price. (That, by the way, is one of the reasons that MFA is one of my fave consignment stores – not just in Edmonton, but anywhere. In addition to mid-range brands like J. Crew and Anthro, they get the occasional top end designer stuff, and it's always very reasonably priced.) I hemmed and hawed – more on that later – but ultimately bought it; at $200 for a pristine looking leather bag of generous proportions, it was just too good a deal to pass up for a bag addict like me. So how does it stack up?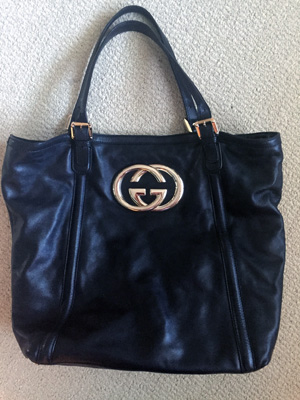 It's amazing!
Let's start with looks. Obviously, this is very subjective, so take this as my 2 cents. Other than the hardware – which, as I've already said, I like despite its in-your-faceness – the bag is very plain and classic. If you turn it around, so people can't see the logo, no one would necessarily recognize it for OMGdesigner. It has nice lines, and it's right on the border between structured tote and slouchy hobo bag. The lining is an added nice touch – it's a beautiful striped fabric. Looks-wise, I'd give it an 8.5/10.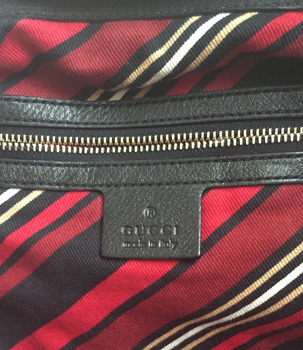 The Britt really shines when it comes to functionality. If you love big bags, and don't need very rigidly structured ones, this one's for you. It has a LOT of room. There are no inside dividers, so it's a bit of a "black hole", but you would have no problem fitting a laptop in there. (The bag might get very heavy, though, and the straps would probably start to hurt.) It has the usual complement of small inner pockets, though. The straps are adjustable, and fit comfortably on the shoulder. If you don't weigh down the bag with rocks, they don't cut into you. There are feet on the bottom of the bag, which is always handy.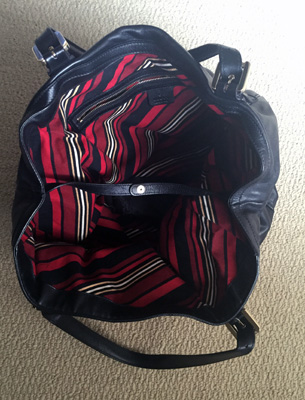 The only downside is that there is no zipper closure. The Britt is basically a clone of the LV Neverfull but slouchier because of the leather. This isn't something that bothers me too much (I often leave my bags unzipped for easier access) but YMMV. For function, I give the Britt a 9/10.
As far as quality goes, it's early days yet. However, the leather is soft and lovely to the touch. There are no scuffs, even in the spots that typically get the most wear (bottom corners, etc.), and no discolouration of the leather. This is no small feat since this is likely a 2007 bag – 8 years old. (Its former owner either didn't use it much, or babied it a lot.) As I mentioned, the fabric lining is delightful. I would give it a 9/10 (so far).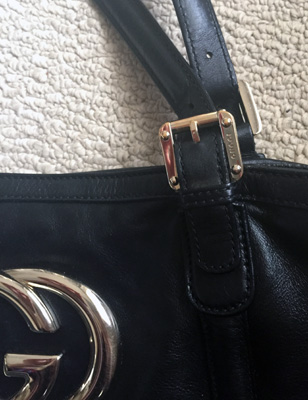 [Edited to add: after about a week, I eventually noticed that the handles do show a little bit of cracking in the leather on the edges. Not very noticeable – obviously – but it's there, so in the interests of full disclosure, I thought I'd mention it. Also, the gold of the hardware has either faded or rubbed off, so it almost looks silver in some lights. For an 8 year old bag, I still think it's pretty darn impressive.]
For the price I paid for it, the Britt was a great deal (it originally retailed for around US$1800). I can see it becoming one of my everyday go-to bags. But it has created a bit of a dilemma for me. See, I already had 4 black bags, and now have 5 … which is at least one black bag too many. Two of them are special occasion bags, and I don't mind holding on to them for reasons other than practicality. I love the Longchamp bag I recently thrifted as a "smaller black bag" option (especially for weekends), which leaves my MbMJ Aidan bag – a perfectly lovely bag, still in excellent condition. It's not as roomy as the Britt, and for that reason, it's less useful in my day-to-day life. Still, I'm loath to sell it, and take the risk that I'll end up with seller's regret, which has happened before. I also know I probably won't use it often in the foreseeable future. Then again, it's not exactly costing me much in terms of closet space. See what I mean? Wardrobe dilemma!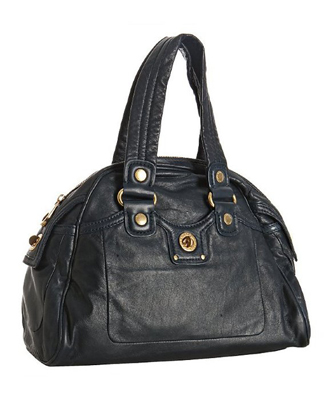 Should it stay or should it go?