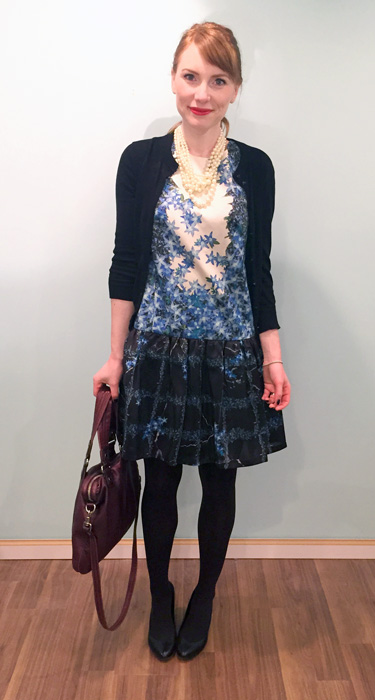 Have you guys seen Crimson Peak? I loved it. I loved Guillermo del Toro's vision (and the inspiration behind it) and the gothic campy-ness of it all. I also loved that it's a movie with two strong female characters at the heart of it; the boys are just window dressing. It's neither a horror movie, nor a romantic movie, so keep that in mind if you're deciding whether to see it. Which you should.
The film's only weakness, in my opinion, was the predictability of the central plot twist; I kept waiting to have the rug pulled out from under my expectations, and that never happened. It was still a really, really fun movie … and it gave me an idea for how to tweak a story I've been toying with for years – plot for my next book, I think. Sigh. Too bad I'm still toiling away on the first, which may never be finished at the rate I'm going.
Anyway, this is what I wore to the office the day I went to see CP, after work, with a colleague. Not a patch on the phenomenal costumes in the movie but … a little bit gothic, a little bit romantic.