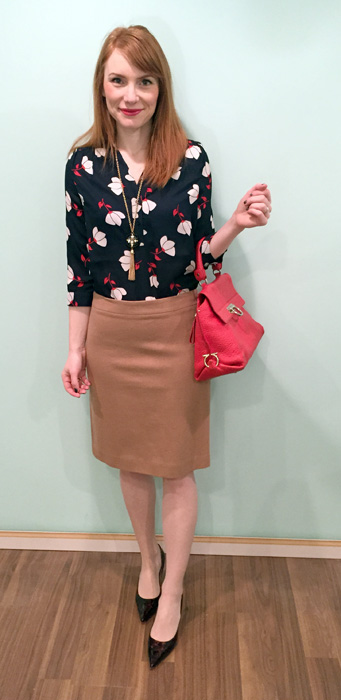 I could have SWORN this skirt was a size 6, J. Crew No. 2 pencil skirt when I bought it, new with tags, at consignment. Well, it turns out that it's a size 4, J. Crew Factory skirt. What the hell, Adina?
The quality difference is not super noticeable (at least, not yet), but the size is. I mentioned before that I'm in between sizes at J. Crew at the moment, and this confirms the benefit of sizing up. The waist of this skirt fits well (better than the 6, sitting at my natural waist) but the hips are another story. I hate the wrinkling happening here, although it probably looks worse in the photos than it did in real life.
Skirt issues aside, I really quite liked the outfit, and it was nice to pair this Simons top with something other than navy, red or white. I always forget that camel is a neutral too. That shouldn't be the case, given that I wear my camel coat almost every day, with every single thing imaginable. Camel for the win!