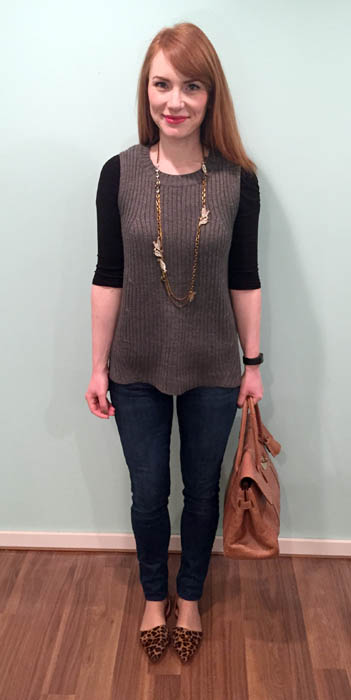 I rarely wear outfits made out of head-to-toe new pieces, but this one came close. I finally found a new pair of jeans! And they're Joe's jeans, a brand I've heard other bloggers rave about; I got this pair for about $40 at Red Pony (a local consignment store). They're about 3 inches too long, but that should be an easy fix –otherwise, I can see why this is a popular brand. They fit nicely, and make my butt look good. Sorry, no pictures.
The sweater is also new — an impulse buy from Joe Fresh. I guess I have a thing for vaguely fisherman-y knits. I love the heathered grey colour and the hi-lo hem, and was intrigued by the sleeveless aspect. I think there are a lot of layering options to explore with this piece, but I kept it safe this time with a black top. Wah wah.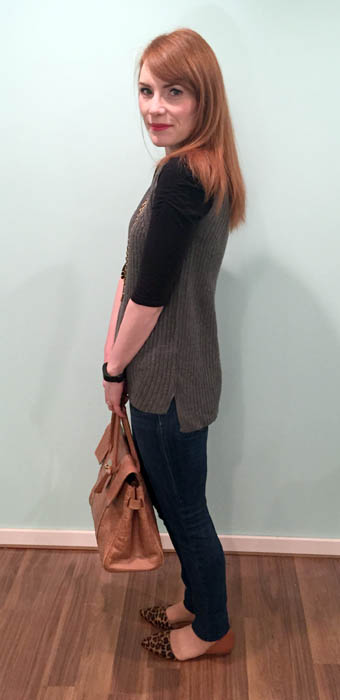 Holt's jewelry clearance section strikes again. I finally got my hands on a Lulu Frost necklace — hurray! Of course, I messed up and totally didn't get a good shot of it. Oops! I'm sure that will be rectified in no time … I have a feeling I'll be wearing this piece quite a bit.