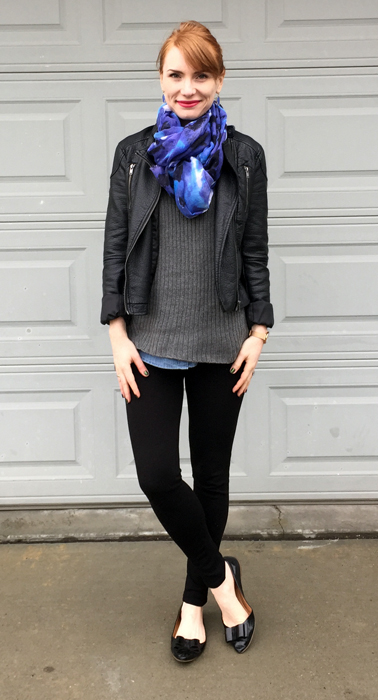 I loved this outfit so much, you guys, I wore it twice. That rarely happens; when you have as many clothes as I do, constant remixing is a major guilt-minimizing strategy. ("Why yes, I DO have a lot of clothes, but see how many ways I can wear everything?" Ahem.) There is some thing about the black-grey-blue combo that's just so … pleasing to my eye. That's the best way I can put it. It's almost soothing. Strange and random, but true.
Even though, looking back at these photos, the combo of skinny black jeggings and leather jacket reads a little Sandy-post-makeover. Oh well.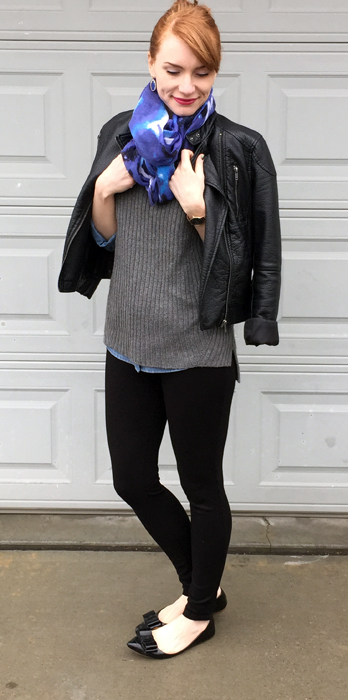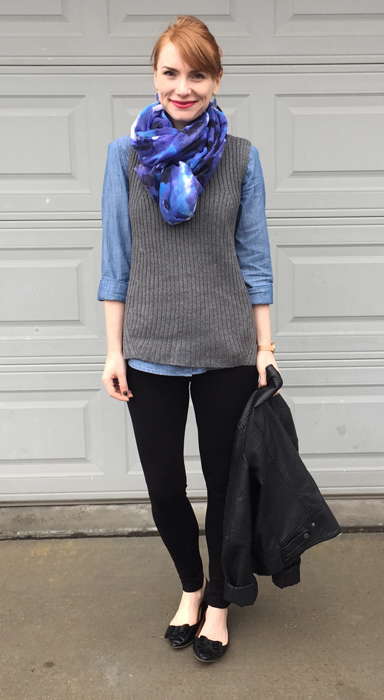 Lots of thrift pieces are in the mix here. The (faux) leather jacket you've seen before, and it's turned into a weekend staple for me; I've already worn it 12 times since buying it last month. The jeggings are Joe's Jeans, and hella comfortable. The sweater was a retail purchase from Joe Fresh, and I'm still digging its slightly rugged vibe. Because it's sleeveless, it's a great layering piece for the colder weather we've been having lately. The newest piece is this scarf I thrifted for $5. The brand is 14th & Union, which appears to be sold at Nordstrom. I could tell it was decent quality just from the hand feel (so, so soft) and the watercolour-esque floral print was just too lovely to pass up. No such thing as too many scarves, right?