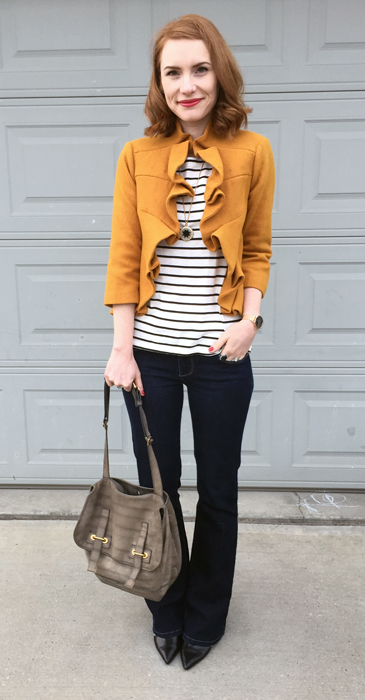 When it comes to clothes, I don't have many regrets — and I've lived through some really questionable moments in fashion. Probably my biggest regret is selling my purple YSL Besace satchel a few years ago. It taught me an important lesson: when it comes to special pieces, don't rush to purge — even if you think you're sure you won't come to love it or use it again. After I sold my Besace, I started to fall back in love with its aesthetic. (To add insult to injury, I got hosed selling it on Kijiji, which is another lesson entirely.) I have been stalking eBay for over a year now, waiting to find another Besace within my price range. The purple has eluded me, but I was finally able to snag a great deal on this lovely grey version.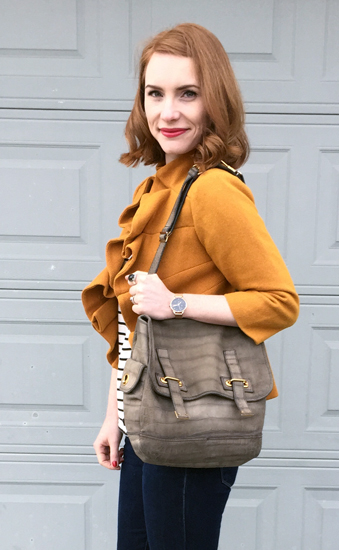 The other special piece I was recently "reunited" with, thanks to eBay, is this mustard yellow Tabitha wool jacket. Years and years ago, I fell in love with it in the Anthropologie store, but it was too expensive for my then-budget; I waited and waited for it to go on sale, and was, unfortunately, only ever able to find the grey version in my size. I bought it, somewhat reluctantly, but never truly got into it until last year — thank goodness I never managed to sell it in the interim as I had planned. Seeing how versatile and lovely the grey version turned out to be, it got me thinking about the yellow again. Yup, I now have two identical jackets — save for the colour — and I couldn't be happier about it.
The rest of the outfit … well, it's there. You can't go wrong with stripes, and I'm glad I finally found a striped top that satisfies my finicky specifications. This one was a cheapie from J. Crew Factory. My flared jeans are thrifted Paige, and I have to say that the cut is growing on me, although I wish the rise was a little bit higher. Still, no major complaints — this was definitely an easy-peasy casual Friday outfit that made me happy.