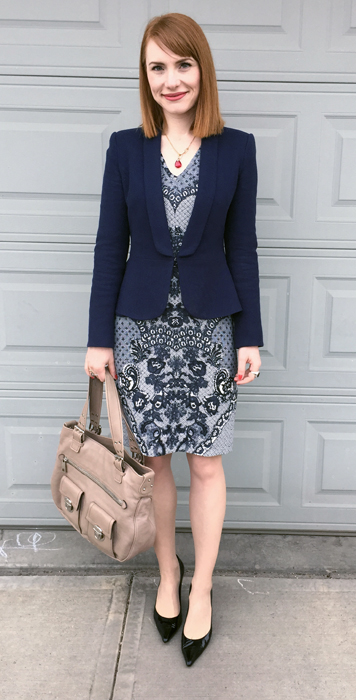 Before you go and get any ideas, the risk I'm talking about here has to do with thrifting clothes that require substantial alterations. I'll come back to that in a minute. First, let's talk about the outfit in general terms. I wore this for a client conference, where I had to make a presentation, take part in a networking lunch, and then host a client reception. It was a long, exhausting day, and I had to look good for all of it — professional and polished but not boring.
I think this outfit hit all the marks. It has a classic, elegant silhouette, an appropriate neckline and hem length, and a lovely print for some visual interest. The shoes are the most comfortable pair of heels I own, perfect for hours of standing around. The bag is big — the better to carry my huge conference binder and other materials — and not too fancy; I need to be able to toss it around without worrying about it. All together, my standard professional conference package.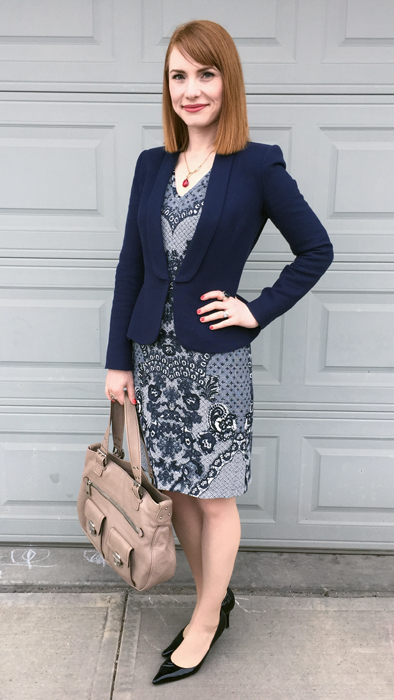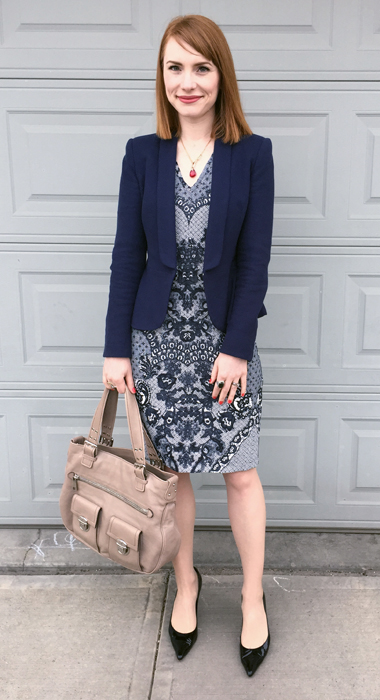 Ok, let's go back to the risky bit. As I mentioned earlier in the week, I thrifted this Yoana Baraschi dress for $11 because I loved how it looked. Only one small problem: it was a size 14. I am not a size 14. I knew it would take a significant amount of alterations to make it fit. Normally, I don't advocate buying clothes that need a ton of tailoring (or, ideally, any at all). But I figured it was … wait for it … worth the risk in this case because the price was so low; even with a substantial amount set aside for alterations, it was still cheaper than buying it on eBay, for example. So I took the plunge.
Luckily, I had just gotten a recommendation for a new tailor, who turned out to be fantastic. For $50, she slimmed down the sides of the dress, as well as the back, and took up the sleeves at the shoulder. The dress fits like a glove, you guys! It is basically a new, made-to-measure dress now, and I couldn't be happier. I know $50 is quite a bit, but for the amount of work involved and the result, I think it was money well spent.