More, more, more. That's my motto when it comes to thrifting, apparently. If you follow my IG, you're not surprised. It's the thrill of the treasure hunt that gets me every time. Following a bunch of expert thrifters on social media doesn't help; seeing their awesome finds makes me all the more excited to go out there and thrift to my heart's content. That's what social media is for, right: encouraging questionable decision-making? #kidding #notkiddding
Let's see what the thrift had in store for me most recently: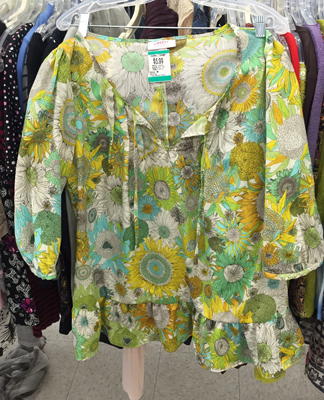 I love Liberty prints, but some of them aren't particularly wearable — not for my current lifestyle anyway. This was a pass for me.
I'm honestly a bit sad I passed on this jacket. The sleeves were faux leather, and it's a style I've actually thought about trying before. I ended up passing because I don't really have much need for casual jacket options, and the price on this one seemed a bit steep at the time. With a 30% off coupon, it would have been around $10 and … actually, what was I thinking? I probably should have bought it. Oh well.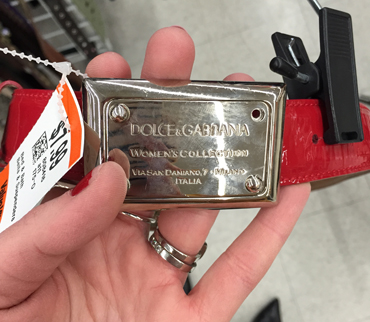 It's too bad about the hideous buckle, because this was a nice red leather belt otherwise.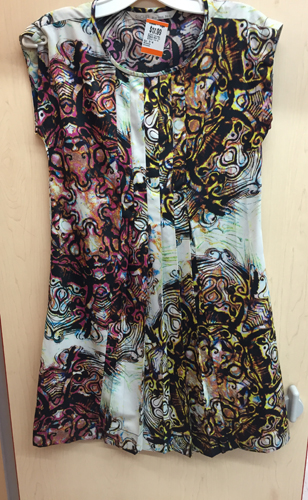 Passed on this RR dress. Every time I hear that name now, I just think of Becky With The Good Hair. Or, if I'm lucky, Bucky With The Good Hair. #TeamWinterSoldier4Evah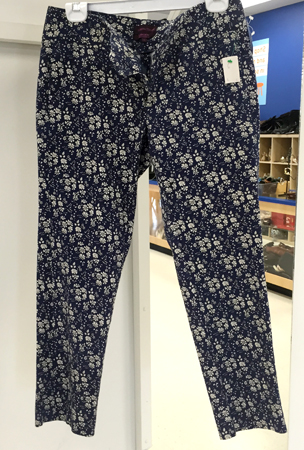 I almost got these; the fit was great and see above re my love of Liberty prints. I didn't because I've accumulated quite a lot of pants recently, and I rarely wear pants to begin with; a floral pair simply wasn't going to get enough wear.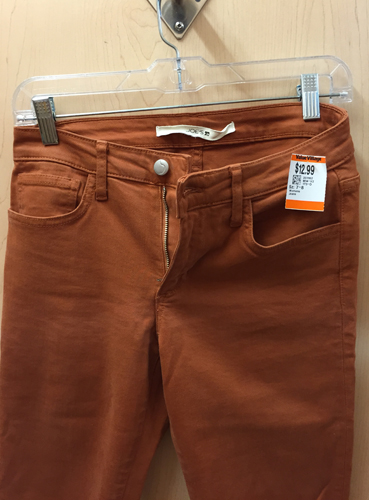 Value Village has wised up to designer denim. Thirteen dollars for a pair of jeans? No, thank you.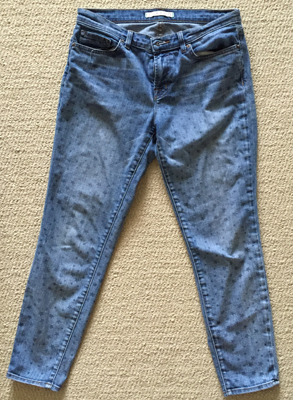 On the other hand, I'll take $3 J Brand capris, even if they have a ridiculous star print on them. I cannot believe these originally retailed for over $300. Too ridiculous!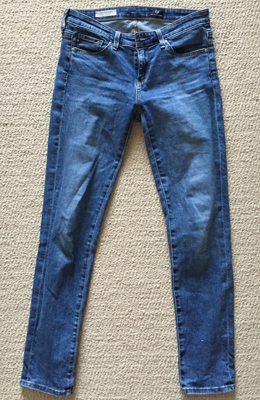 AG Stevies for under $5? YES, PLEASE. These looked small, but I tried them on anyway because … Stevies, duh. Surprisingly, they fit. What can I say, they are beyond stretchy. At home, I washed them and then accidentally put them through the dryer. Ugh. They came out looking like, frankly, kid's pants. And still — somehow, miraculously — they fit. Definitely not work-appropriate skinny jeans, but perfect for weekends. They are unbelievably soft.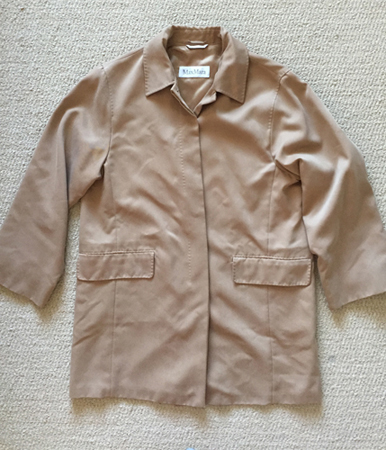 I found this trench before the Burberry, and bought it as an interim replacement while my trench search continued. It's too large for me, however, so I'm definitely passing it on now. The material is very soft and luxe-feeling. I hope one of my friends is looking for a trench …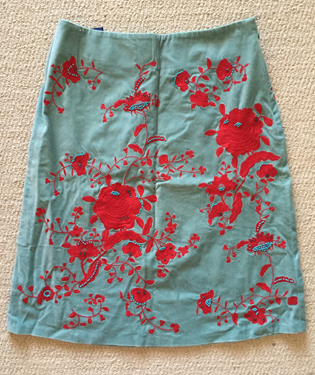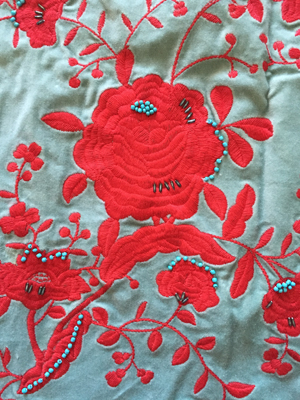 This Boden skirt was too pretty to pass up, even though it was also too big for me … so I bought it for my mom. She loves it.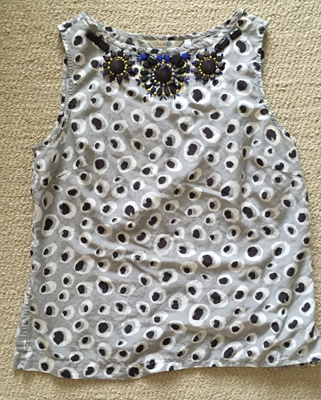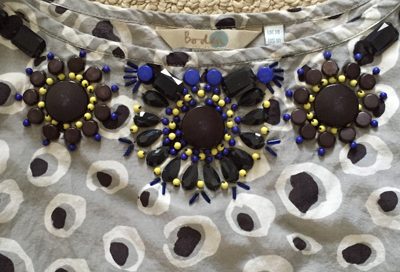 Ditto with this Boden top. I'm glad to see more Boden pieces making their way into our local thrift stores.
Loved the colours of this Anthro blouse — so much so that I bought it at "full", undiscounted VV price.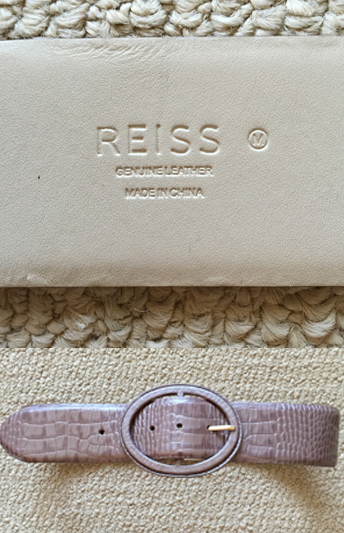 I'd loved to find an actual Reiss piece one of these days, but I'm happy with this belt in the meantime.
DVF for under $5? No brainer. I love the feel of the bamboo lining — it's incredibly soft. Would love to find some pyjamas made out of bamboo, but it's probably an expensive material. (Yes? No? Anyone know?)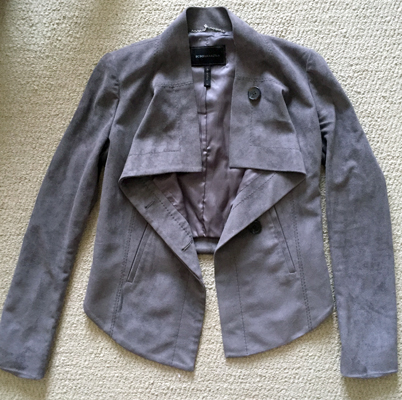 I'm pretty sure I remember this jacket when it was in stores. Love the draping, the soft faux suede, and the lovely dove grey colour. Impulse buy, but no regrets about this one.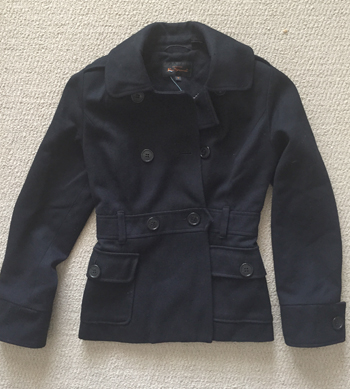 A black peacoat that fits like a dream? Sign me up! My coat game will be stronger than ever come fall. I'm pumped.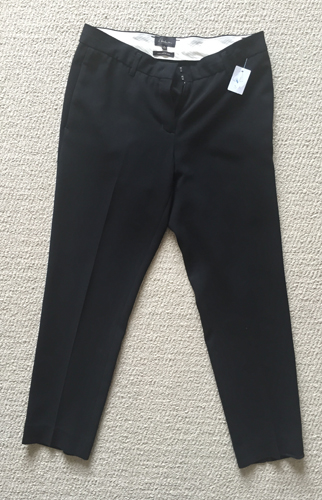 Black, cropped trouser-style pants that fit great? Even though I don't love wearing pants, I had to get these.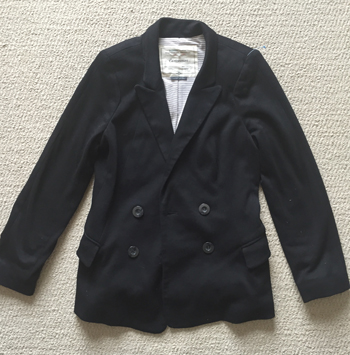 Another black blazer, you say? Well, yes, I do have a few already. But! This one is a thick knit, with a nice lining, so it will be a nice, cozy option come fall. Also, it's double-breasted and a bit of a loose fit, so it's a different style than my other black blazers. Makes ALL the difference, I tell you!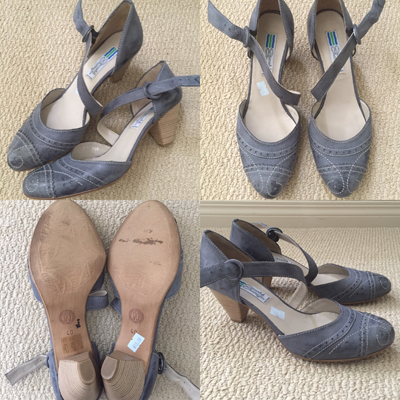 Impulse buy because they were brand new and handmade (according to the label). Arnold Churgin is a well-known shoe store in Calgary, or at least it used to be. (C-town peeps, is it still around?) In addition to selling designer brands, Churgin also made its own shoes, and I believe the quality was supposed to be quite good. I may not end up keeping these, because the style is not quite up my street, but we'll see.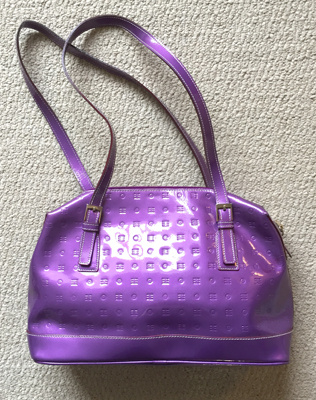 Talked about this bag already. Love, love, love. Needed a bit of TLC, but I did manage to get the worst schmutz off with some rubbing alcohol.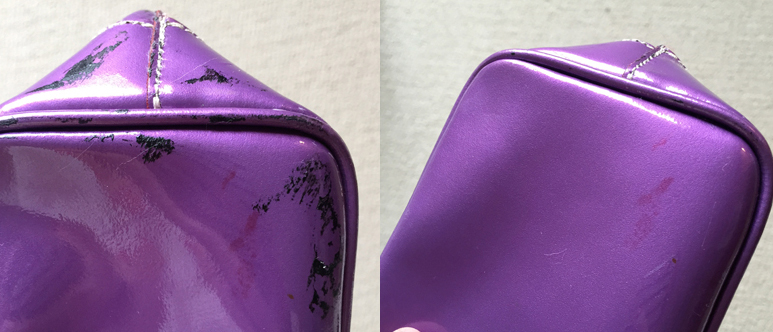 Always be careful when cleaning a patent leather bag with rubbing alcohol or acetone. Test a small patch to make sure the leather is not affected; I've never had issues, but better safe than sorry. There was nothing to be done in this case about the colour transfer and small pen mark; both had sunk below the patent coating, making removal impossible. I understand that it can be possible to remove both provided you do it promptly, before they settle. Just a PSA.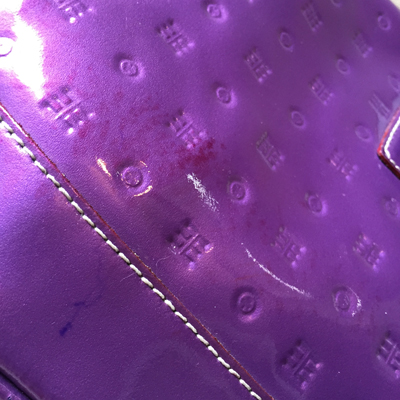 Still, the worst of the colour transfer is not particularly visible. Here's the "bad" side of the bag: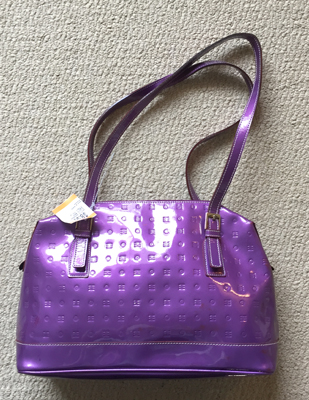 Not so bad, really.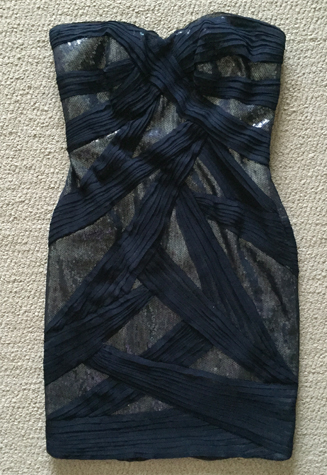 Last but not least, I found this sparkly Tadashi Shoji mini dress which I simply HAD to buy, even though I have no idea where I'll wear it. All I know is that WHEN I do, I'll be able to pretend I'm a Hollywood starlet. #priceless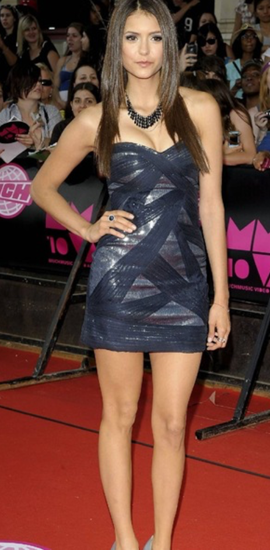 Have you been thrifting lately? Hit me with your finds in the comments.