I'll be the first to admit that I've been very lucky in my thrifting. I've scored some amazing designer pieces for next to nothing, and I'd be hard pressed to pick favourites. There aren't many things that still make me go "ooh" when I discover them on the racks of my local thrift stores; I've stopped being surprised at the things that people donate — because I've seen pretty much every major label you can imagine. There are, of course, a few exceptions. Some, you might say, unicorns. Hermes, Chanel, Dior — that sort of thing. In those cases, the best a thrifter can usually hope for is finding vintage pieces, and even those are truly rare.
I have a shortlist of "unicorns" that I would love to find, but near the top of the list are a few practical ones. For example, Manolo Blahnik Campari pumps. Saw a pair at Nordstrom last year and fell in love, but at $500 (on sale) it wasn't a love destined for a happy ending. My black Stuart Weitzman pumps are reaching the end of their useful life, and I would like to replace them with another pair of pointy toe pumps … like the Campari. No luck so far, sadly. Another practical thing I need is a trench. I've been looking for one for at least 3 years, and have never found one I liked at an affordable price point. I mean, a girl can only dream about Burberry, right?
Well …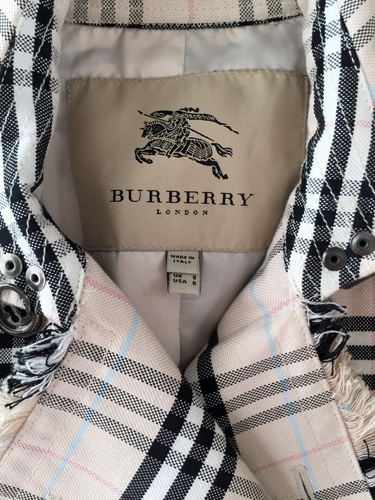 … it turns out that a girl can do more than dream, sometimes. To my utter and complete disbelief, I found this like-new Burberry trench at a local Goodwill. I don't know the name of the style, but it looks like a contemporary one. All the hardware is in pristine condition, which leads me to believe it isn't more than 5 years old (or was never worn). There isn't a single flaw I could detect in this darn coat. And it cost me all of $8.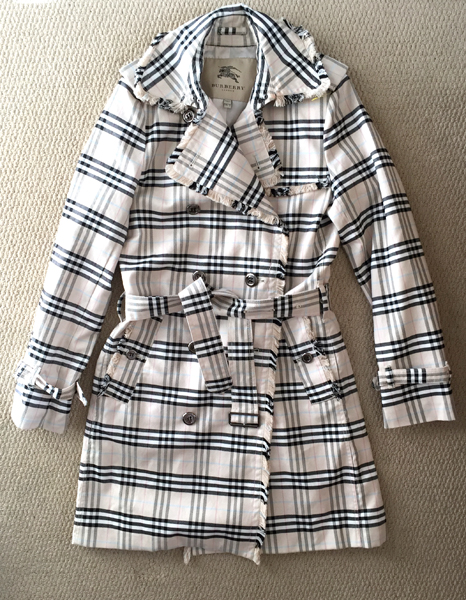 It's such an unlikely, unbelievably lucky score, I can't help but laugh every time I think about it. If only I was this lucky at playing the lottery, I could have been a multi-millionaire by now. On the plus side, who needs the lottery to look like a million bucks when you have a good thrift scene at your disposal?
Tell me: what was the biggest unicorn you have ever captured in the (thrifting) wild? What's the biggest one you'd like to find?