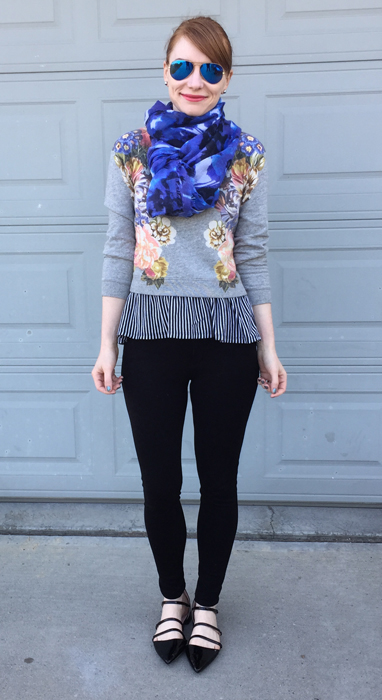 Grechen recently posted her answers to five style-related questions, and a few others bloggers (including the lovely Nicole) followed suit, and since I found their posts very interesting, I decided to do the same. Bandwagon jumping at its finest, you might say. Feel free to play along at home.
Q1: What if you had to choose ONE brand (money no object) to buy clothes from, what would it be?
This question is very difficult for me because my style is not fully encapsulated by any one single brand's aesthetic. For example, if my closet was 100% Anthropologie, it would probably not fully reflect my workwear needs. On the other hand, more office-wear oriented brands — from J. Crew on up through the designer stratosphere — would not necessarily reflect my more whimsical side. Last time I was at Holt's, I fell in love with quite a few of the pieces from the Boss collection, but I still wouldn't commit to (happily) only wearing that brand forever and ever, amen.
If we change the question slightly, I can answer more readily. If money was no object, I would happily SHOP at Nordstrom exclusively. All day, every day. They carry such a wide selection of brands, plus their customer service is fantastic. Since money IS a relevant consideration in my life, if I had to pick one store at which to shop (exclusively) for the rest of my life, it would probably be my local Goodwill. What can I say, the thrift habit is hard to break.
Q2: What's one thing you've purged from your wardrobe you wish you had now?
This one is super easy: my purple YSL Besace messenger bag. If the eBay gods smile on me, it will be mine again at some point.
Q3: What's something you're hanging on to, but sort of wish you had the courage to let go of?
Oof. There are quite a few things in this category. A lot of them are things that are too big for me at my current size, but which I am reluctant to purge either because (a) they are dressy clothes which I did not get to wear a lot beforehand, or (b) they are office staples which I might need to re-buy if I gain weight in the future (think pants and blazers). In the first case, the stumbling block is guilt. I'm having a hard time letting go of that, for sure. In the second case, I'm trying to be practical. I figure that if my weight doesn't change for another year or two, then I might safely let those things go. Until then, they're just insurance.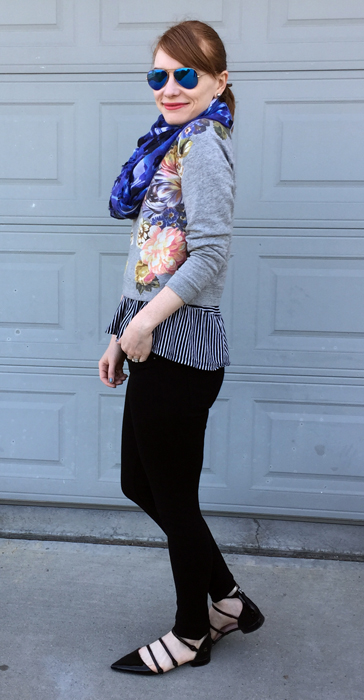 Q4: If you had to choose 5-10 things from your wardrobe (including bags and shoes) to keep and you had to get rid of everything else, what would you keep?
If this question is intended to get me to commit to a wardobe of 15 pieces max, my answer is: hahahahaha! I'm not even going to attempt to answer that. Honestly, given my lifestyle (and geographical location), 15 pieces is simply not reasonable, especially if shoes and bags (and coats!) were included.
However, if the question is "what 15 pieces of your current wardrobe would you keep if you were forced to start over" (i.e. you could buy new clothes to supplement), that I can answer. I would pick the things that I adore AND that I would have a hard time replacing for the same price I paid originally. So:
Clothes (9): MaxMara camel coat; Burberry trench; Phillip Lim navy dress; Moschino floral print dress; J. Crew Factory tweed blazer (only one has ever fit me so well, and I don't fancy taking my chance with eBay on finding it again); Anthropologie/Moulinette Soeurs poppy print skirt; Ferragamo red Flavia pumps; Manolo Blahnik white pumps.
Bags (6): Louis Vuitton Alma; Louis Vuitton Dentelle Speedy; YSL Muse II; YSL Besace (grey); Mulberry Bayswater; Mulberry Audrina; Ferragamo Sofia.
Picking which bags to keep was hard, you guys. I love all my bags, and they tend to be the items on which I spend the most money, so this was a question of which ones (a) I would absolutely want to replace and (b) would be the most expensive to replace. (I probably would not replace my vintage Chanel bag, in case you were wondering.)
As much as it may seem that I didn't really answer (the spirit of) this question, I will say that it has inspired me to consider a new approach to purging. Instead of asking the KonMari question of "does this spark joy" (my joy-meter might be broken, to be honest, because everyDAMNthing in my closet registers some sort of spark), I am going to ask myself "would I replace this if I had to re-buy it at prevailing eBay costs?" I think the answers will be rather enlightening …
Q6: What are you wearing right now?
Picture this: a ratty old pair of black Old Navy sweatpants/joggers, and an old J. Crew t-shirt that's gotten too slouchy to wear out of the house. You really don't need to see this majestic ensemble, so enjoy this much cuter outfit instead.