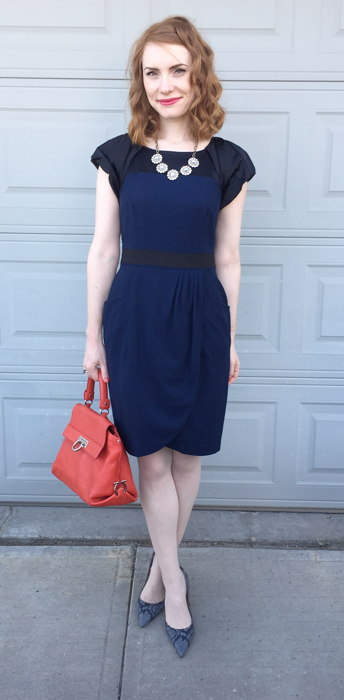 Yes, it's *another* navy dress. Wait, can we count it as just "blue" instead? Would that make the situation any better? Don't answer that.
Thing is, this dress cost me a whopping $4, and I cannot resist a cute dress that is $4. I. just. cannot. That's less than the cost of my fave drink at Second Cup, you guys. I only have to wear it 4 times, and it's more than paid for itself. Heck, I can wear it once and call it a day. But I won't, because I happen to quite like this dress. The sleeves will be tricky in the fall/winter, because they are a bit bulkier than I'd like, but that's a problem for another season.
And I think I have finally solved my navy shoe problem! These Nine West pumps (thrifted new) are not navy, per se, but the bluish-greyish snakeskin finish is a passable alternative I think. I'm super pumped … no pun intended.