It's been a hectic month, which means lotsa thrifting-as-stress-relief … but I actually haven't bought a lot. Most of what's recapped here was actually bought in June, when I went a little a lot overboard. The deals, they are just too good, you guys.
But first, a few things I didn't get.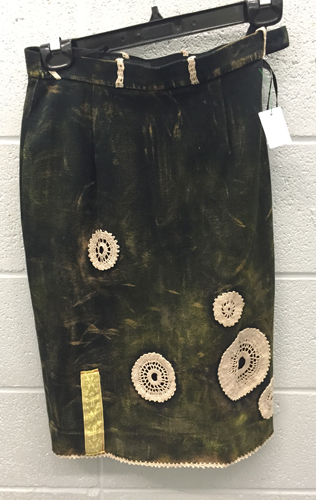 I totally squee-ed a little when I found this Lucian Matis skirt. Does anyone else remember his season of Project Runway Canada? It was the only one I watched, I think, back in the days I still had time for TV (sigh) and I loved Lucian … not least because he's also from the Old Country. Anyway, I think he's still a pretty big name in Canadian fashion these days. This skirt was way too tiny for me to even try on (maybe a runway sample?) and a little too 90s-vibed, but it was an exciting thriftspot nonetheless.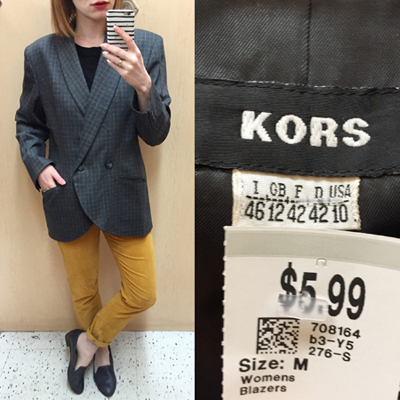 Talk about a walk down memory lane! I think this was a vintage Kors blazer, from MK's pre-diffusion line days. It was too comically large on me, but I think it's a vintage piece that could definitely work on the right woman today.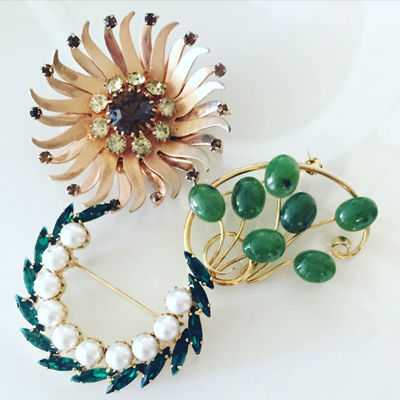 These were not thrifted (but, rather, purchased at the Strathcona Antique Mall) but they were pretty and I wanted to include them in the round-up anyway. They were each $15 or less.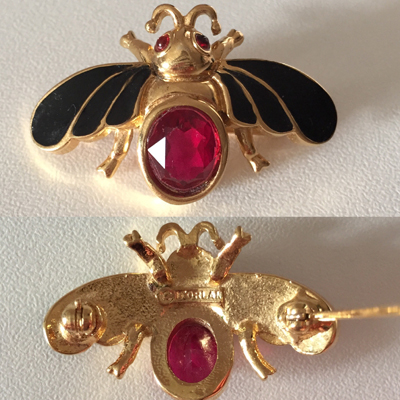 This teeny bee brooch, on the other hand, was thrifted, and a bargain at that. I didn't realize it was a signed D'Orlan piece until later. Fun fact: back when we first started dating, my husband used to call me "Bee" — apparently, because I was always buzzing with energy. Things change a lot in 8 years (and two kids later) is all I'm gonna say about that. [In fact, I could use a nap right about now.]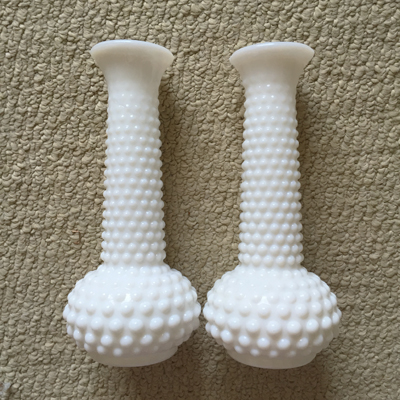 I already have two of these little vases, but I figured I could use two more — they will make perfect table decorations at some future dinner party.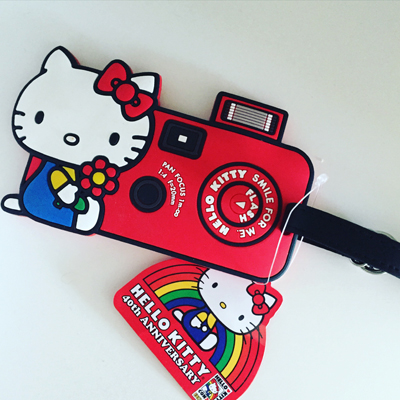 I could not NOT get this, you guys. And I am NOT sharing it with my daughter.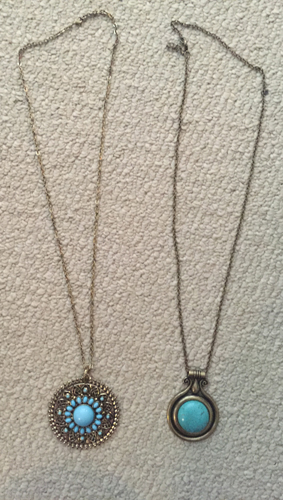 I did not set out to buy turqouise boho necklaces but here we are. I found these on separate occasions, and while the style is not right in my wheelhouse, I think these are fun additions to my casual summer wardrobe.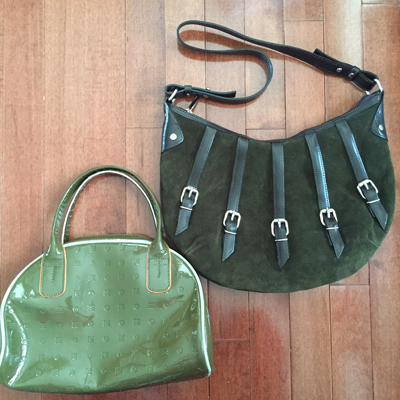 Two Italian-made leather bags in perfect condition? For under $10 together? Yes, please. I bought these as gifts (for my mom and for a friend) and I think they were hits.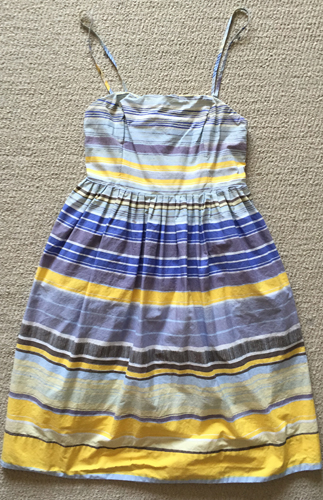 Not entirely in my current style wheelhouse, but too cute to pass up nonetheless. [Damn you, Anthro!] Also, it was $4 (at VV's 50% off sale). How could I not buy it, you guys? No, really: how could I not? Tell me how to resist the lure of cute dresses that cost less than a latte. Made in China, 100% cotton (with cotton lining).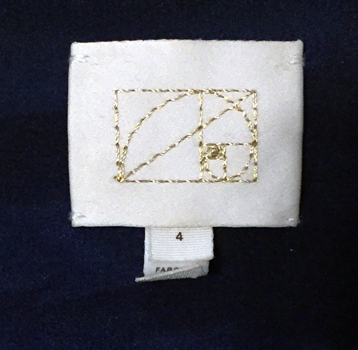 The label on this dress confounded me, but the details were cute (and read as very Anthro-esque to my eagle eyes) so I took a chance because I was in a rush, and didn't feel like dithering in the aisle at Goodwill for another 10 minutes.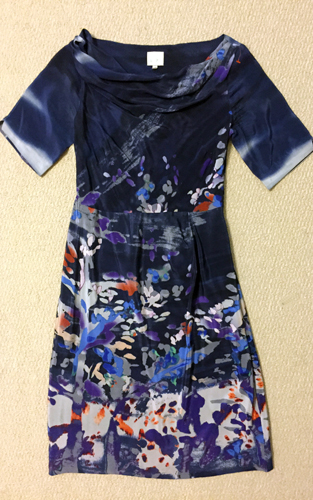 And what do you know? It IS an Anthro dress. I have a sixth sense for Anthro, I'm telling you. Made in China, 100% silk (with poly lining).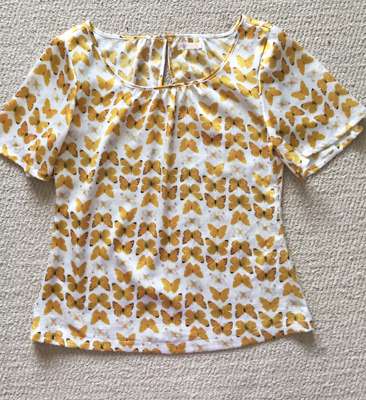 I'm a sucker for butterflies. This one replaced a solid yellow/chartreuse top that had ruffles on it. The care label was cut out so I don't have deets on this top, but I'm guessing it's 100% poly.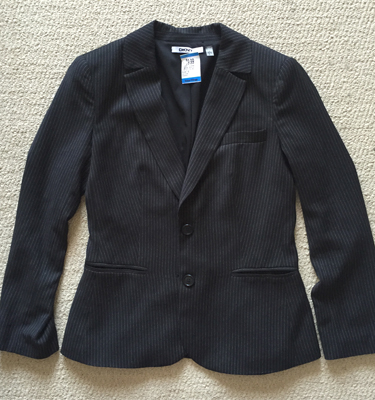 The fit of this blazer was really good, and I thought it might be nice to have a pinstripe version. No gonna lie, I haven't purged any of my older blazers to make room for this one. Made in China, poly-viscose-elastane blend (the extra stretch is nice).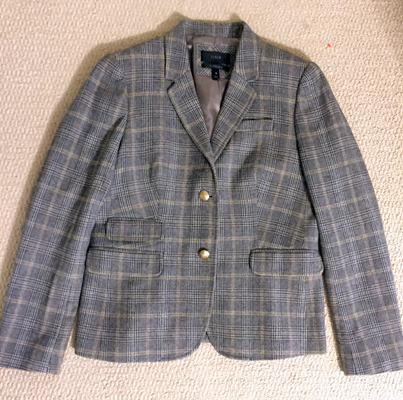 I'm also a sucker for tweed. This "English tweed" cloth was too gorgeous for me to resist. It was a size 10, which meant that I had to take a leap of faith and trust that alterations were possible and economically feasible. Made in China, 88% wool, 12% polyamide (with poly lining).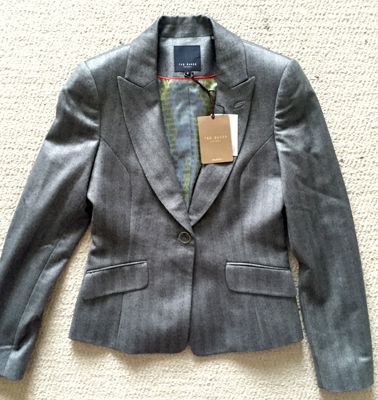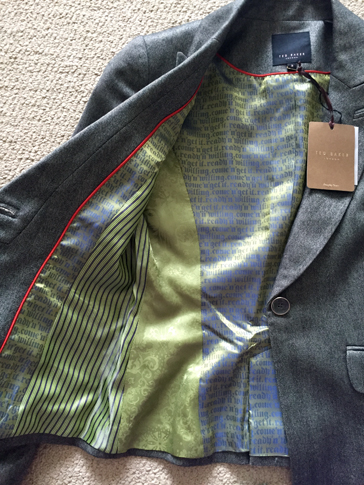 Yes, that is the THIRD new blazer I bought (having purged zero). I fail so badly at following rules. Anyway, how could I resist new-with-tags Ted Baker? Just look at that gorgeous lining! Made in Malta, 55% wool, 44% acetate, 1% elastane (with poly blend lining).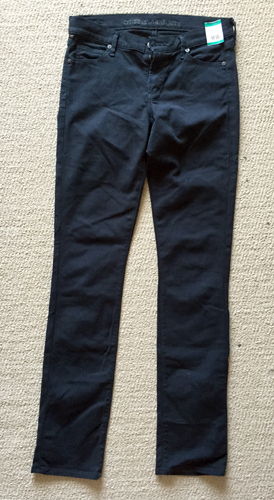 I have a lot of casual pants, but here I am — adding a new pair. Citizens of Humanity (in the Ava style) for under $5 though. That's all I'm gonna say. Made in the US, cotton-modal-lycra blend.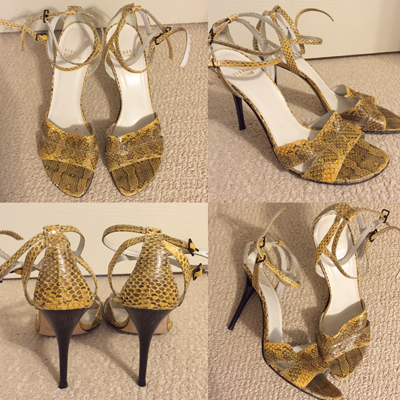 I spent an entire summer looking for a pair of yellow sandals. Two years later, I finally found one. The heel is quite a bit higher than I would have hoped for casual wear, but I will take new Stuart Weitzmans any day of the week. Made in Spain, 100% leather.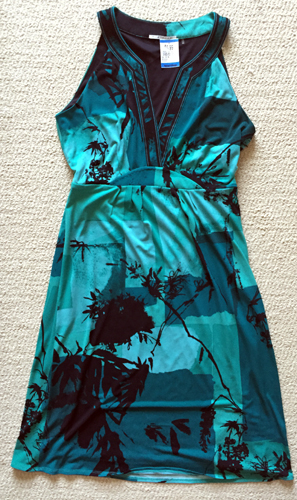 Impulse buy I will probably regret, but it was only $4. Bought this before the rules came into effect (lololol!), but I have been downsizing my dress collection so I feel like I'm even on this score. Made in China, 98% polyester, 2% elastane.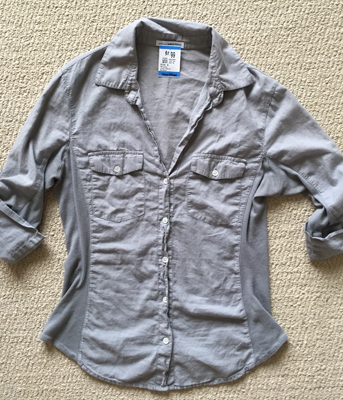 I'm tentatively thinking of replacing my worn-out chambray shirt with this grey (non-chambray) James Perse one, but I want to wait and see how versatile this version is first. One thing I was disappointed to see was that this shirt was not made in the US, as I had assumed from the fact that it's JP. I didn't check until I got home, and lesson learned. I probably would have passed on it had I realized that in the store, to be honest. Made in Vietnam, 100% cotton.
Too cute to pass up for $4. Story of my life, eh? Made in , 97% wool, 3% elastane (with acetate-rayon-elastane blend lining).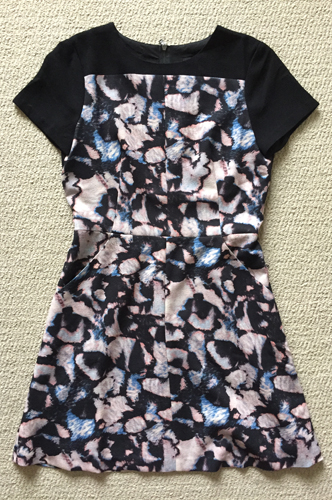 Here's another one. Made in China, 98% poly, 2% elastane (with 100% poly lining).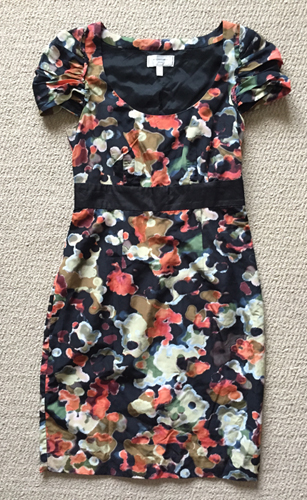 What's that, another Anthropologie dress? Sigh. Ok, fine. Toss the rule book out of the window. Made in China, 55% silk, 45% cotton (with poly lining).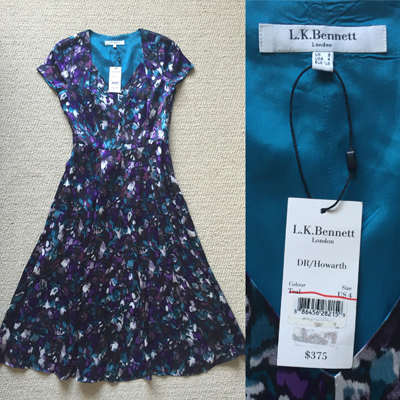 Wait! Bring the rule book back. This retro-style dress definitely qualifies as a "special piece" — and it was new with $375 price tag still attached. Made in China, 100% silk (with acetate lining).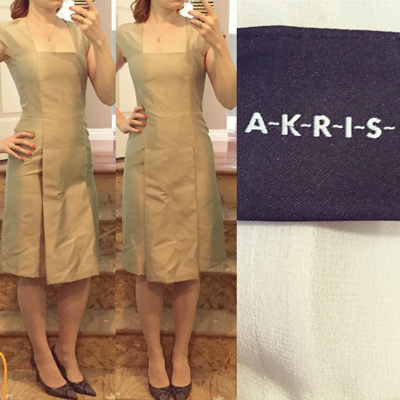 You guys, this was probably a $1,500-$2,000 dress originally. I want me a piece of that, even if I'll need two pairs of Spanx to fit into it comfortably (fingers crossed). Definitely a "special" piece. Made in Switzerland, 100% silk (with 100% silk lining!).
All in all, I … mostly failed miserably at following any sort of thrifting rules. But I had fun and bought a bunch of cool things, for not a lot of money, and that's a pretty good score at the end of the day. How was your (thrifting) month?