I was going to call this the "slim pickings" edition, but that might be a bit unfair. Even during a slow period, thrift stores can deliver. I haven't come across any truly major finds in the last few weeks, but I still picked up quite a few fun pieces. And I spotted plenty more that didn't quite make the cut.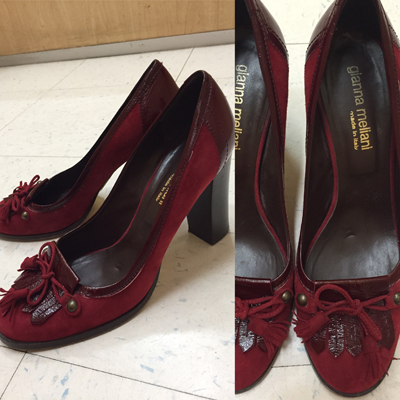 Like, say, these Italian made shoes. Would have bought them in a heartbeat if they had been my size.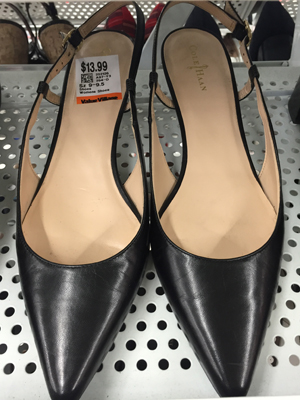 I almost bought these, but they were too similar to another pair I thrifted just before (see below).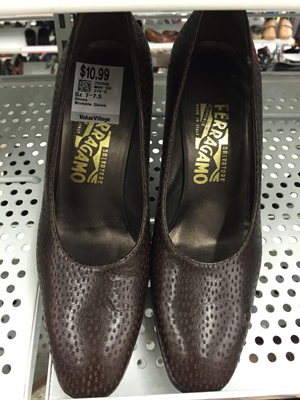 Not all vintage Ferragamos are exciting.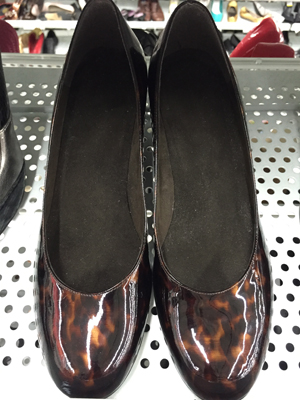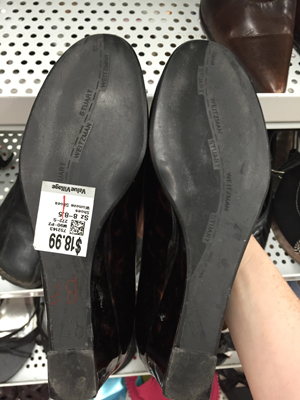 The patent tortoiseshell looked familiar, but the previous owner of these shoes had added an insert which obscured the label. I turned them over out of curiosity and, sure enough, they were Stuart Weitzman. I love SW shoes and I love tortoishell, but these were sadly too small.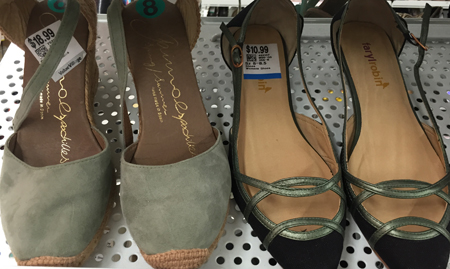 More cute shoes for the tinier of foot.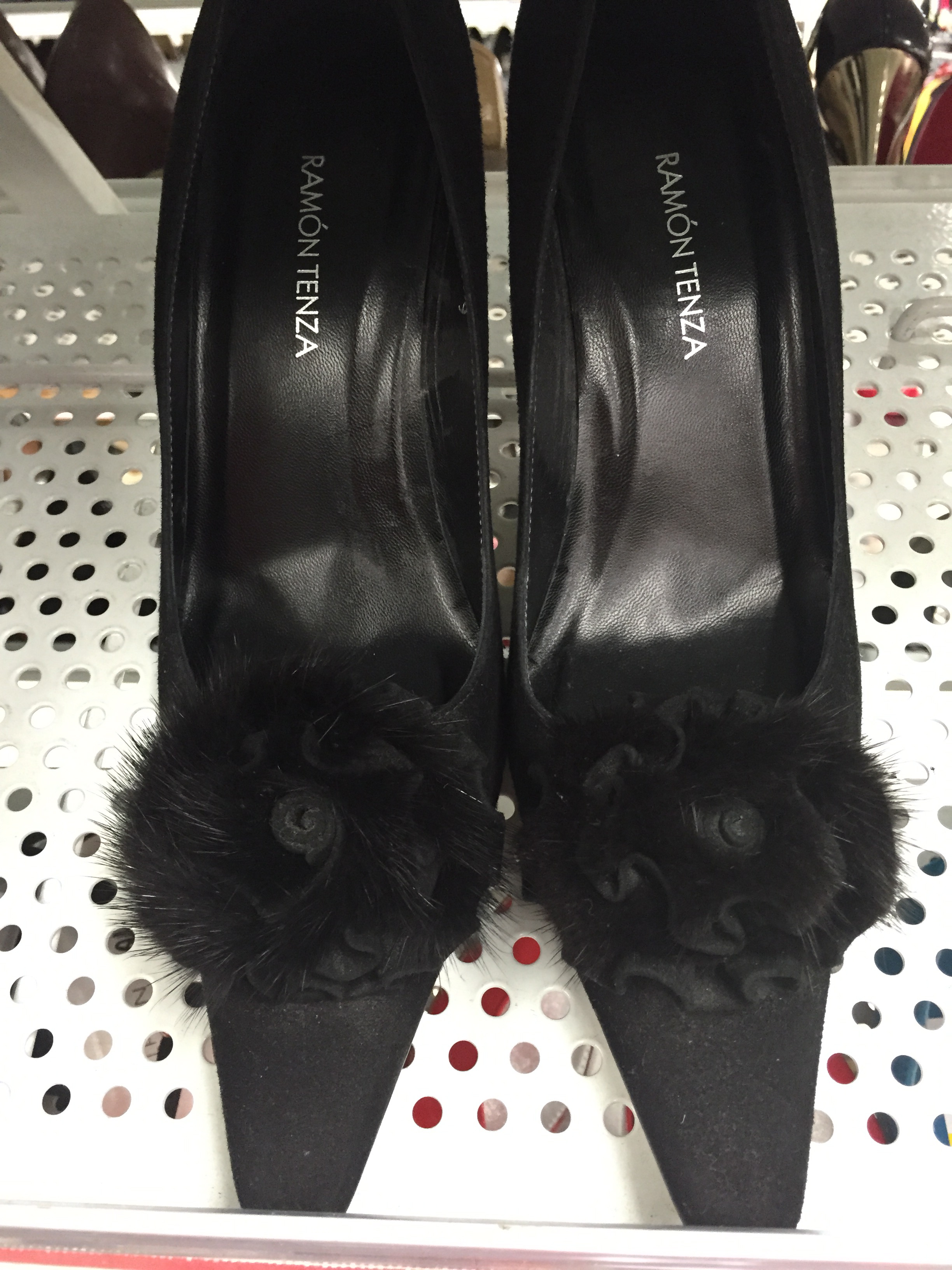 Very Dynasty-esque, non? These look too new to be vintage, but do people still make poofy pom-pom shoes in the 21st century?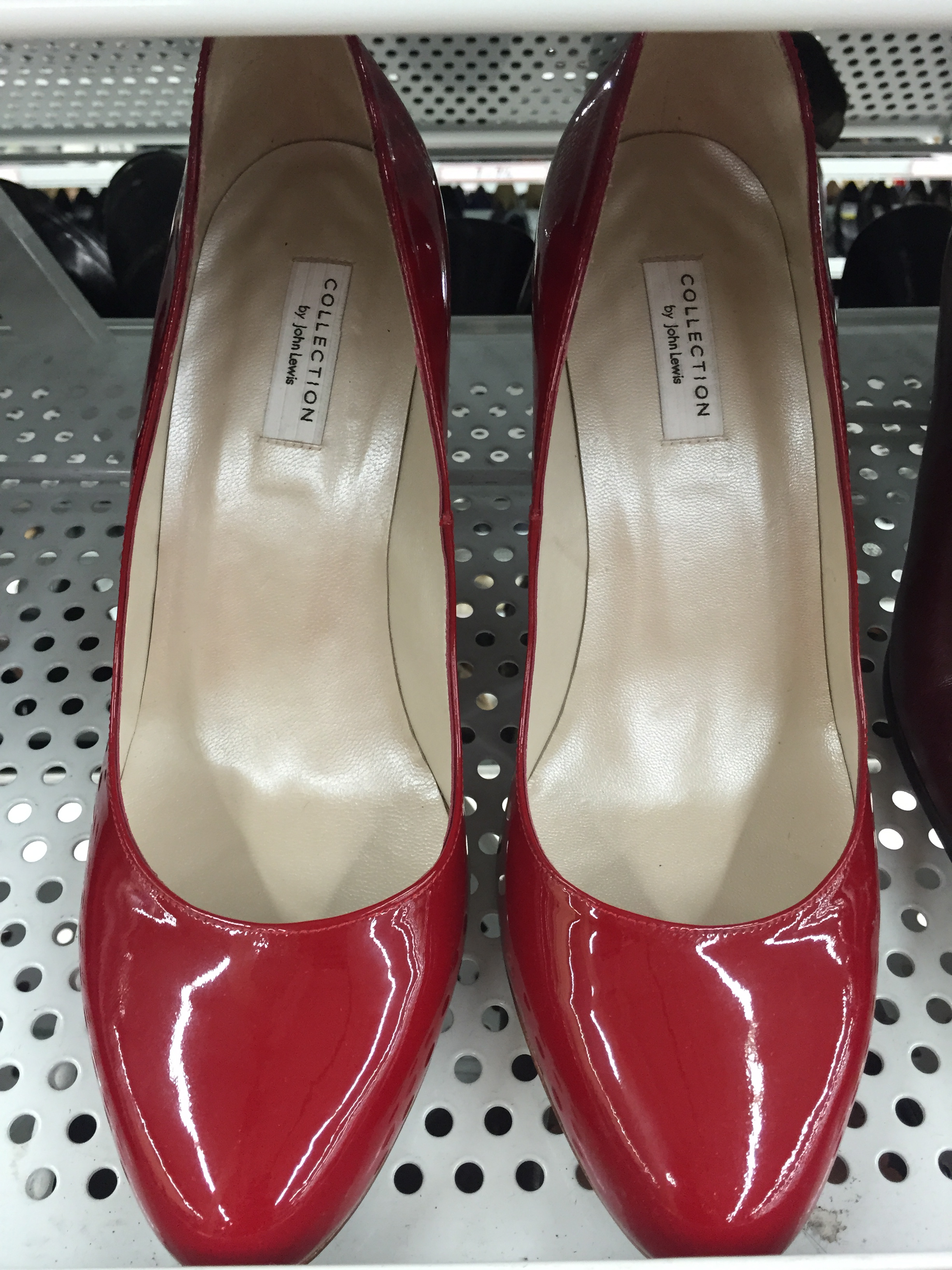 Red pumps are always a good wardrobe addition. I don't know much about John Lewis — UK peeps, care to weigh in? This pair was too small for me, but I'm sure they found a good home.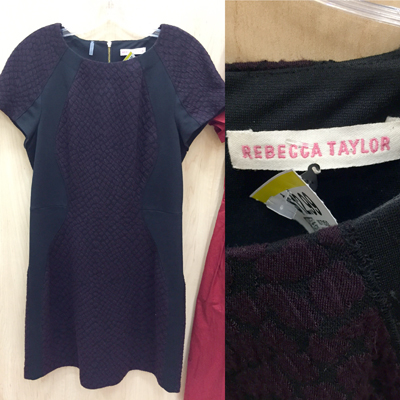 I think this was the first time I've seen Rebecca Taylor at a local thrift store, but it was sadly a few sizes too large. I thought about getting this for a friend, but I didn't think it was special enough. The dark plum/black combo was a little blah.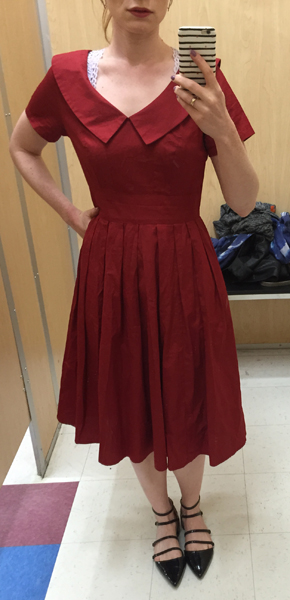 My second spotted-not-thrifted eShakti dress. Too big for me, but very cute.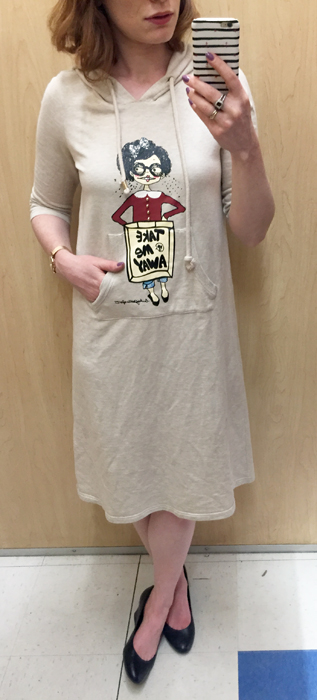 I so wish I was young enough or hip enough to wear this. How freaking cute is it?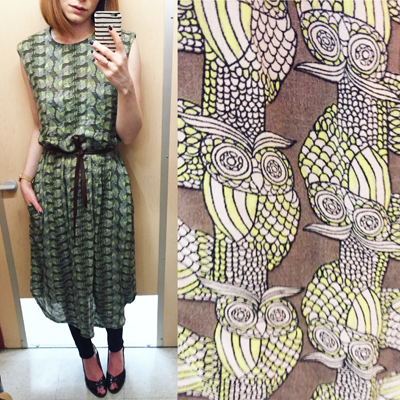 This was another super adorable dress, which I *almost* got but ultimately decided to leave behind. The style was ok — not too twee, but my hesitation was two-fold. One, the fabric was a bit sheer (I would have needed to wear the dress with leggings) and two, it was pricey ($18). I hesitated, so I passed. See, I'm getting better.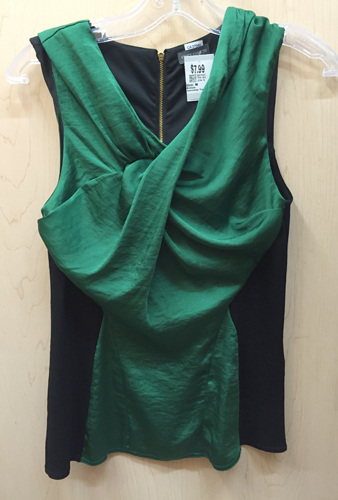 I want to wear green more. I really do. I just don't feel wowed when I put it on. Too bad, because this Vince Camuto top was pretty cute.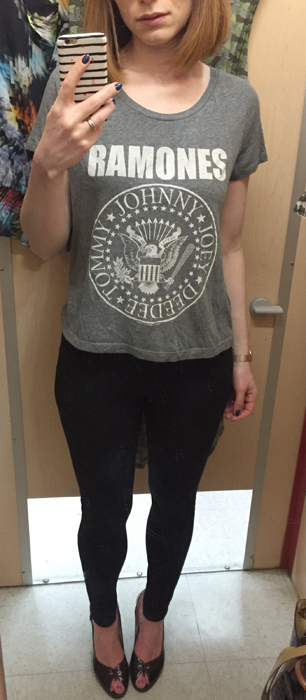 Another almost-buy. I would love to add a cool graphic tee to my closet, but this one was a little too worn and a little too expensive. ($10 for used H&M? No thanks.) I also felt like I'd be a bit of a fraud if I bought this — can't say I'm particularly into the Ramones.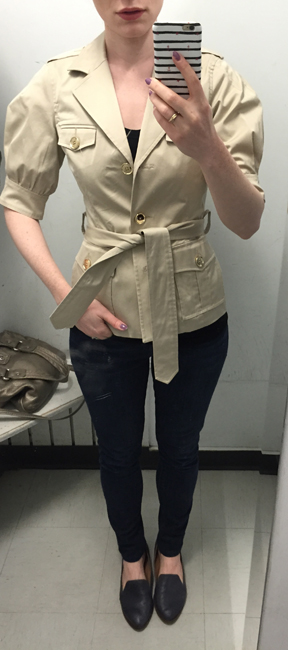 Oof, look at those sleeves! The rest of the jacket was super cute and fit great but, man, those mutton sleeves were rough.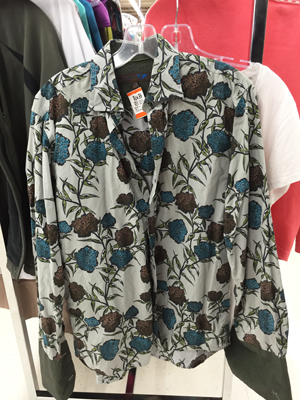 I got excited for a minute when I spotted this Ted Baker men's shirt, but quickly realized I'd never sell my husband on it. It had a lot more, ahem, flair than he's looking for.
But don't worry … I did manage to find a few keepers. Like this Ted Baker top for myself. Love the print, and I think I can dress it down enough to count as minimalist-adjacent.
Made in China, 100% polyester (and not the good kind of poly either — tsk tsk, Ted Baker).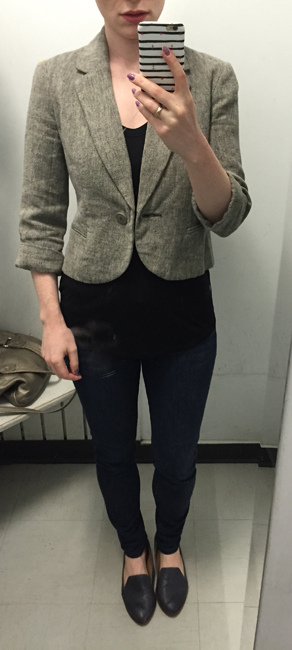 This blazer was a great find — I'm very excited about its remixing possibilities.
Made in China, 53% linen + 47% cotton (100% acetate lining).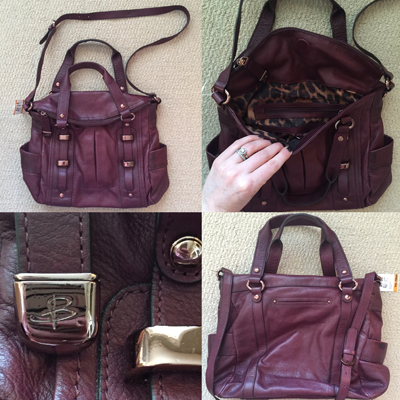 I rarely find good bags when I thrift, but this was an exception. Since I already have a burgundy bag I love, I picked this up for a friend.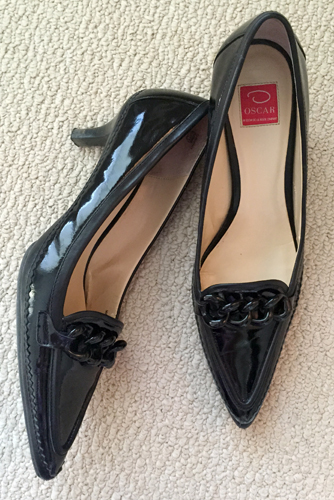 Here are the black kitten heels I mentioned earlier. I like the chain detail — very witchy. I think they're made in China, 100% leather.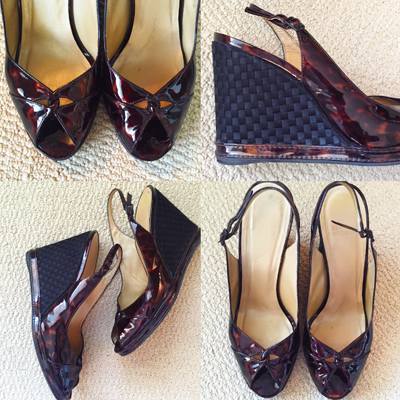 I did end up finding a pair of tortoishell Stuart Weitzmans, and even though they're peep toes, I'm pretty happy. They've proven to be quite comfy.
Made in Spain, 100% leather.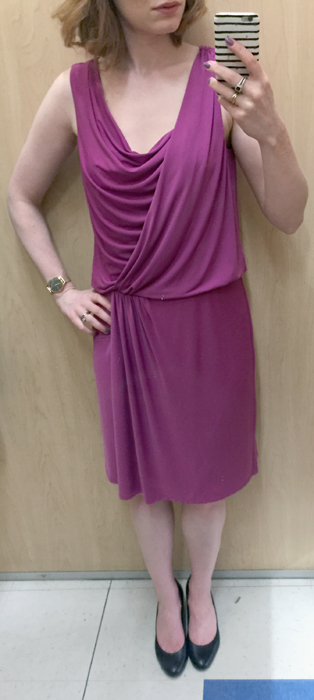 With this dress, I fell for the beautiful orchid purple colour and the draping. I think it looks better/more intentionally slouchy in real life. "Made in" tag is missing, but I assume China, 95% polyester + 5% spandex.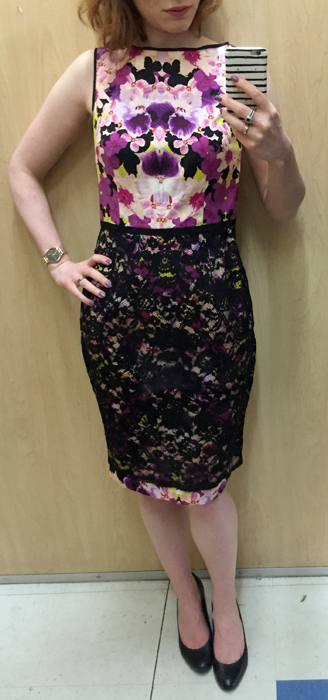 Impulse buy. I like the other Maggy London dress I bought recently, so I thought I'd take a chance on this one. Made in Sri Lanka, 97% cotton + 3% spandex (lace overlay is 100% nylon, lining is 100% acetate).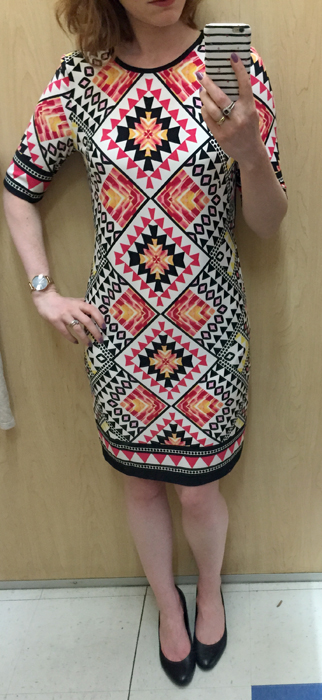 I had every intention of leaving this dress behind, until I tried it on. The fabric is *so* soft, comfortable and figure-flattering — it's like wearing pyjamas in dress form. It probably won't be a closet staple for me, but it's the sort of dress I can see coming in handy during certain times of the month, ahem.
Made in China, 95% polyester + 5% spandex (100% poly lining).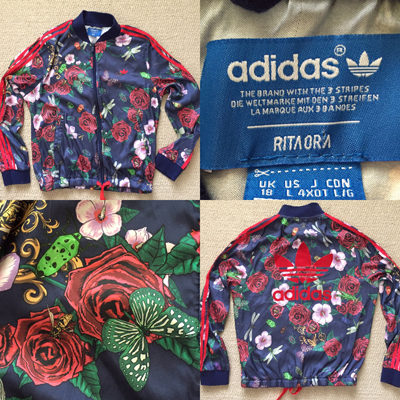 This was utterly ridiculous, and for $10, I had to have it. No regrets. Made in Indonesia, 100% polyester.