As I mentioned in my last post, the second part of my vacation was a staycation in town. It involved a little bit of everything: taking the kids to fun activities around town, eating out, thrifting (natch), reading, and some home DIY (more on that tomorrow). The one thing I DIDN'T do was work on my long-neglected book. Sigh. Let's leave that lament to another day and talk about clothes, shall see?
My experiment with minimalist style continued apace, though it is, of course, both a work in progress and a relative concept. As much as I adore black, there will always be colour in my life and my wardrobe. I don't want to deliver any false promises here. But I am working on streamlining my approach to getting dressed, through a mostly intuitive process, to reach what will hopefully be a definitive style. It's been an interesting experiment so far — at times fun, at times frustrating. There have been times when the vision of an outfit I've had in my head doesn't end up being fully reflected in the reality captured in my daily OOTDs, or when the result doesn't feel as "good" (on me) as I would have liked. Which leads me to wonder if people like Jenna Lyons, Elisa Nalin, or other women famous for their personal style ever have moments of sartorial self-doubt.
Such questions aside, I've had fun experimenting with my casual wear, and pants in particular. Who would have thought?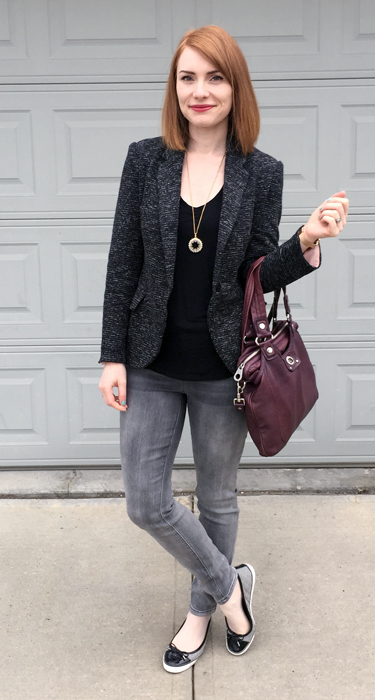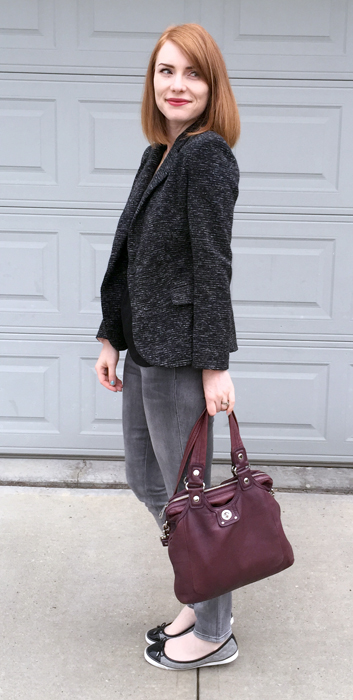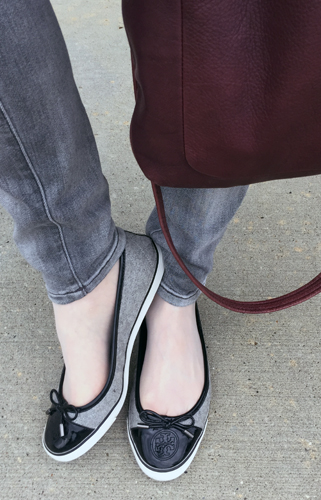 I love black and grey together — it's such a crisp, polished combo. However, these pictures are convincing me that I need to ditch these jeans. (Love the cut, but the wash is meh.) I haven't had much luck finding a replacement pair yet, but I'm not deterred; it's only a matter of time.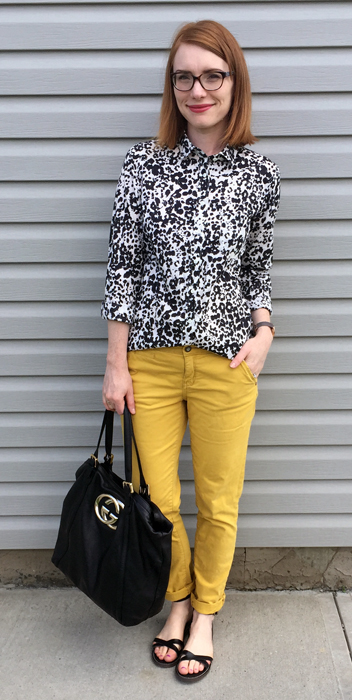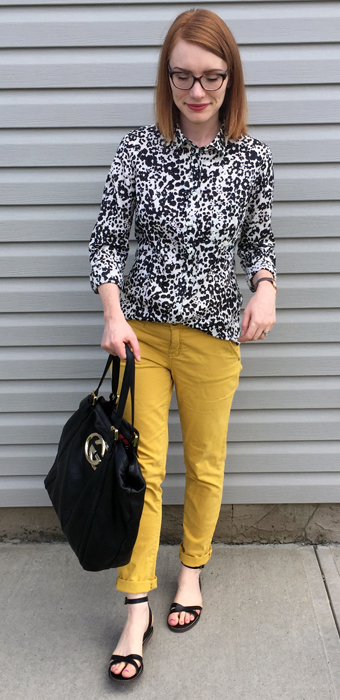 I already had a pair of mustard yellow Pilcro cords, but when Nicole offered me these chinos, I couldn't refuse. Mustard yellow is my jam. I wouldn't normally wear a button-down shirt on what was, for all intents and purposes, a weekend, but it proved to be a perfectly comfortable option. This print is a bit zany, but the black and white palette reins it in. I need more black and white prints in my closet.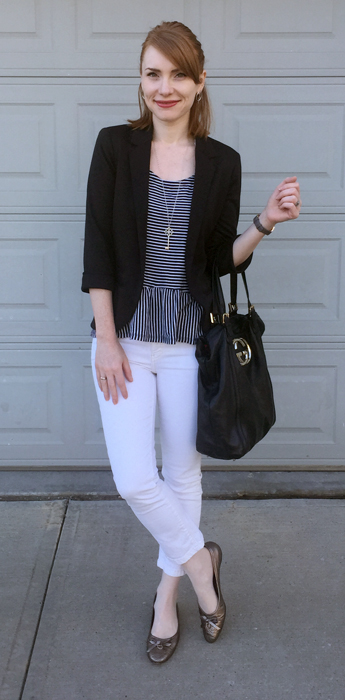 Can you believe it? I finally found a pair of white jeans that (a) fits, (b) isn't see-through, and (c) was inexpensive enough for me to risk buying. I'm too much of a klutz for white clothing of any sort, but I've been so tempted over the years by other bloggers looking oh-so-cool in their white jeans. Thrifting saved the day, allowing me to take a risk without a huge downside. I wore these pants on a day when the kids were in daycare, just to tip the scales in my favour a bit more.
Oh, hey, look: I got a new watch too. This one was not a thrift find (I wish!), but it was a bargain nonetheless, courtesy of Winners. I love Skagen watches so, so much.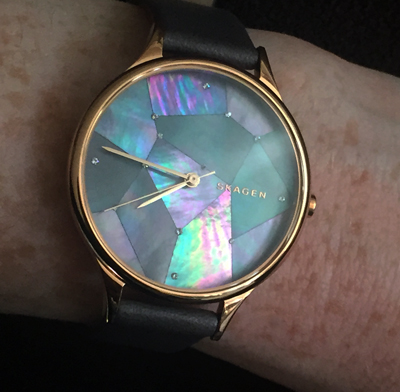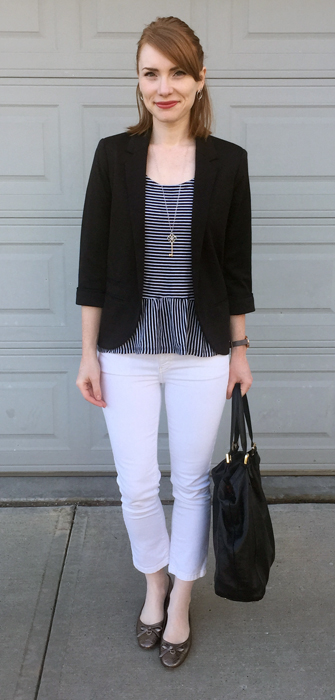 And thus my vacation recaps conclude (sniff) … for the time being. I have a long weekend coming up in a few weeks, when I'm hoping to run away to Calgary with my husband for a short adult getaway.