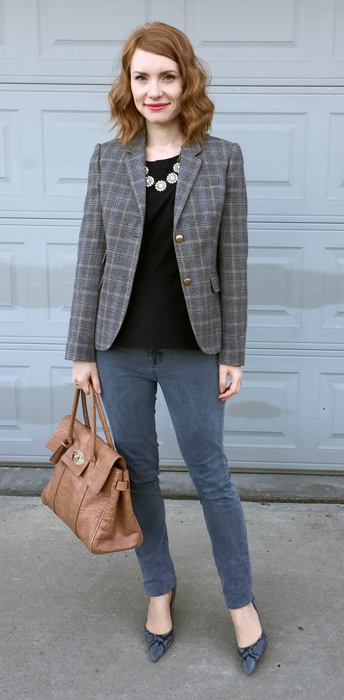 So, this J. Crew blazer: let's talk about it. It's a perfect example of what you SHOULDN'T do when it comes to thrifting, except that it also involves a happy ending so maybe rules are meant to be broken from time to time. I dunno, I'm a terrible role model, OK? I found this blazer at Goodwill in perfect condition for $8, and promptly fell in love with the fabric. I think it was called English tweed on the J. Crew website, which made it all the more appealing because I'm a sucker for anything with the merest whiff of Downton Abbey about it. Anyway. The bad news is that it was a size 10, and I currently take a size 4 in J. Crew blazers (I find they fit large). But you know how the story ends: I bought it anyway, took it to the tailor, and prayed for the best. And here we are, outfit and all.
Now, taking a (lined) jacket down 2 sizes (to a size 6, which is what I essentially ended up with) is about the limit of what a seamstress can do reasonably easily, based on what I know. In my case, my seamstress did not slim down the arms or take in the shoulders, but she did slim down the sides quite a bit (and closed the flap in the back in the process). I probably should have taken before and after photos, but you know I'm not nearly organized enough for that kind of thing. Oops. The bottom line is that the blazer fits me pretty well now — J. Crew schoolboy blazers are always a bit boxy on me, and this one kept its original lines through the alterations.
I paid about $65 for the alterations. I generally do not recommend buying thrifted pieces that require such expensive alterations, because the whole endeavour can get pricey, quickly. In this case, I think the blazer was worth it, because I knew I'd have to pay the same or more if I were to hunt it down on eBay. And that is my tip today: if you find a good quality piece that you like/want/need for a low initial investment, sinking a bit of extra money into alterations to make it fit could be worthwhile when you're paying less than the retail OR even consignment/eBay price.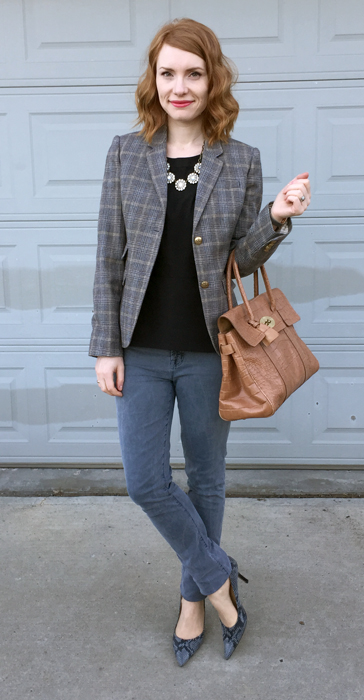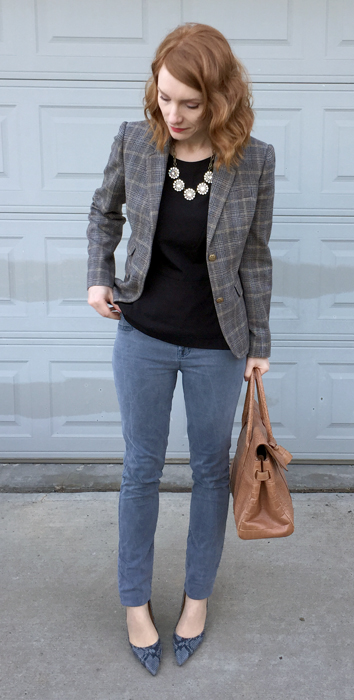 Moving on. This outfit was my attempt to recreate a picture I found online when I was researching my blazer. I rarely get literal inspiration from retailer's ads, but this look just spoke to me. I hunted for a pair of grey jeans — the right shade of grey, mind you — for ages before I finally found this J Brand one. The colour is a bit more blue-leaning that I'd like but I think this counts as a solid first effort. Oh yeah, I'm definitely going to keep trying.