It feels like a while since I did one of these posts, and the photos have been piling up in my "Thrift" folder … I was almost afraid to look. I haven't thrifted a LOT in September, but I seem to find a LOT whenever I do go. So, in the interest of not putting you to sleep, I decided to split this recap into two posts. First up, things I spotted but not thrifted recently.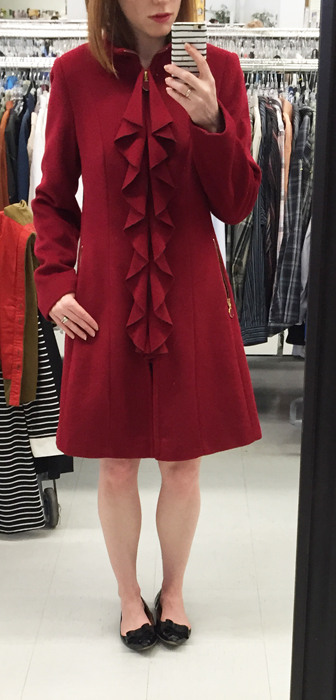 Isn't this beautiful? And only $8. I love the Goodwill coat section, sigh. Sadly, this beauty was too big on me.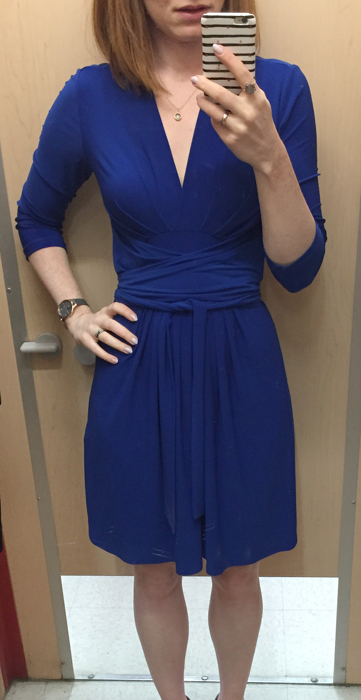 Joseph Ribkoff is a brand I always watch for these days, because it's made in Canada and a friend of mine loves it. Some pieces are not my style, but I occasionally come across things I really like. This faux wrap dress was one example of the latter, but it was too similar to a dress I already own (and a bit on the short side for me) so I passed.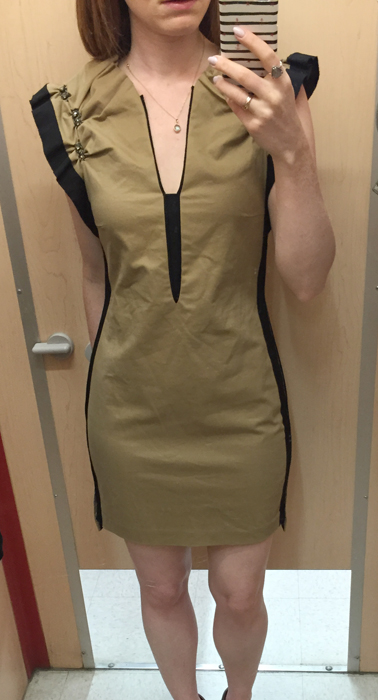 I'm not familiar with this brand, but I think it's German. This was a cool dress … for someone younger, with more exciting, fun places to go than yours truly.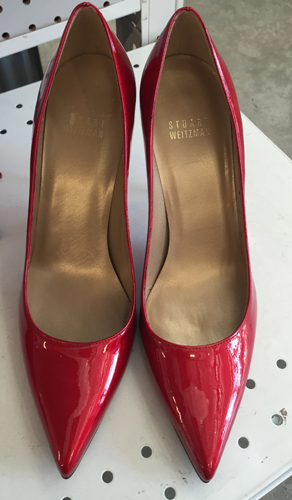 I call these the "heartbreaker pumps". Gorgeous red patent leather, pristine condition. I wanted these so badly. Sadly, they were a size 7.5 not 9. See, heartbreaker.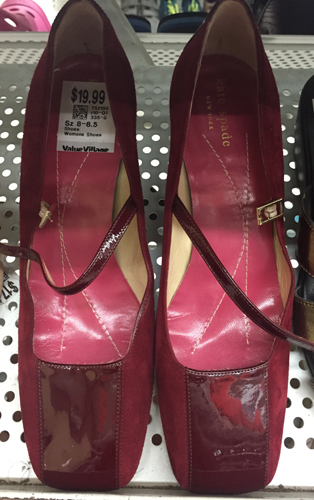 These Kate Spade pumps looked so 90s to me. Chunky heel, velvet, square toe, oh my. I know the 90s revival trend is going strong, but I just can't. I lived the 90s, and I'm not ready for that particular trip down memory lane.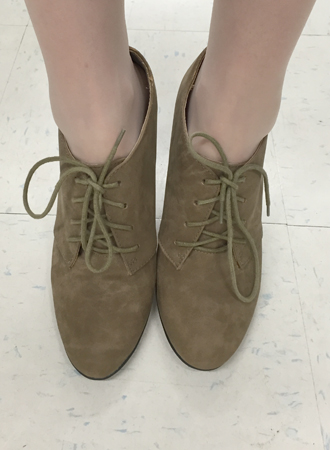 I was tempted by these because they reminded me of my Clarks ankle booties. I didn't get them for the same reason — trying to be better about avoiding the "splitting my wears" scenario.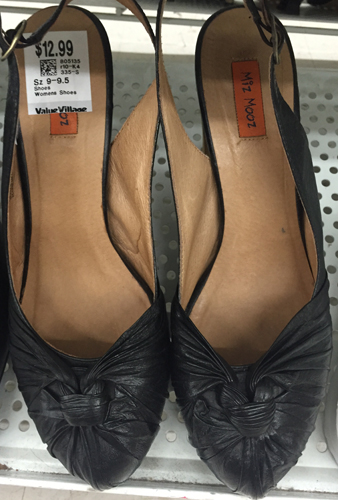 I get excited whenever I find Miz Mooz at the thrift store, but these were kinda blah, and a little big. Pass.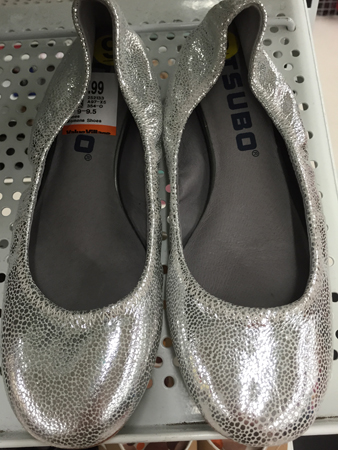 Super cute (and new) flats, but I've come to realize that I rarely wear round-toe flats. I have a bunch at home I can't quite bear to part with, but I'm trying not to add more to that collection.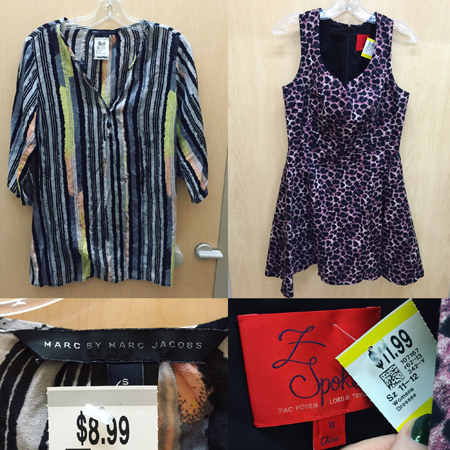 I found — and passed — on a bunch of designer pieces. The lesson? Don't buy things only for the label. Don't worry: something better (that fits, and you love) is just around the corner.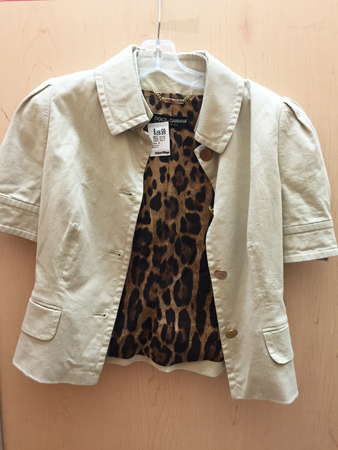 I would love to have a D&G piece in my closet, but this jacket wasn't going to be it. Ixnay on the sleeves … and that price.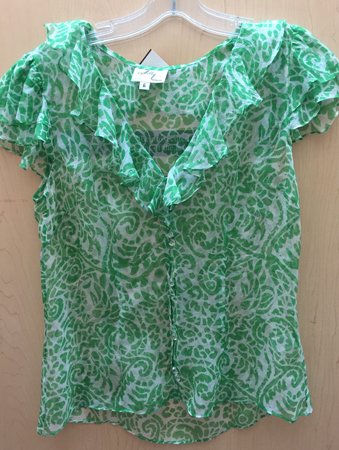 I love Milly (made in USA!) but I don't do green, ruffly, or sheer. Pass.
I liked the watercolour polka dot print, but I didn't see myself wearing this top. Hope it found a good home.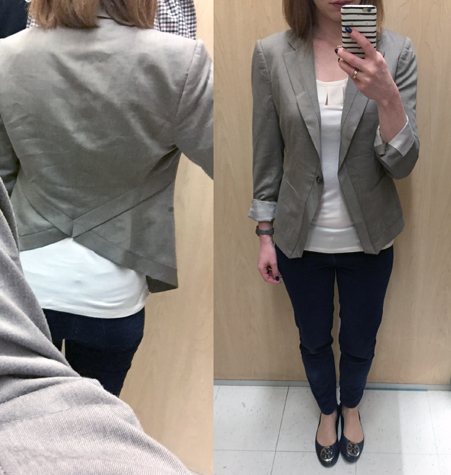 I hemmed and hawed over this BCBG blazer, but ultimately passed. I have a terrible weakness for blazers with architectural details, but I decided this wasn't going to be sufficiently versatile to find room in my overflowing closet.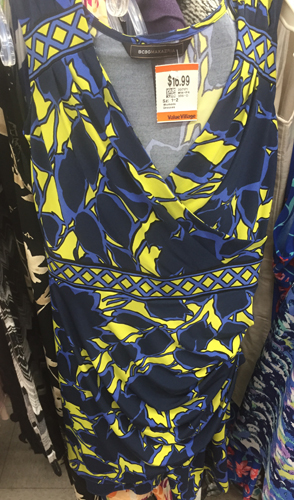 I used to have this dress! Same size … which makes me wonder if this is my old dress. Wouldn't that be funny? I actually considered buying it because I love the colour palette, but then reminded myself there was a reason I gave it up in the first place (too short and the neckline too plunging for my everyday needs).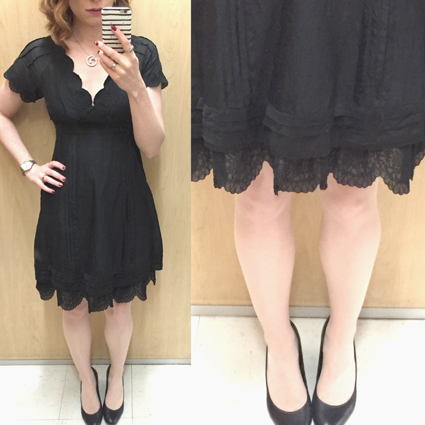 Speaking of hard decisions, I also passed on this Ted Baker dress. Loved the hem detail, but the overall aesthetic was "old Adina" and I am resolved to resist the lure of the past.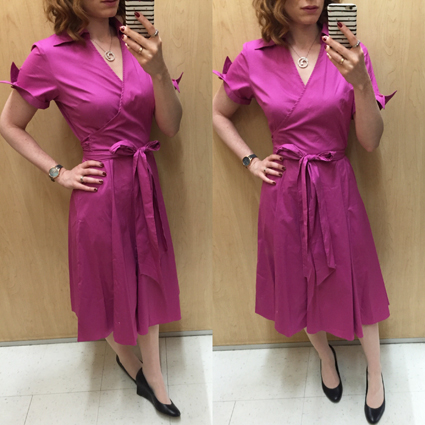 This dress was cute (and the orchid colour is one of my wardrobe "accent colours") but I just wasn't feeling the vibe. I think it would be a stunning dress on the right woman, so I left it behind for her to discover it.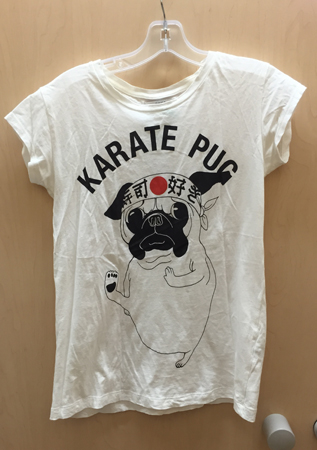 I was soooo tempted by this. It would go so well with my husband's "Koala-fied to Party" baseball tee, which he likes to bust out on special occasions. I ultimately passed, because I'm probably not cool enough for ironic t-shirts, but I do have a smidge of regret.
Speaking of which, I broke my #noAnthroLeftBehind rule more than once — but without any regret. Sometimes, there are valid reasons to, in fact, leave some Anthro pieces behind.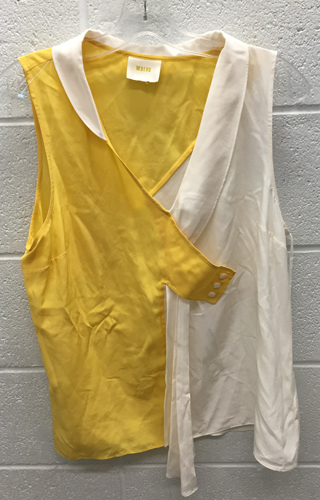 Take this Maeve top. What the hell? I assure you, it did NOT look better on.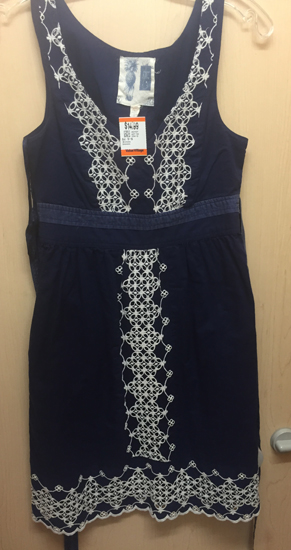 This dress was cute enough, but not my style. I didn't even try it on.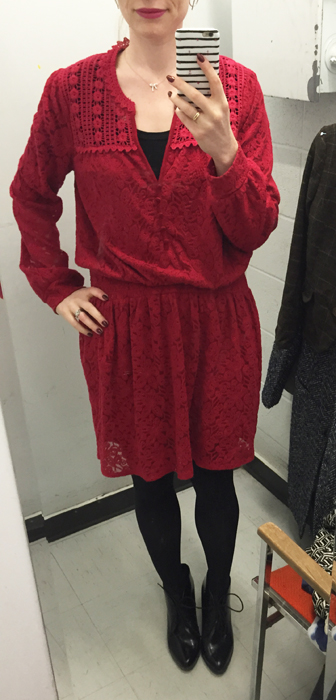 In defence of this dress, it was a size XL so I'm not doing it any favours. But, also, it's kinda meh. I'm sure someone one there would love it, but that person is definitely not me.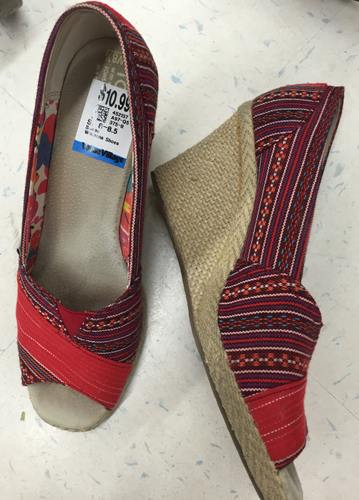 I don't do peep-toes, but these Toms were cute. I texted a pic to my (spirited) thrifting pal, Nicole, but she pleaded foot surgery and passed as well.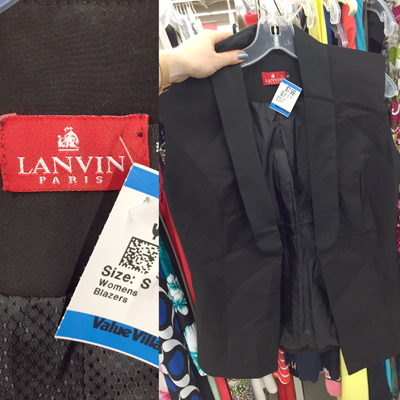 I got SO excited for a second there, you guys! And then I had a closer look, and touched the material and "noped" the heck out. Someday, a REAL Lanvin will find me. Well, a girl can dream, right?
A final word: Nicole and I have been having a lot of fun on our recent Tuesday evening thrift outings … so much so, that we've started kicking around the idea of making it a recurring, monthly event and inviting fellow Edmonton thrift-lovers to join us. We haven't quite hashed out the details (or our schedules, hah!) but we're thinking about making it official in October. Stay tuned for more details!