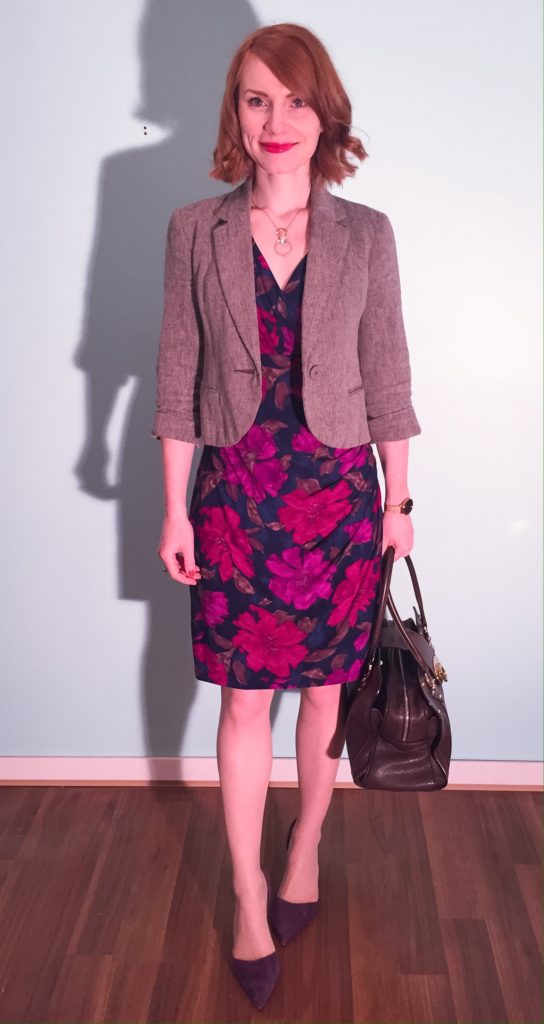 Ignore the rather unfortunate colour-correction on these basement dungeon photos, and let's talk dress. It's an oldie, thrifted circa 2014 — around the time my return to the workforce post-baby #2. It was comfortable and forgiving then, and so it remains, 2 years and 30 fewer lbs later.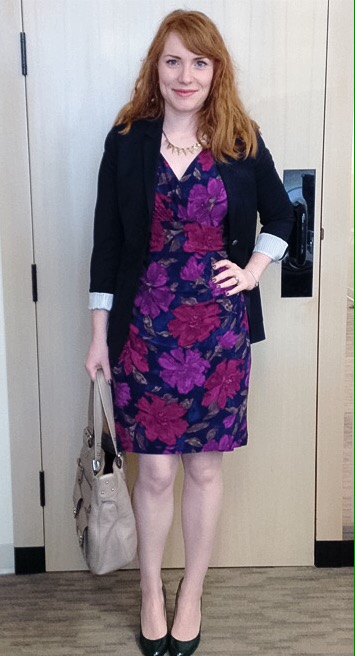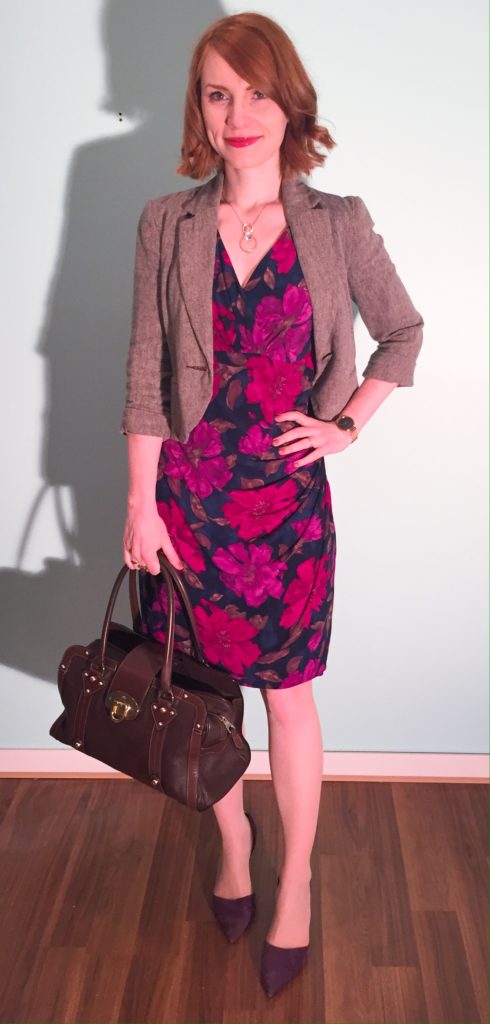 Now, as far as I know, Ralph Lauren doesn't make jersey dresses out of magic, but they are uncommonly durable and dependably flattering, at least in my (non-sponsored) experience. Pregnancy ups and downs aside, I don't tend to experience many weight fluctuations, but I know that many women do, and that it can be a cause of wardrobe frustration. There aren't many garments, on the whole, that will accommodate a swing of one or two sizes, but these dresses are an exception. The material has a good weight and nice feel to it, and is machine washable — so the quality is good, especially if you can snag these dresses at places like TJ Maxx, Ross, or Winners (where they periodically end up on sale for under $40) … or, of course, at your local thrift store.
My advice is to size up. For reference, I typically wear a size 8-10 in RL sheath dresses, as compared to 4-6 in most other brands; the precise fit of RL dresses varies from style to style, but I find those sizes generally give me some room to breathe without being baggy. If you are one of those women who experiences periodic weight fluctuations, I would recommend buying one size up from whatever size of RL dress fits most comfortably (i.e. not skin tight, but not baggy) at your lower weight. These dresses tend to drape nicely even when they fit more loosely, especially around the hips. The place where you might notice the biggest fit issue is around the bust/armholes if, like me, you tend to lose or gain weight in that area. And with that, I think I have exhausted the topic, but do let me know if you have any questions.
The rest of the outfit is merely an update on one I'm almost certain I've put on the blog before (but was too lazy to locate). All good things aside, the print of this dress is not my favourite, and it's extra tricky because it combines navy with brown, which throws off my accessorizing game. I cheated my way out of this dilemma on this occasion by adding purple shoes and a neutral blazer, along with my vintage Mulberry Fitzrovia bag, which never gets enough love.
And that is all she wrote, folks.