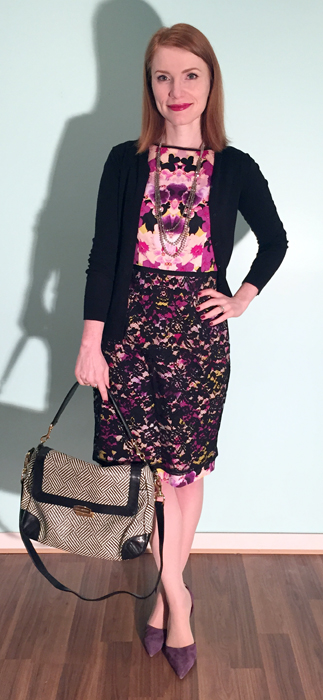 Nothing new to see here today, folks. I mean that quite literally … although, of course, all these old pieces are re-mixed in a new and exciting way, for your viewing pleasure. Hah! Winking and nudging aside, let's talk outfit. This dress is an odd duck, in that it's not a dress I should love — too, too much going on with the colours, and the florals, and the lace, oof — but I'm oddly attached to it.
For some reason, I decided to add to its too-muchness by pairing with yet another print in the form of this woven leather Rebecca Minkoff bag. Why? Who knows. I do know that it's the roomiest non-tote bag I own; awfully handy for the office.
And that leaves the shoes, which are those very versatile dusty purple pumps I've worn a half dozen times already. I keep stalking J. Crew to see if I can find another good sale again, and snap them up in other colours. No dice yet, but I can be patient when a good pair of shoes is at stake.