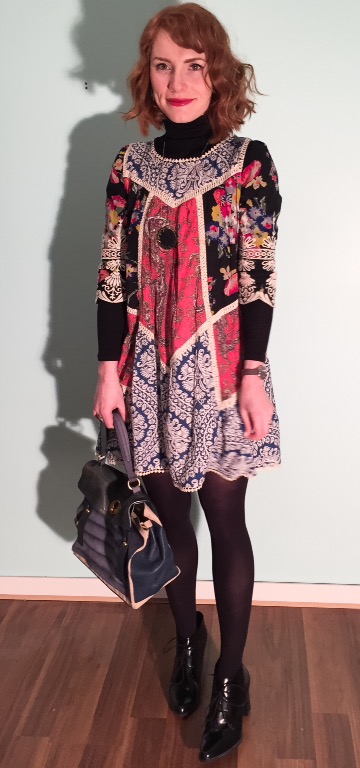 As I mentioned last week, I had two of my dearest friends visiting from out of town recently, and our big plans revolved around a girls' night in (with wine, Chinese food, and BBC dramas featuring hunky Brits) followed by a girls' day out on the town. For the latter part of our adventures, I decided to wear my fave Anthro swing dress. It's comfortable as pyjamas, forgiving as a potato sack, and infinitely cuter than both. No brainer, really. I added my trusty turtleneck underneath because the temps are still hovering around -10 Celsius, and there's no easier way to layer up a summer dress. Luckily, our daytime adventures did not involve a lot of outdoors exercise. Surely, you are not surprised.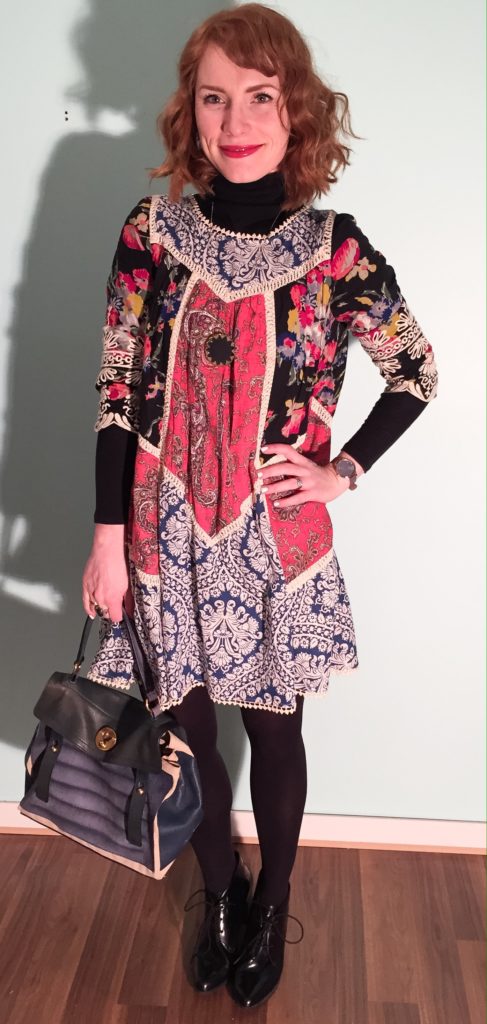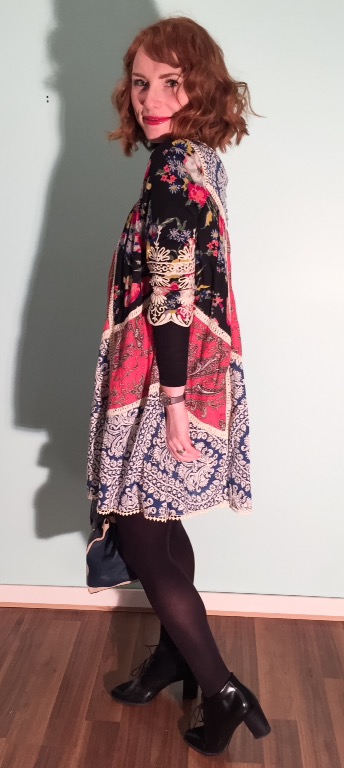 My friends and I hit up the antique mall, which proved to be the most "strenuous" part of our day. We followed that up with lunch at Nomiya Noodle Bar in Oliver, which was fantastic. I *had* to try one of their ramen bowls, of course, but my instant favourite was the Takoyaki (fried dough balls with octopus — they had me at "fried dough"). My friends raved over the matcha green tea creme brulee, but I decided to help myself to another order of the Takoyaki instead. No regrets. And my dress was very understanding about it all.
We finished up our day with a screening of La La Land, which is THE ABSOLUTE BEST THING EVER AND YOU MUST SEE IT IMMEDIATELY. Ahem. Sorry to shout, but it really is wonderful. I hate musicals *and* jazz, and I'm generally not a fan of romantic movies. Or Ryan Gosling. Or Emma Stone. (I know, sacrilege!) But this movie tugged at my heart like a pro; I wouldn't consider it a romance so much as an ode to youth and the sense of seemingly infinite possibility and wonder that we feel when we are young and full of dreams. The ending of the movie is bittersweet, as all life tends to be after a certain age. It reminded me of the discussion about ghost ships which we had on the blog a few weeks ago. If any of you have seen La La Land, I would love to hear your thoughts; I know the film has been criticized for its privilege, so I am particularly interested in your perspective on that issue.