I've never played the slots, but I think I can sometimes imagine the feeling of hitting a jackpot when I'm thrifting. It doesn't happen every time, of course, but in a way that's part of the fun. Sometimes the finds come slow and steady; other times, they come fast and furious. Take the weekend before last; I made a quick stop at Goodwill, mostly out of habit (and on the hunt for books), not expecting much. Other than pants, I haven't found much there (or elsewhere) lately.
The first thing I saw, was this huge display of Canadian-made pottery.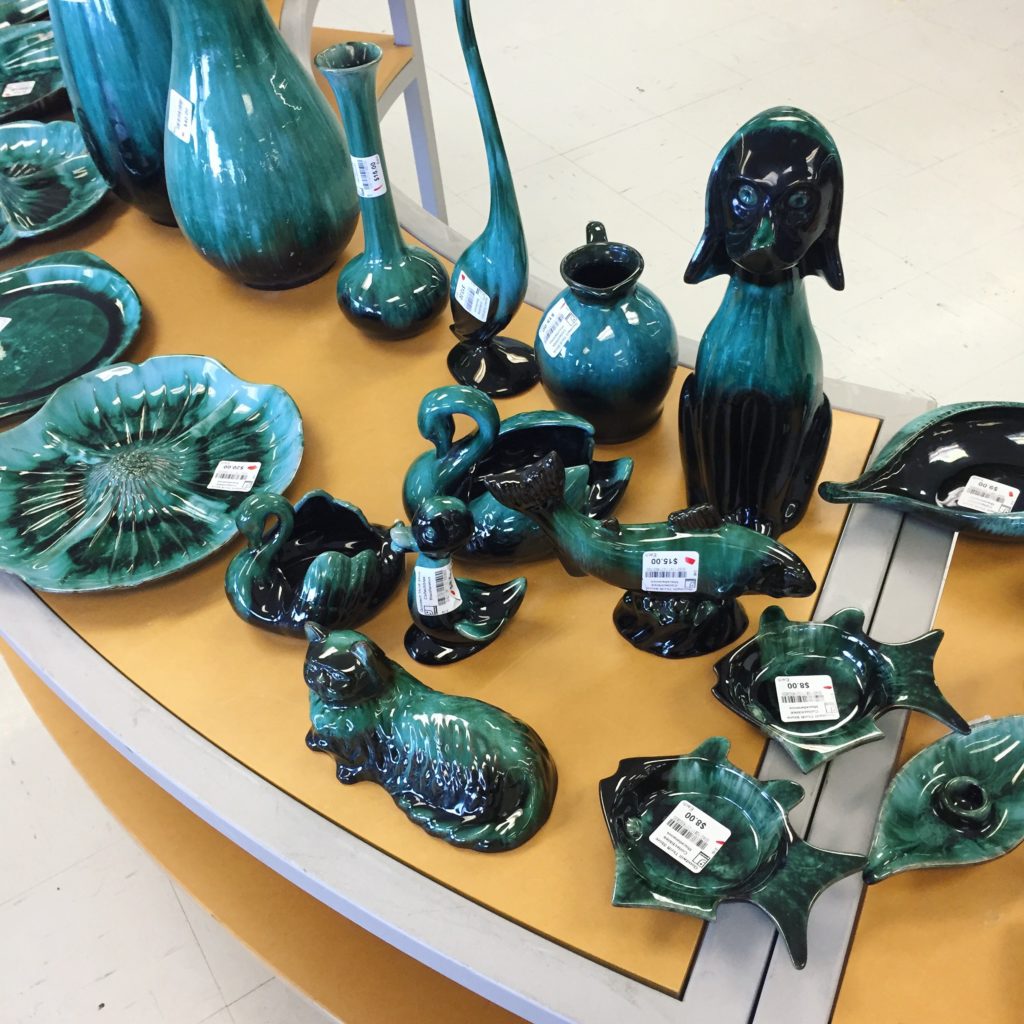 Very pretty, but I resisted because if there's one thing I don't need, it's another collecting hobby. I have enough already. For example, Royal Albert teacups: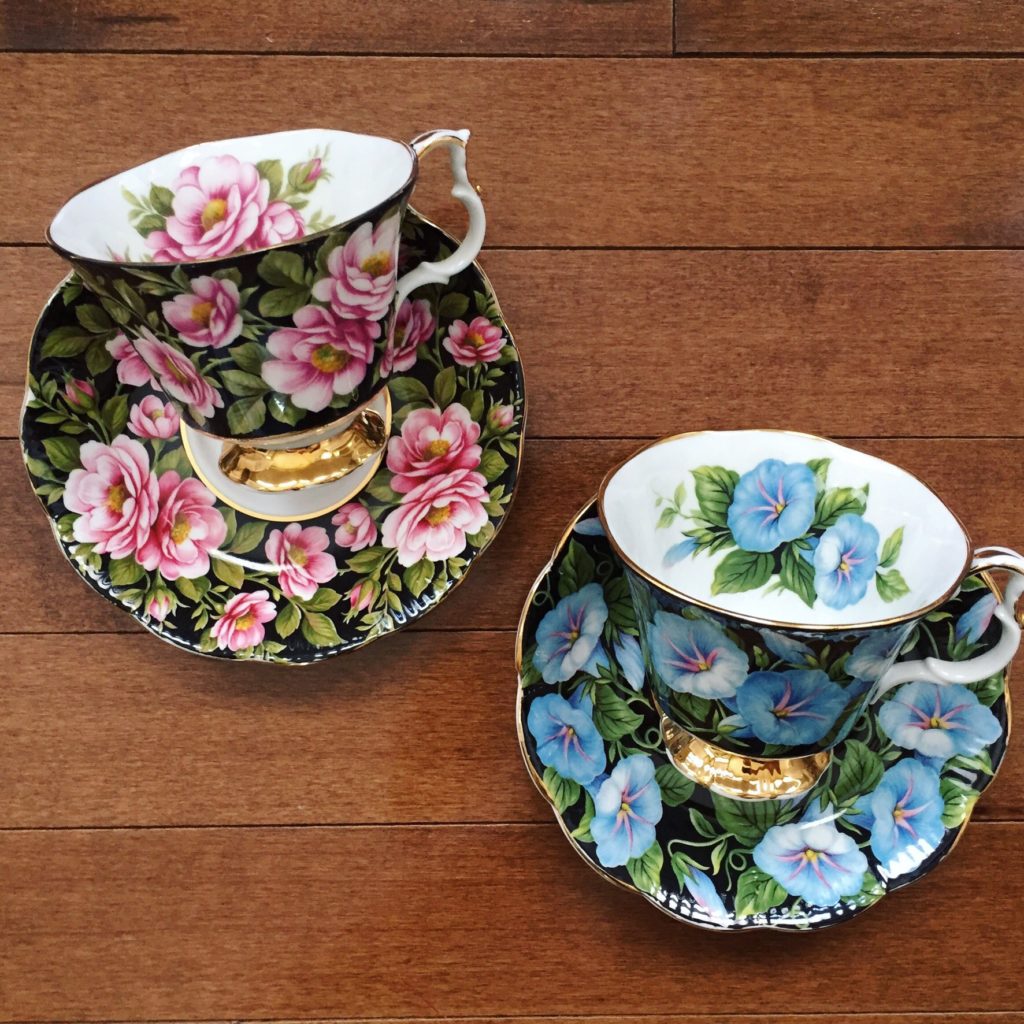 I almost squealed when I saw these in the display case … and then again when I saw that they were priced at only $10 a piece. This type of floral-on-black pattern is my favourite, and I didn't already have these two. Have I mentioned that morning glories are some of my fave flowers?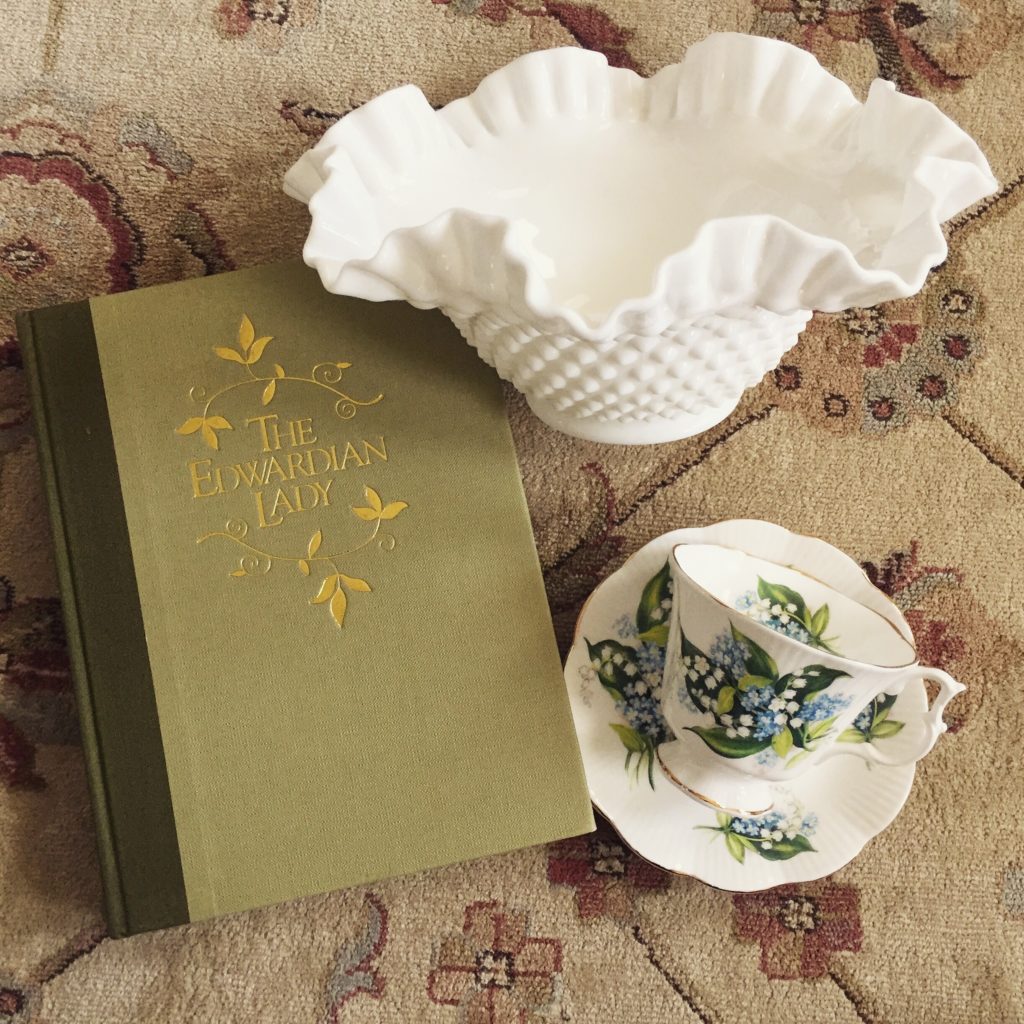 The same display case also contained this pretty lilies of the valley teacup (also Royal Albert, natch) … and a large hobnail bowl. Milkglass is, you guessed it, another one of my collecting hobbies. I felt like I had died and gone to antique heaven. And while I did not find any of the books I had come to look for, I did spot this interesting (vintage) hardcover. A theme suggested itself, so I added it to my cart (along with an illustrated hardcover edition of 20,000 Leagues Under the Sea — for the kids, when they're older).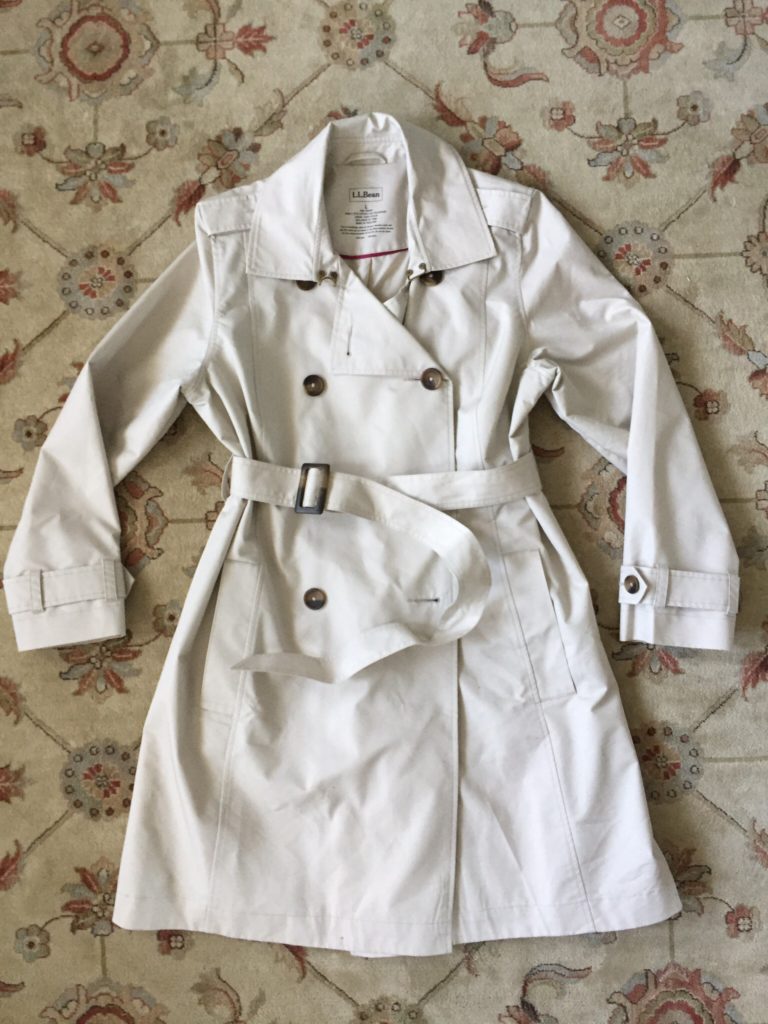 I also picked up this like-new LL Bean trench for my mom. It's her birthday next month. Shh, don't tell her.
The dress racks haven't been all that lucky for me lately, but I always take a quick peek. You never know. Sometimes, something like this is just waiting to be found.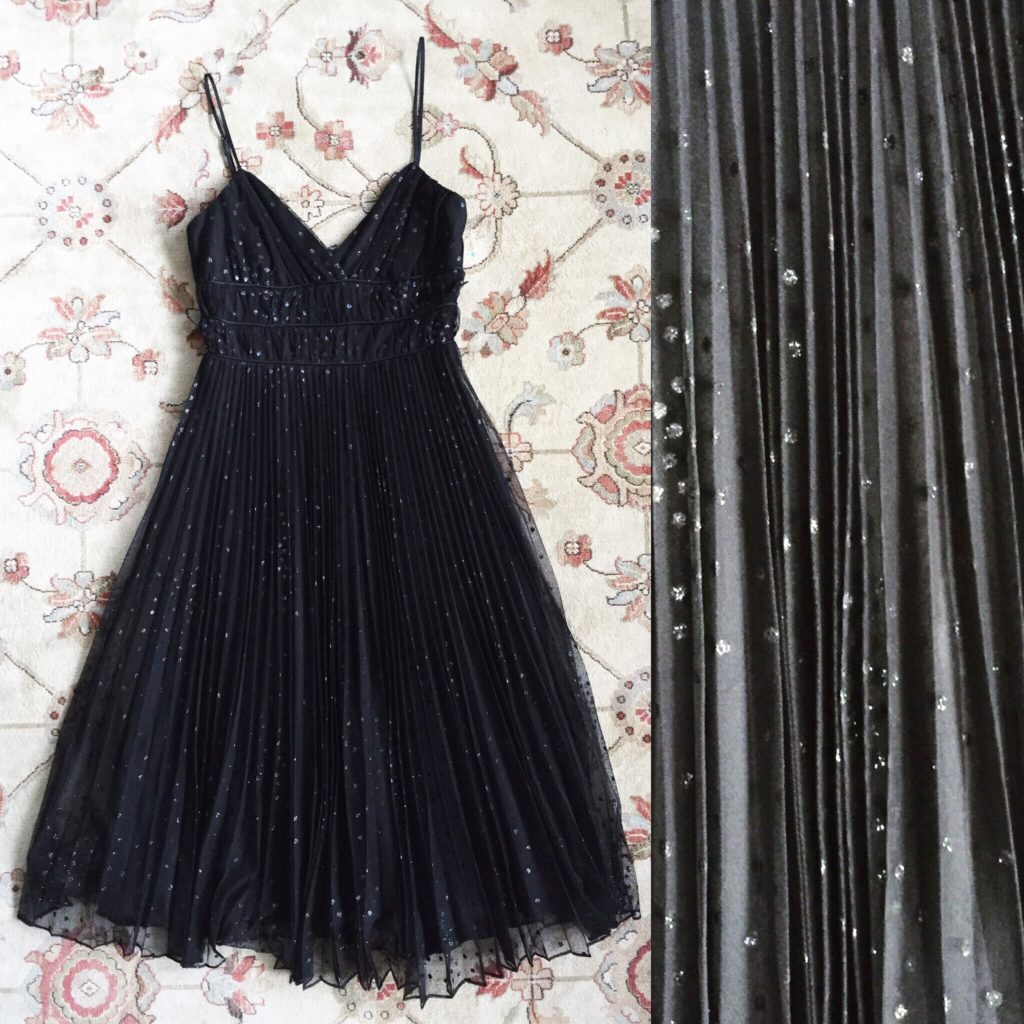 I've never been a huge fan of black dresses. I mean, in theory, yes. But I often just end up feeling "blah" when I wear them. But this LBD? I could wear it every day. Look at those pleats!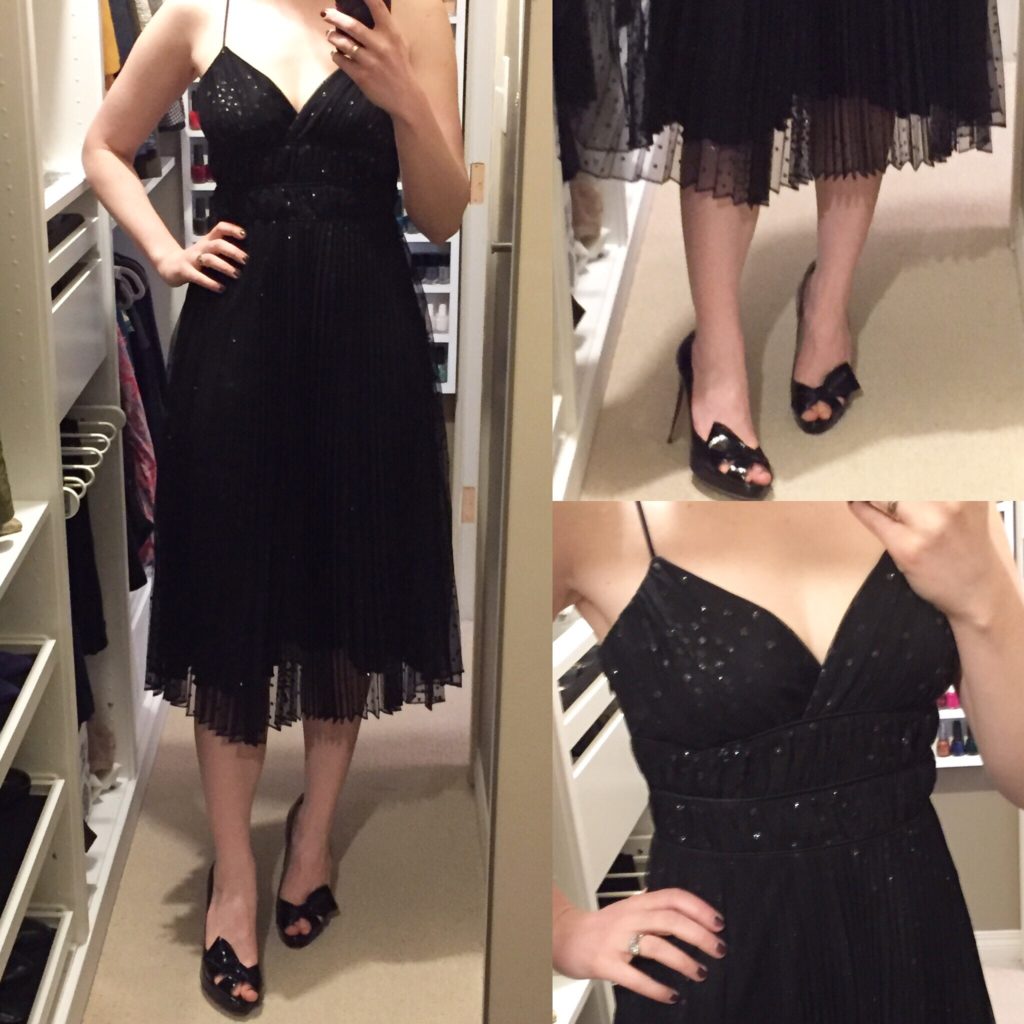 I adore this dress beyond words. I think it must be relatively old because the label says that it was made in the US, but the style is quite timeless. I was admiring a dress that was almost identical a few weeks ago at Holt Renfrew. I could not justify spending hundreds and hundreds of dollars on a twinkly dress I might only get to wear once or twice a year, no matter how much it made me feel like the princess my inner 10-year old would like to be. But $7? Oh, hell yes.
Finding this dress made me so happy, but it was not the end of my weekend thrift luck. The following day, I had to drop off a couple of bags at Value Village for donation, and decided to make a quick stop.(Cue my husband: "You always say that, honey." He's a patient man.) As it happens, it did not take me long to find this: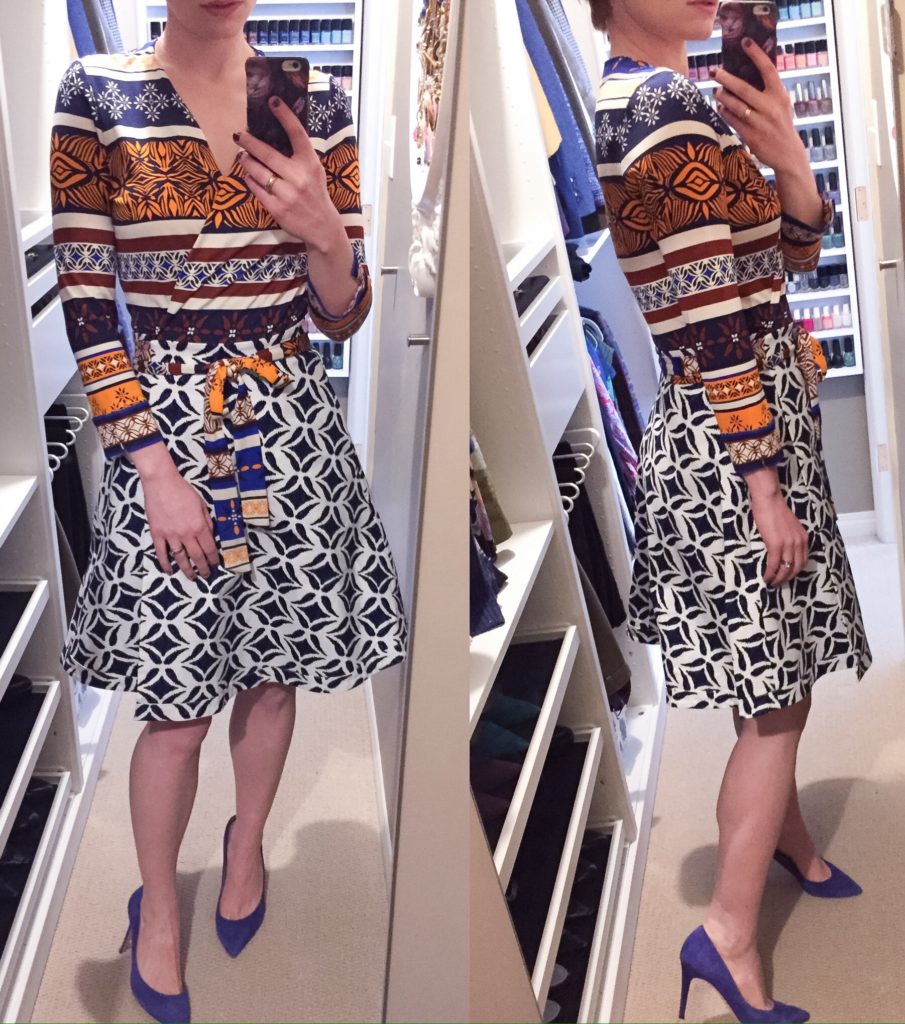 A brand new (with tags!) DVF wrap dress … what are the odds? Now, wrap dresses are not really my thing, but I loved the contrasting prints, and figured that — worst case scenario — I could always sell this beauty. But once I got it home and tried it on properly, I wasn't so sure I was ready to part with it. On one hand, I could probably make a tidy profit if I sold it (the better to fund my future thrifting adventures). On the other hand, it's hella cute. Decisions, decisions.