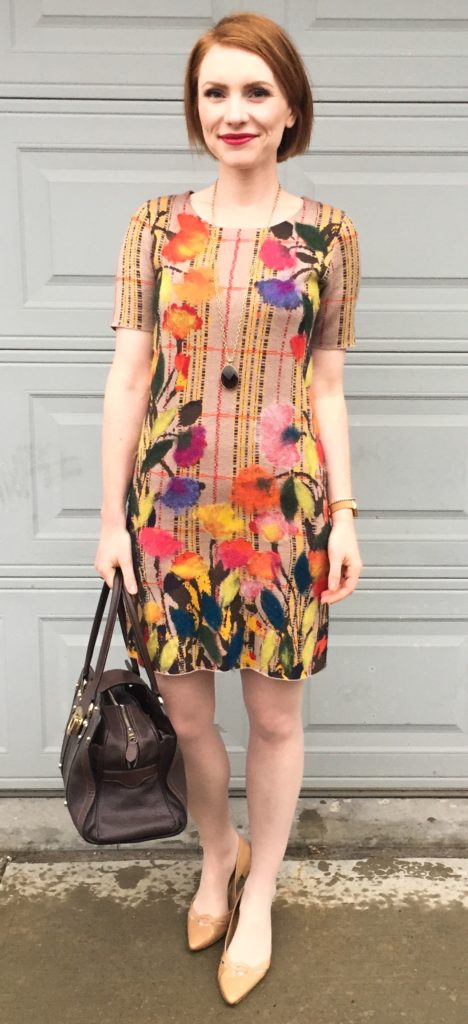 I don't remember exactly when I first saw this dress, but I ended up hunting it on eBay for a good, oh, 6 months. No dice. I could never find it in my size for a decent price; a lot of the time, I couldn't find a single listing, period. That made me more determined that ever to get my hands on it. Naturally. I loved the colour palette and the mix of floral and geometric prints. Truth be told, it's more "old Adina" than "new Adina" so I stopped actively searching for it after a while.
But then!
I've been a (non-active) member of a FB Anthro group for ages. I usually just skip over the group notices in my feed, but one day, one of them caught my attention; most members of the group tend to be Americans, but this person was from my home town. Intrigued, I had a closer look at her listing. Lo and behold, this dress was one of the items. The price was attractive. The dress beckoned. My love of florals won out. Readers, I bought it.
And we lived happily ever after.
Just kidding. I mean, I hope we live happily ever after, but who knows — it's early days. I did enjoy wearing it on a gloomy Friday to work, so I think we can safely say that we are off to a good start.
(A word on sizing for anyone interested: I would suggest sizing down. I am wearing an XS, and while I would have preferred a bit more room — I ALWAYS prefer a bit more room in my clothing — it fits fine around my hips which are definitely not extra small.)