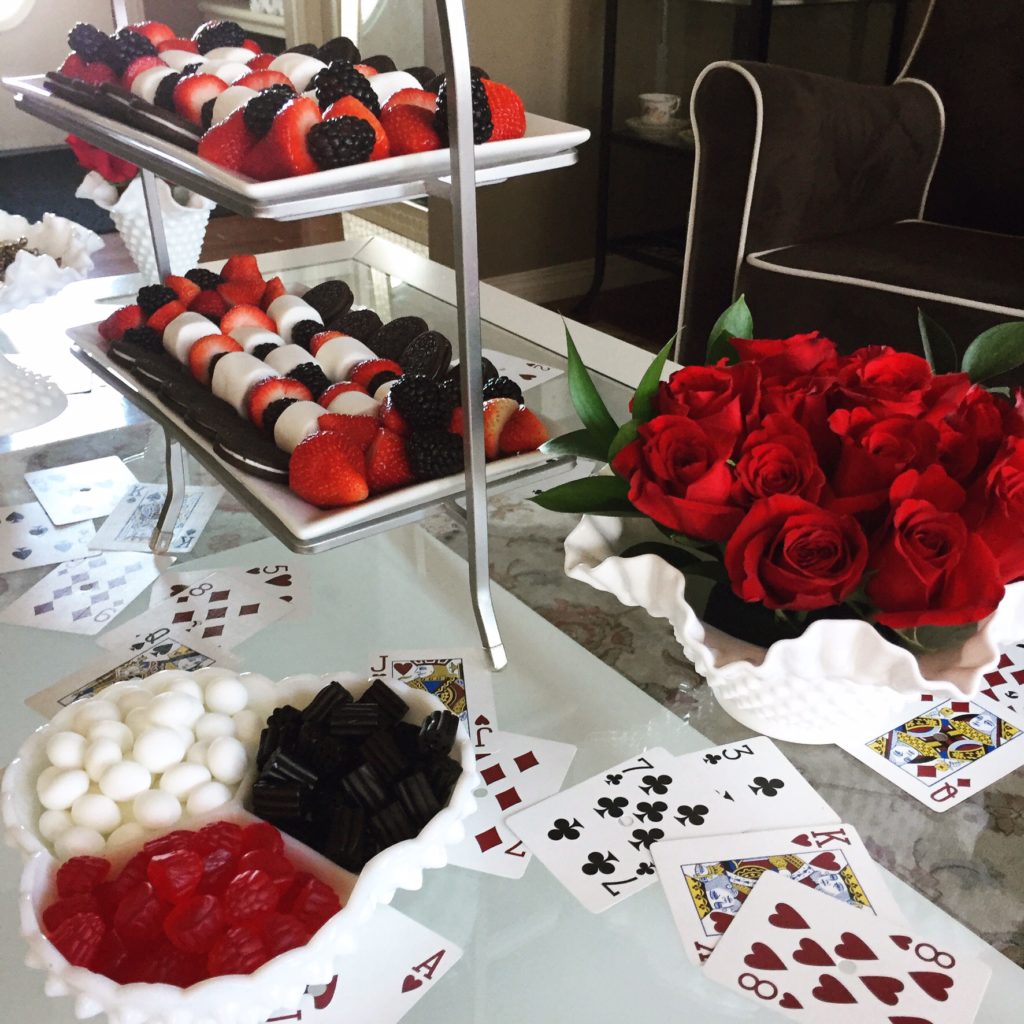 It seems impossible somehow, but this year marked the 10th (TENTH!) anniversary of my annual clothing swap. I started hosting these parties when they were barely a blip on the ethical fashion radar — indeed, when ethical fashion itself wasn't yet a "thing". I can't recall now how I heard about the idea of clothing swaps, but I was immediately drawn to it. Free clothes? A fun afternoon/evening with friends? Yes, please. At the party this year, I joked that my clothing swap is one of my longest running relationships; I started dating my husband a year after the first swap. All joking aside, the swaps have been a lovely way to, most of all, stay connected with friends I don't get the chance to see often, and make new friends along the way. I was really excited this year when 3 new peeps were able to join the "swap sorority", including Nicole. You can read her post on the swap here.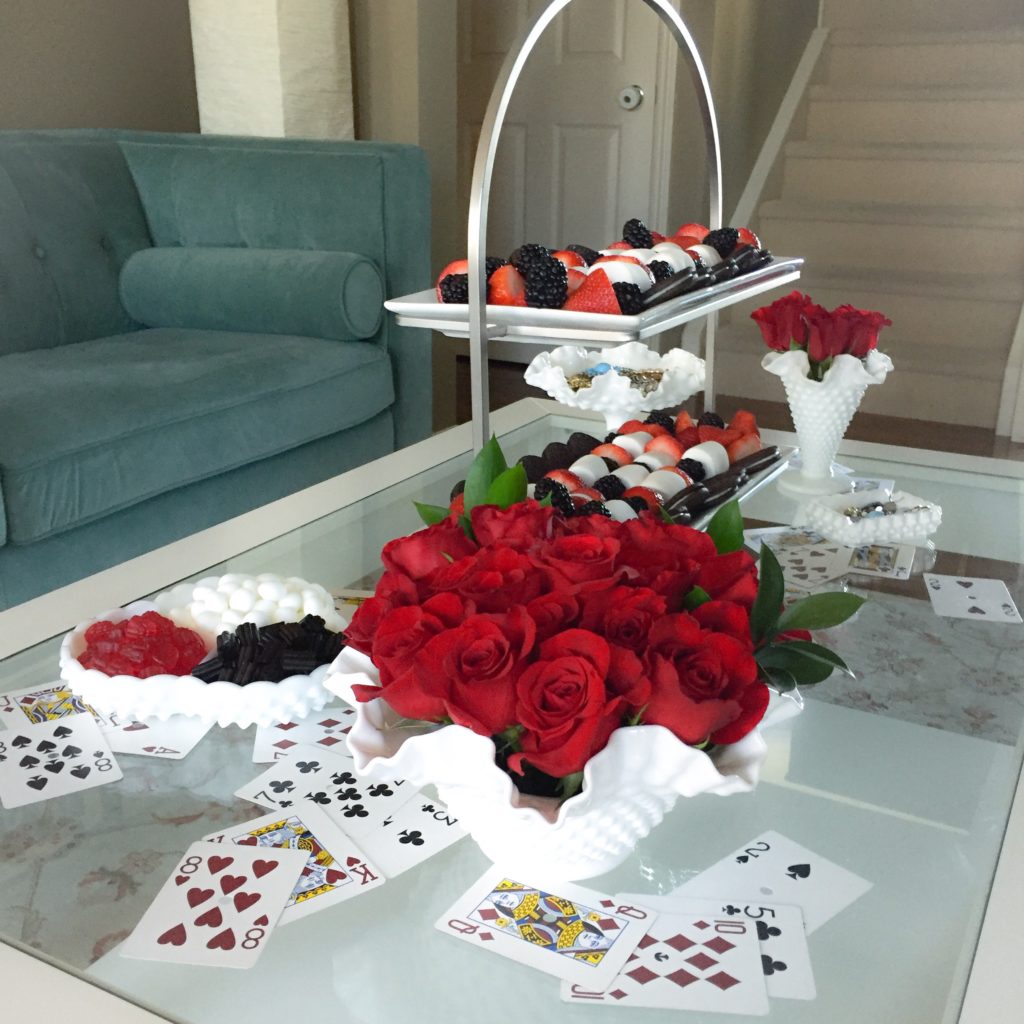 Every year, I choose a "theme" for the party. I am usually inspired by whatever decorations I have lying around the house, but this year my theme came to me in a different way. A while back, I noticed that one of the booths at the antique mall used playing cards to display vintage earrings and brooches, and I thought the idea was super neat. I decided to use it as a springboard for my party decorations, which then evolved into a red, black & white theme. As it turns out, I never did end up using the playing cards to display the available jewelry because I only had bracelets and necklace to swap. Oh well. The fruit-and-marshmallow kebabs, "garnished" with Oreos, looked lovely next to the red roses in their milk glass vases.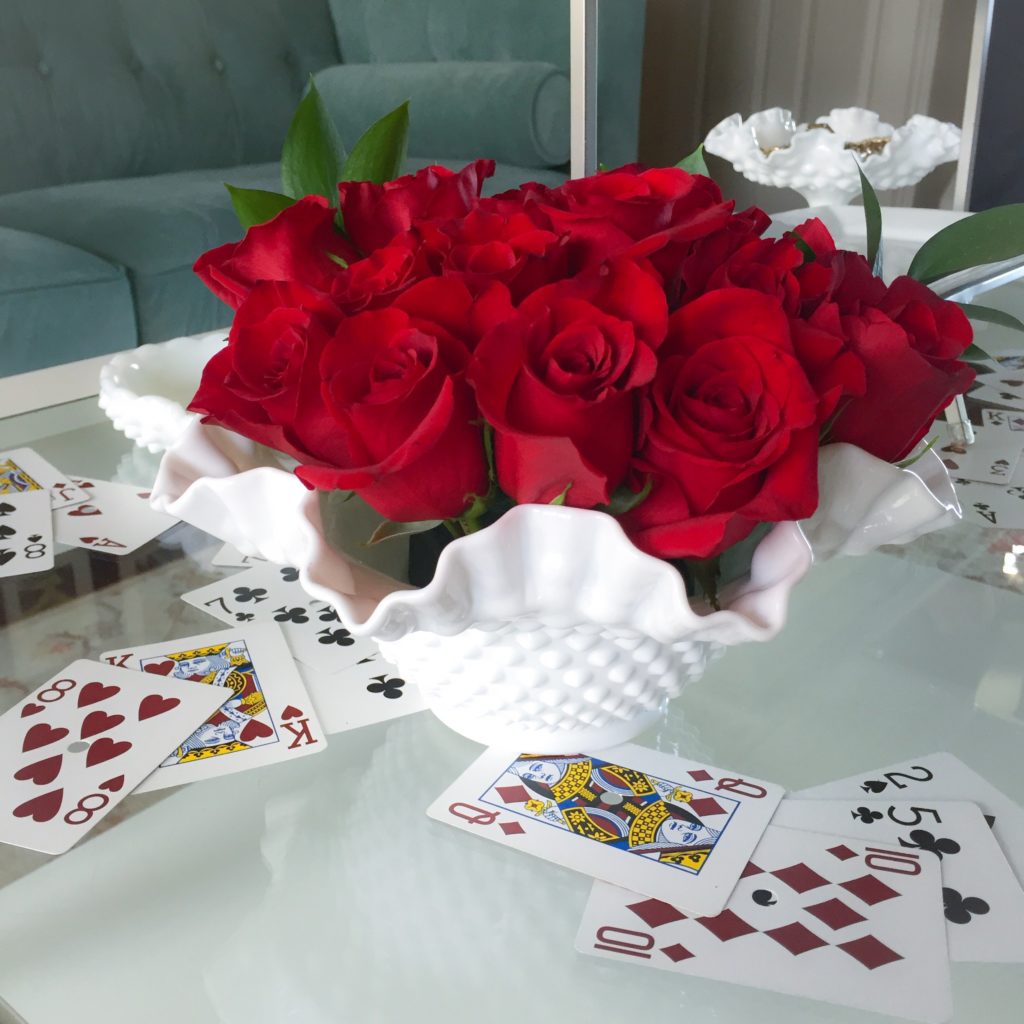 I am especially proud of this arrangement, which utilized an old piece of that green spongy stuff that real florists use in their arrangements — salvaged from a bouquet I received last year. Yep, I collect all kinds of trash — some of which even comes in handy. (By the way, if anyone knows what that stuff is called and where I can buy more of it, I would be forever grateful.) I thought it was a neat way to use one of the newest additions to my milk glass collection. I love roses, but I hate displaying them in their long-stemmed state, so I'm always looking for clever ways to showcase them.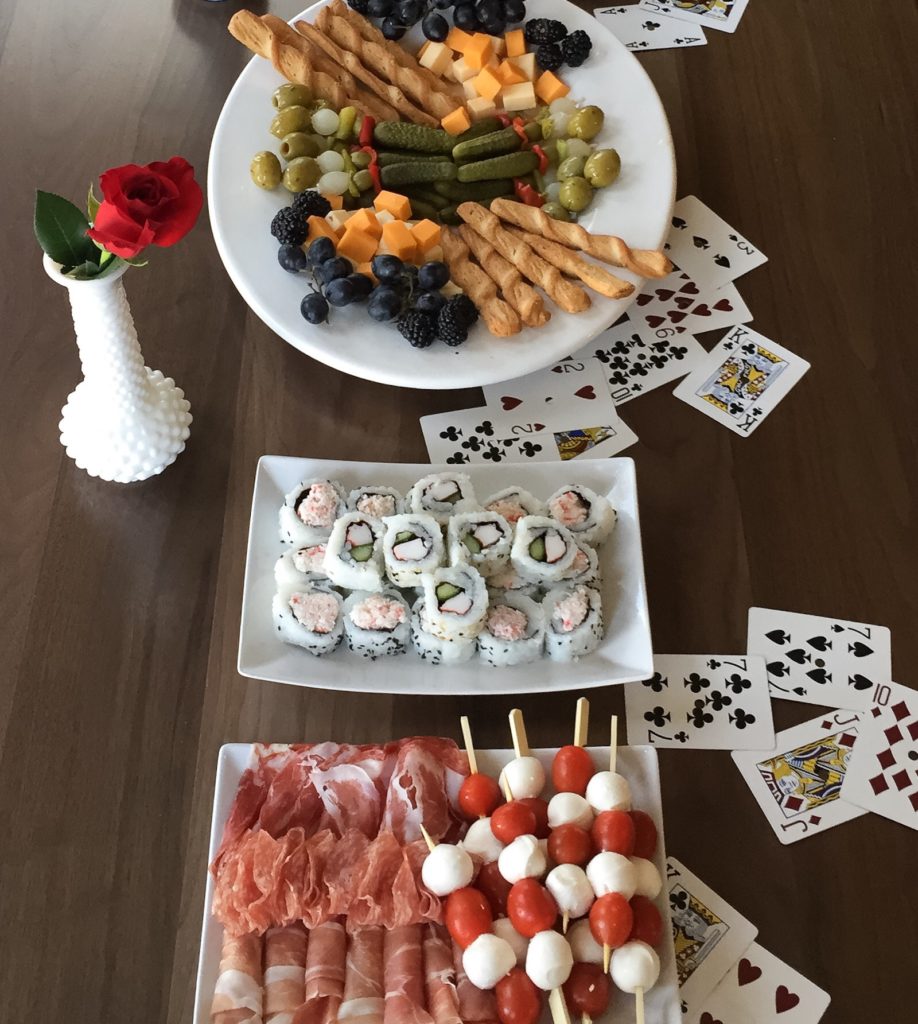 I tried to continue the theme with the food — hence the bocconcini and tomato skewers — but I quickly gave up. Cheese and meats (or, if you want to be fancy, charcuterie) is where it's at, theme or no theme. I can't make them look artistic and Instagram-worthy, but believe me when I say that they were delicious. Mmm, prosciutto.
Moving on … oh, look who made me take a selfie. Only for you, friend. Only for you.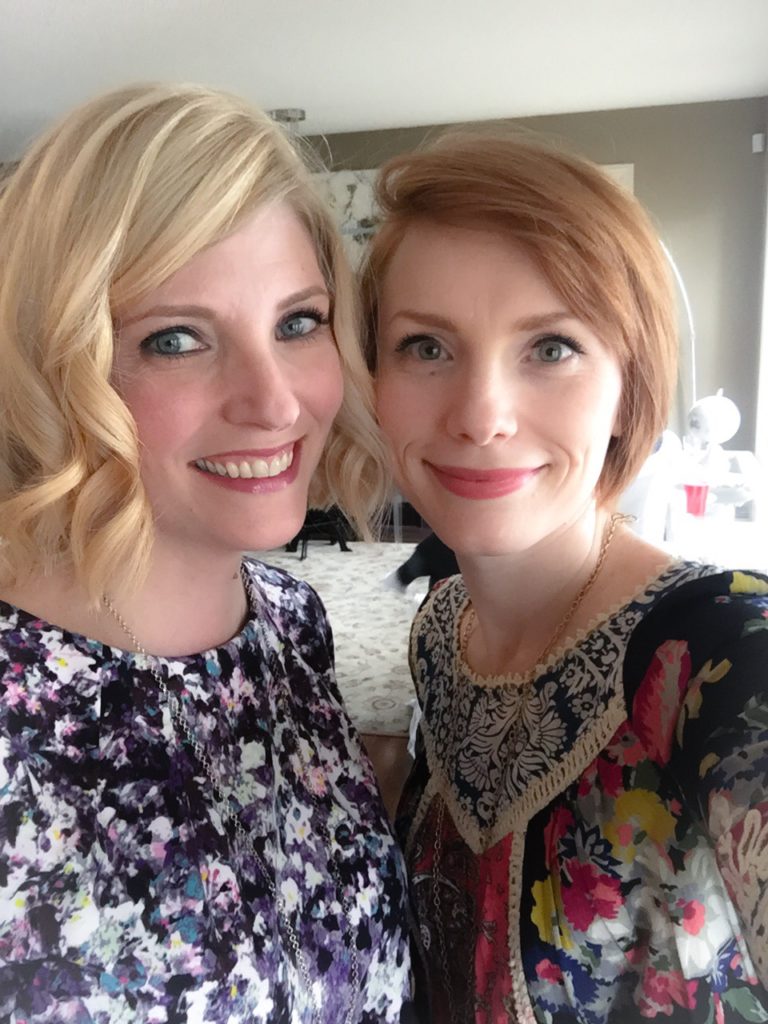 Being the dedicated blogger that I am, I forgot to take photos of the pile of clothes I contributed to the swap. Let's just say that there were 3 enormous bags … and a half dozen pairs of shoes … and a couple of bags … and some jewelry. Oh, and nail polish too. Combined with the goodies that the other lovely ladies brought, we assembled a veritable Mount Everest in my living room. And that was just the rejects! (Everything that was left over after everyone had their picks was donated.) I did manage to take snaps of the things I ended up choosing and keeping.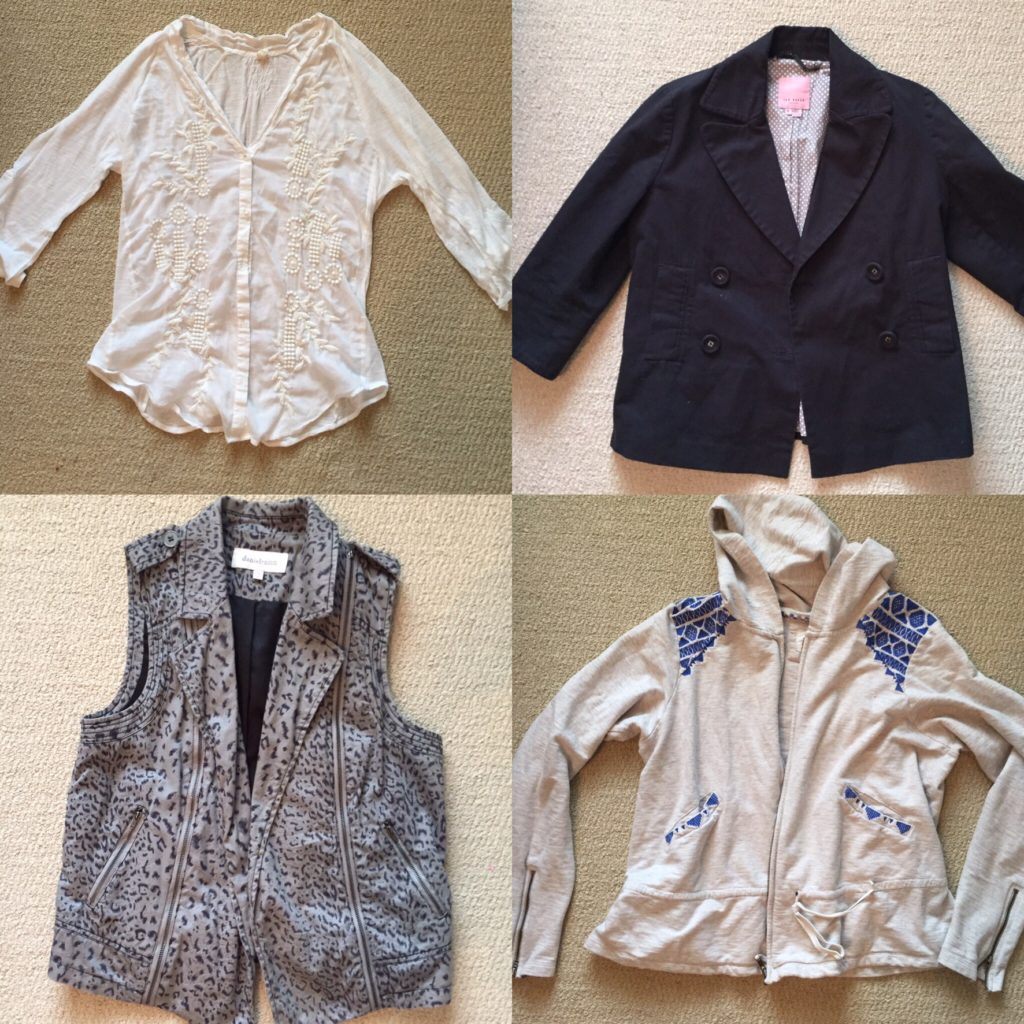 The white popover and sweatshirt jacket are both Anthro brand, and both destined for my casual/loungewear capsule. The black Ted Baker jacket and Daniel Rainn vest are going to mix up my casual summer wardrobe.
The long vest on the left was a more experimental selection; we'll see how it works as a casual summer topper. The Lululemons will be house pants. I foresee many hours of happy Netflix-ing in our future.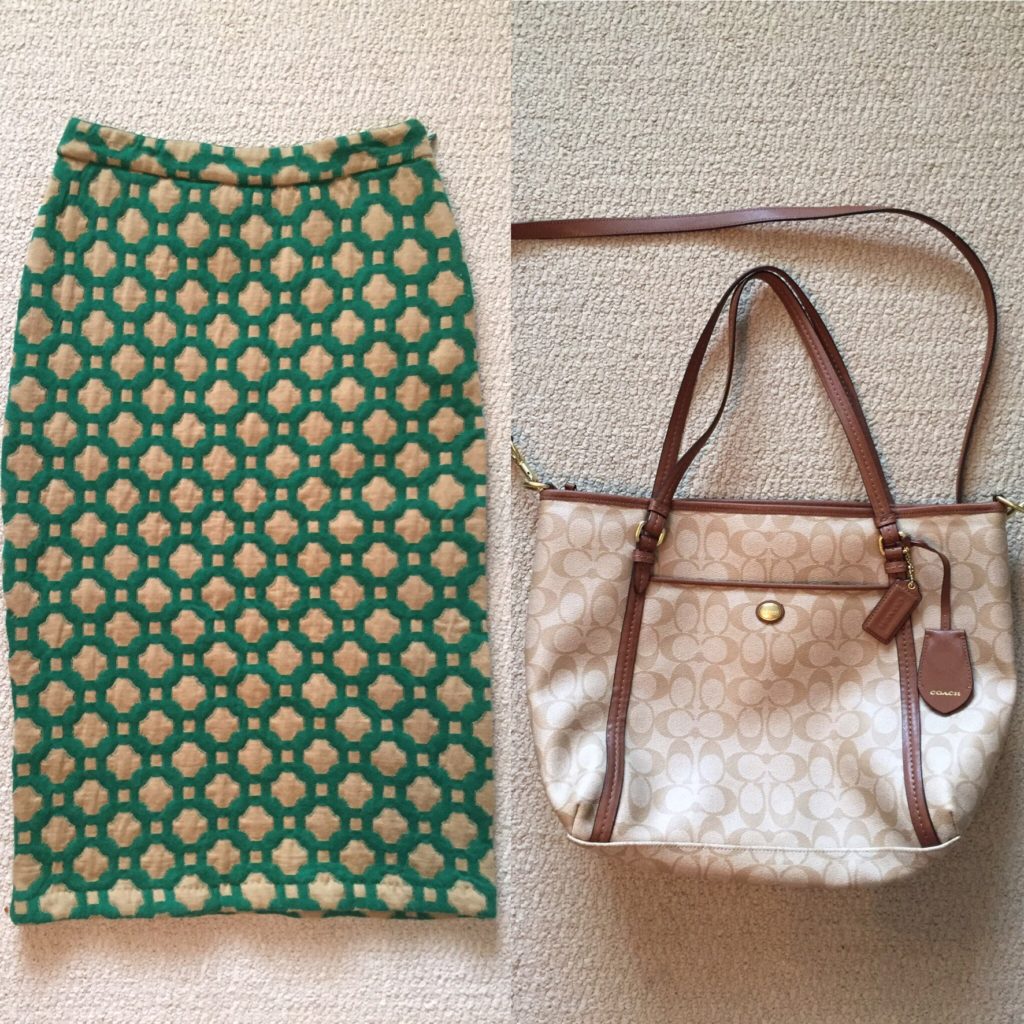 My two favourite pieces are probably this Anthro-brand skirt (from Nicole!) and this Coach tote. The skirt's green colour is not in my wardrobe palette, but the silhouette is right up my alley — it's a gorgeous midi pencil style. Styling it might prove to be a challenge, but I'm definitely up for it. The Coach bag has been in heavy use already. I'm not a fan of the monogram print and wish it was a solid colour, but the overall colour scheme is nice and versatile. The size and organization of the bag, on the other hand, is perfect for a work tote. I LOVE that it has not one, but two outside pockets (for easy access), as well as a zippered main compartment, and two sets of handles. The only issue I've discovered is that the handles start hurting a bit if you weigh the bag down with stuff, and carry it on your shoulder for a while. It's not a huge issue for me, because my commute is not that long. I might just start looking for this style on eBay, in a different finish/colour.
I forgot to take pictures, but I also took home a lovely Linea Pelle bag, some nail polish (I'm fresh out, you guys!), and a couple of pieces for my mom — including some Manolo Blahnik shoes! A special thanks, and shout-out, to my friend L, who donated those. (My mom loves them.)
All in all, I think it's safe to say that the clothing swap was a "jackpot" for all of us who attended. Here's to another 10 fun years!