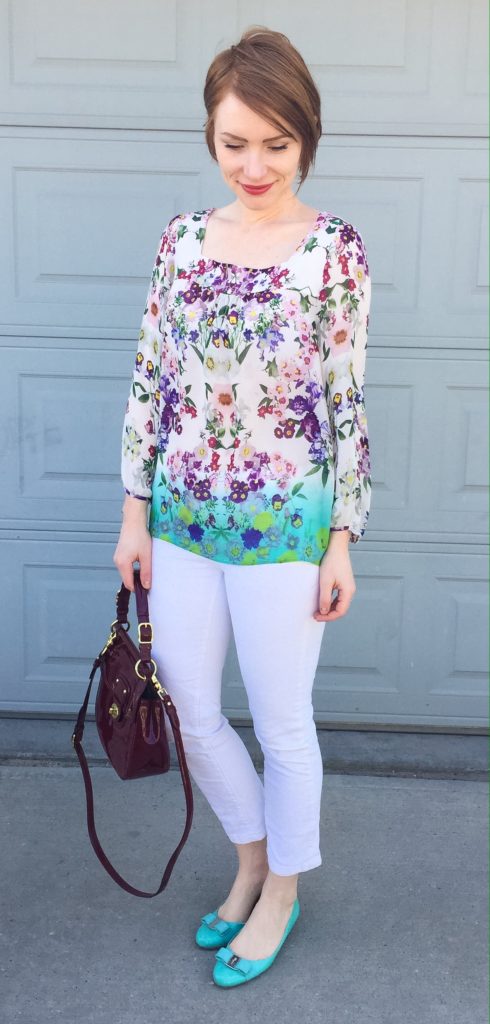 This top was a consignment store impulse buy. I was drawn to the floral print (what's new) and I was distracted by my kids, so I didn't have time to ponder its purchase in-depth. Still, it could have been worse. The blouse is cute, and it works wonderfully well with my white cropped Pilcro jeans, which came out of hibernation as soon as the first warm weekend happened. And not a moment too soon.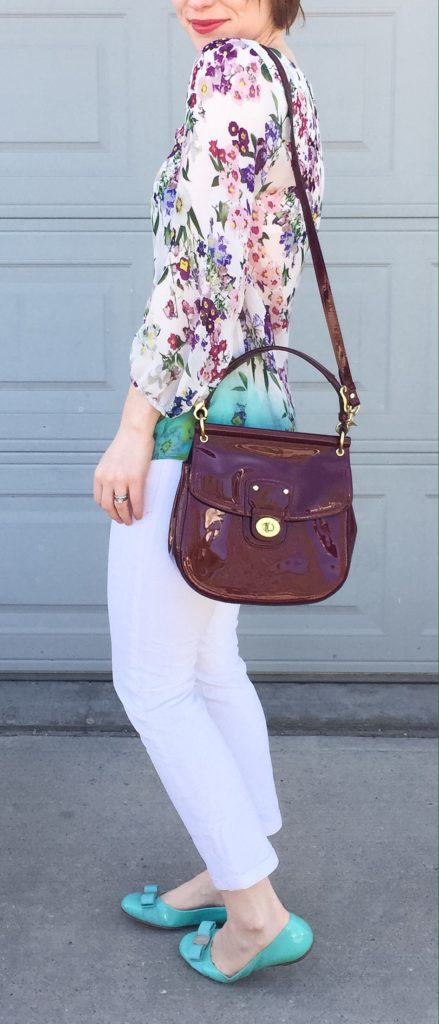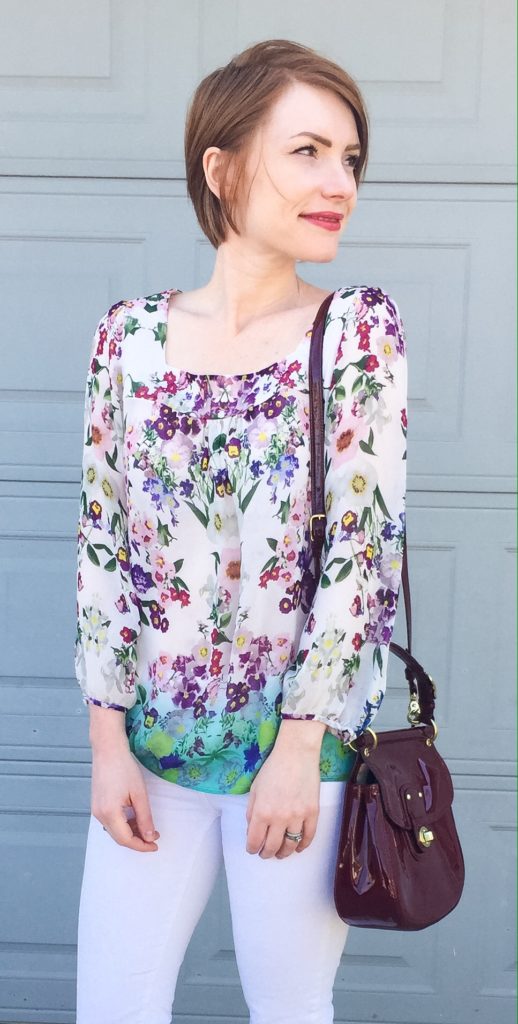 My favourite new thing, however, is this Coach Willis cross-body bag. I scored it, brand new, at Goodwill for $40. It was a relative splurge, but it was precisely what I had been hoping to find. Most of my bags are on the larger side, and I had been finding myself missing a smaller bag, preferably with a long strap, on the weekends. My husband and I are headed to Palm Springs at the end of the month, and I especially wanted that smaller bag for the trip. I hadn't been looking for a burgundy bag in particular (any neutral would have worked), but I didn't hesitate when I saw this rich, dark maroon colour. My instincts were correct; it has already proven to be a very versatile colour, and the perfect size for non-work days. I have been wearing it non-stop on weekends, and the patent leather looks to be of a kind that will hold up well.
I initially wanted to go neutral with my shoes, but I eventually went a different route because it seemed like a (rare) opportunity to wear my Tiffany blue Ferragamo flats. Gorgeous colour, hard to wear — at least, given my current closet. However, that's not even their biggest drawback; no, that would be the fact that they are mega uncomfortable. I haven't worn them nearly enough over the last 3 years to break them in, so they continue to give me massive blisters every time I wear them. It's odd, considering how comfortable other Ferragamo shoes have been in my experience, which goes to show that you should never take things like comfort for granted. But hey, if anything is interested in a beautiful pair of shoes to admire (or wear at their own risk), let me know — I think I'm ready to be talked into parting with these for good.
(Also, pssst, I finally managed to update my Blog Shop page, so check it out.)