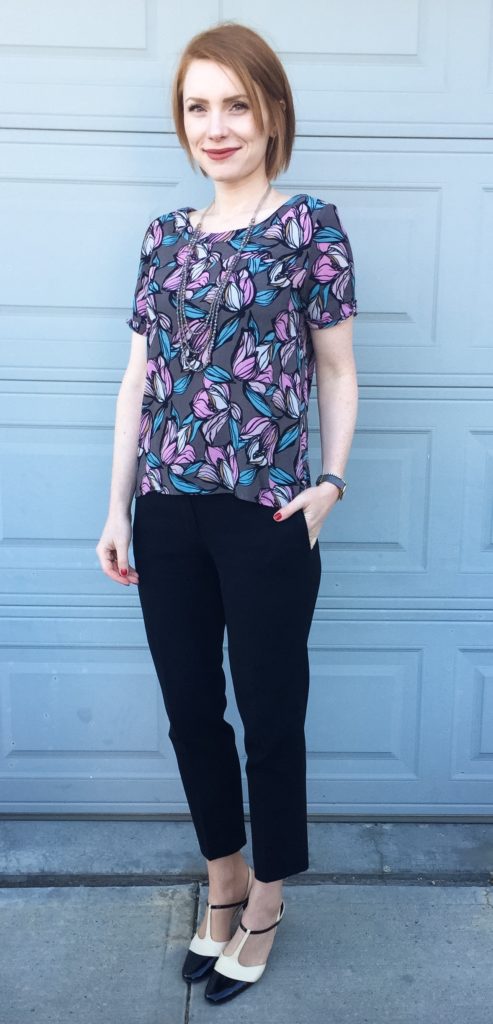 I should keep track of all the recurring features on BCRL a lot better but … eh. You know how it goes with your favourite (?) most lazy blogger. Heart's in the right place, but execution sometimes leaves something to be desired. But, yes, here are a few of my current favourite things. In no particular order …
Numero uno: this top. You've seen it before, and it's still awesome. I'm starting to be a big fan of crepe. It's not as finicky as silk, care-wise, and it feels nicer (and less sweaty) than plain poly. I love the colour palette, and I had to restrain myself from playing up to it. I chose neutrals, but it's only a matter of time before I try a slightly wilder combination.
Numero dos: Aritzia pants, y'all. Not the same style as my old ones, mind you, but the same Japanese fabric. The cut is a little less slouchy than my other pair, but not as body-skimming as my BR Sloans. Thrifting anything Aritzia makes me extra happy these days because I'm loving the aesthetic but not the retail prices.
Numero tres: my shooooooes. These Ferragamos are excellent, and I was dying to wear them again so I did even though I'm not entirely sure this combo is a match made in heaven. But we're talking Purgatory, at a minimum.