Some time ago, I wrote a post on my "Platonic closet" – the key wardrobe pieces most representative of my style. I thought it would be fun to revisit that post, but rather than focus on one item in each category, I thought I would highlight a few favourites based on recent years' use. One of the side-effects of my thrifting (and the resultant frequent closet turnover) is exposure to a large variety of brands, and I have been thinking that sharing my experiences may be useful to those of you who are also interested in secondhand shopping.
Which brands are worth it? Which brands are not?
It goes without saying that these are my personal opinions only, and YMMV. Always.
I will start today with blazers.
In my line of work, blazers are a frequent feature of my work style, even in my current, business casual environment. I have spent many years searching for the Unicorn: the perfectly tailored blazer that doesn't feel like a straightjacket. I have since come to recognize that my Unicorn is more of a herd; while I could probably live with one single plain black blazer, my personal style demands greater variety.
The Classic
If black is your mainstay neutral, then a black blazer is it. My current collection includes 3, and I'm going to talk about each one in turn.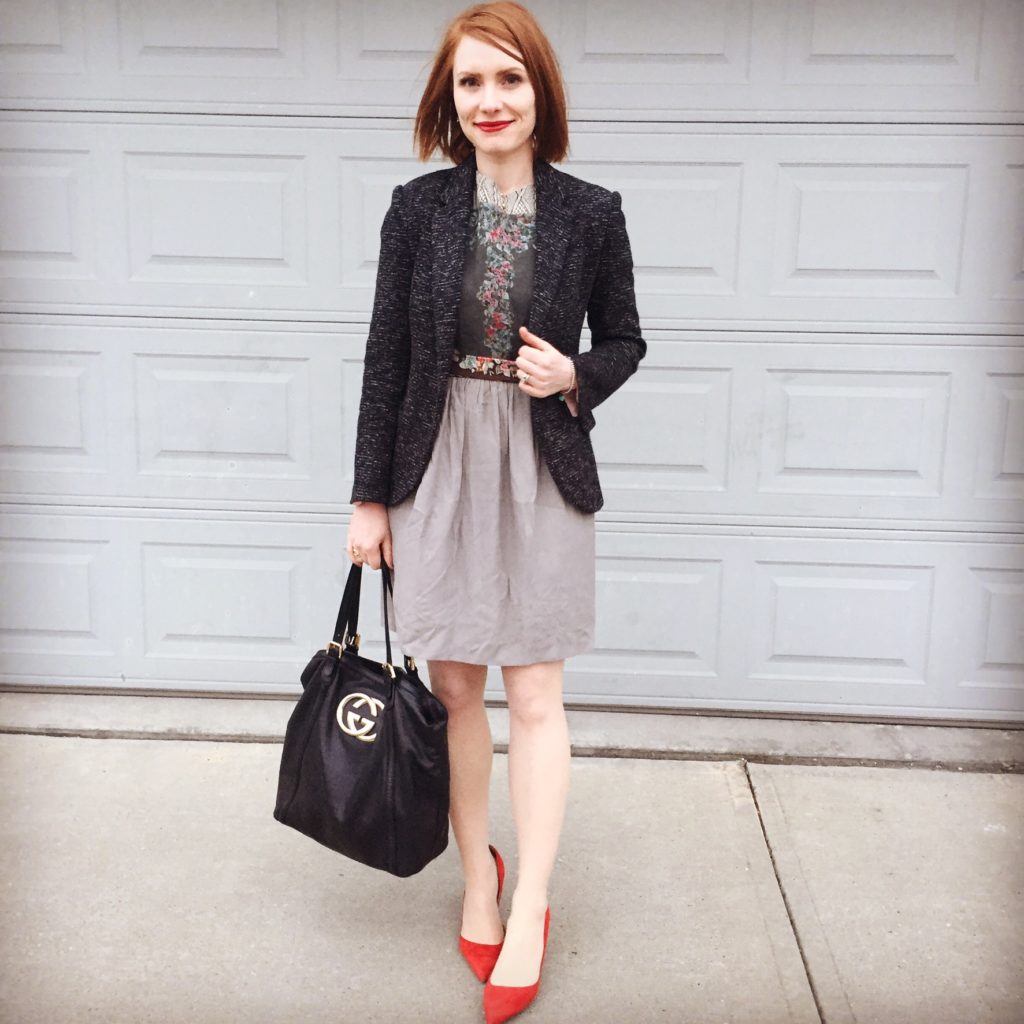 This Cartonnier blazer is an old favourite but the heathered ponte fabric makes a more casual choice. It is not as sharply tailored as my other black blazers, but it still nips in nicely at the waist, and it is probably the most comfortable. The material is on the thicker side, plus it's lined, so it's a good option for cooler climates.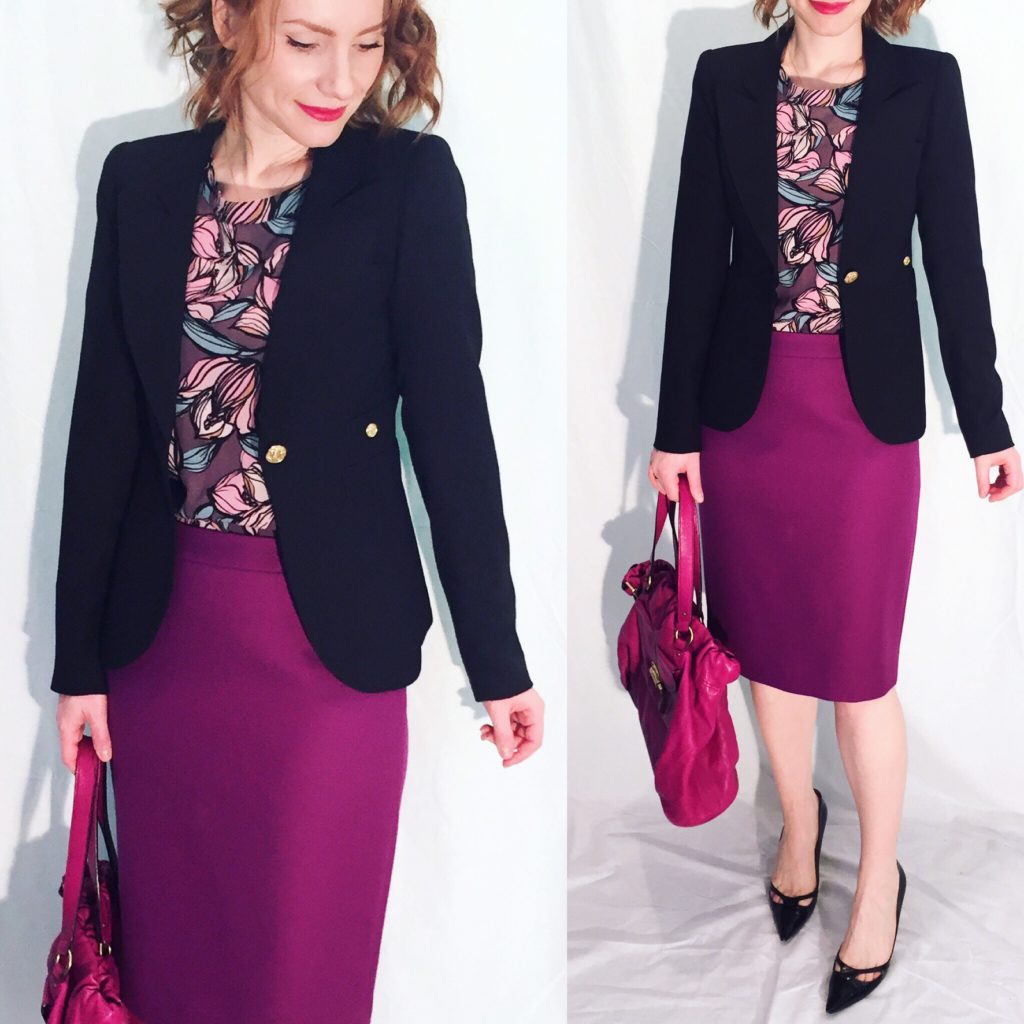 This Smythe blazer is superbly tailored. It does have, however, a very distinctive "look" including very sharp shoulders. This may not be for everyone, and it makes getting the right size a critical consideration. The first Smythe blazer I bought (retail) was a size 8, which generally fit me quite well except that the shoulders made me look like a line-backer. I sold it last year after not getting much wear out of it. My current (thrifted) blazer is a size 4 and fits much better in the shoulders, though I find it a little bit tight across the back. As you might surmise from this, Smythe is generally cut on the narrow side through the trunk/waist.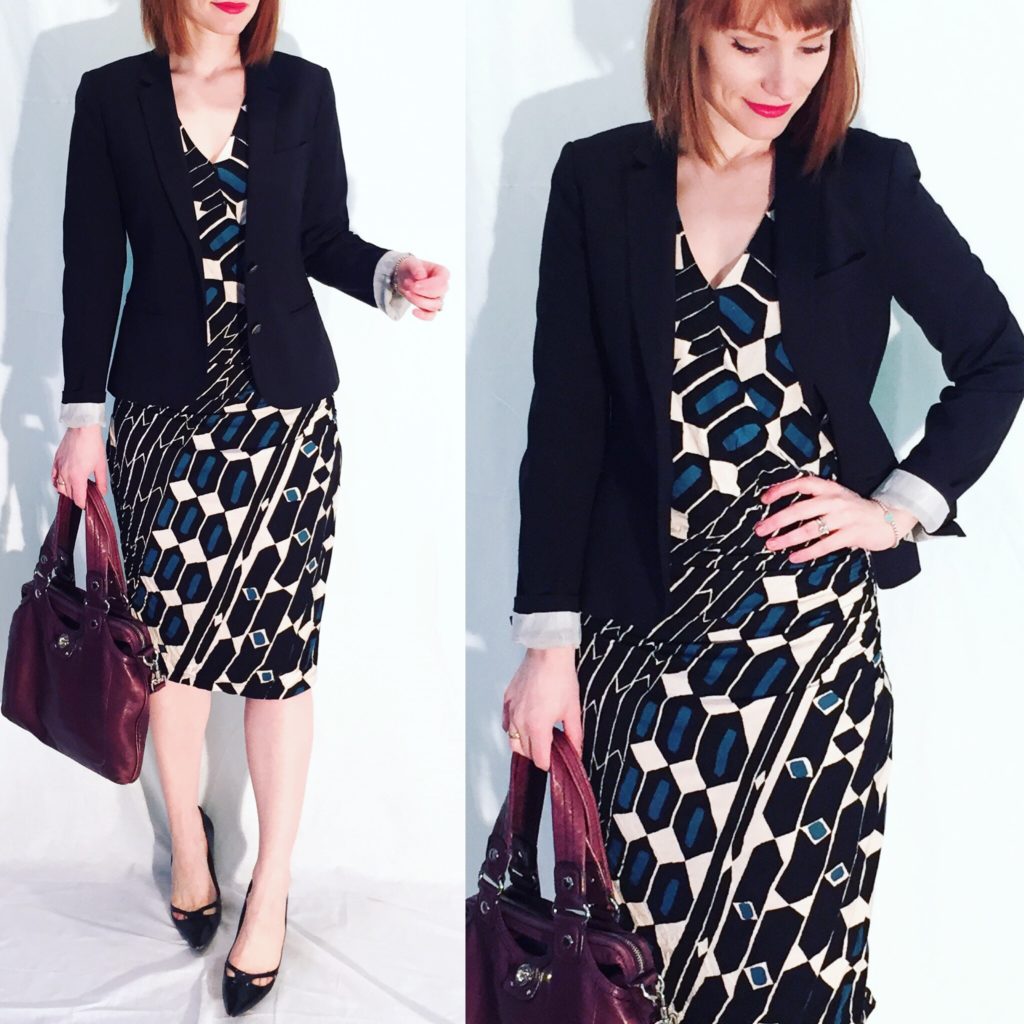 Of all my black blazers, this Talula is the one I would consider my "workhorse". It's a simple, classic cut which flatters the waist. This is the "shrunken" Exeter style, which is shorter than the classic Exeter (the latter being more of a boyfriend style). It works well with both separates (pants, skirts) and dresses, which is the kind of versatility I expect from my wardrobe "superstars". As a bonus, this style of blazers pops up regularly in my local thrift stores. I paid under $10 for mine, in like-new condition.
The Boyfriend Blazer
For casual Fridays and weekends, I prefer a slouchier style of blazer. The Talula "Kent" is my current version of this, though I prefer this floral version to the solid colour ones: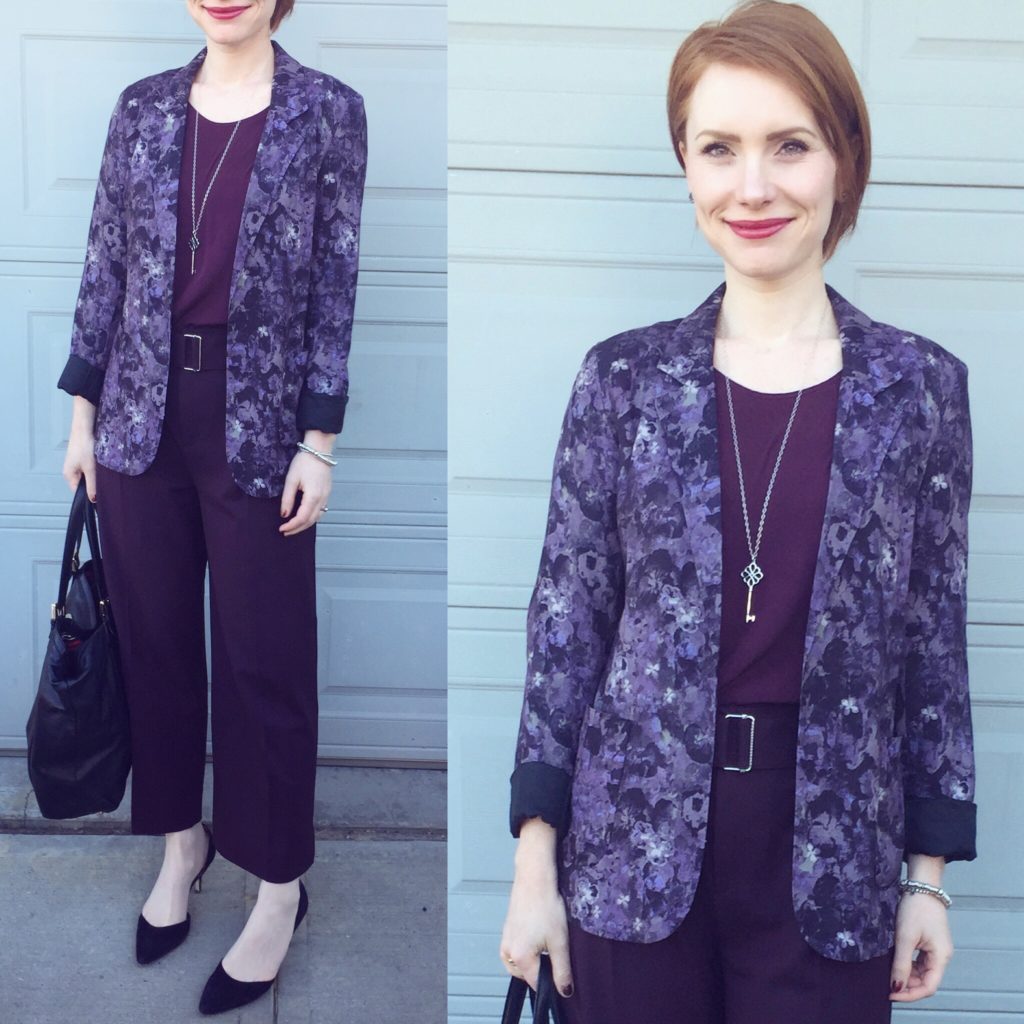 This one has more structure to it, though it is still quite soft (and unlined). It does not wrinkle as easily as other Kent blazers I have seen – which, fair warning, is very easily. I hate clothes that are prone to wrinkling since I also hate ironing. [Note to self: I need to get on that whole buying-a-steamer thing.] As these blazers are cut large/loose, I would size down. I wear a size 4 in the Kent, and it is not a tight fit by any means.
The Updated Blazer
I have come to love a collar-less blazer – the more streamlined the better. They are less conservative than the classic blazer, but look polished and easily elevate a business casual outfit. My two favourites are this Wilfred blazer (I have it in two colours):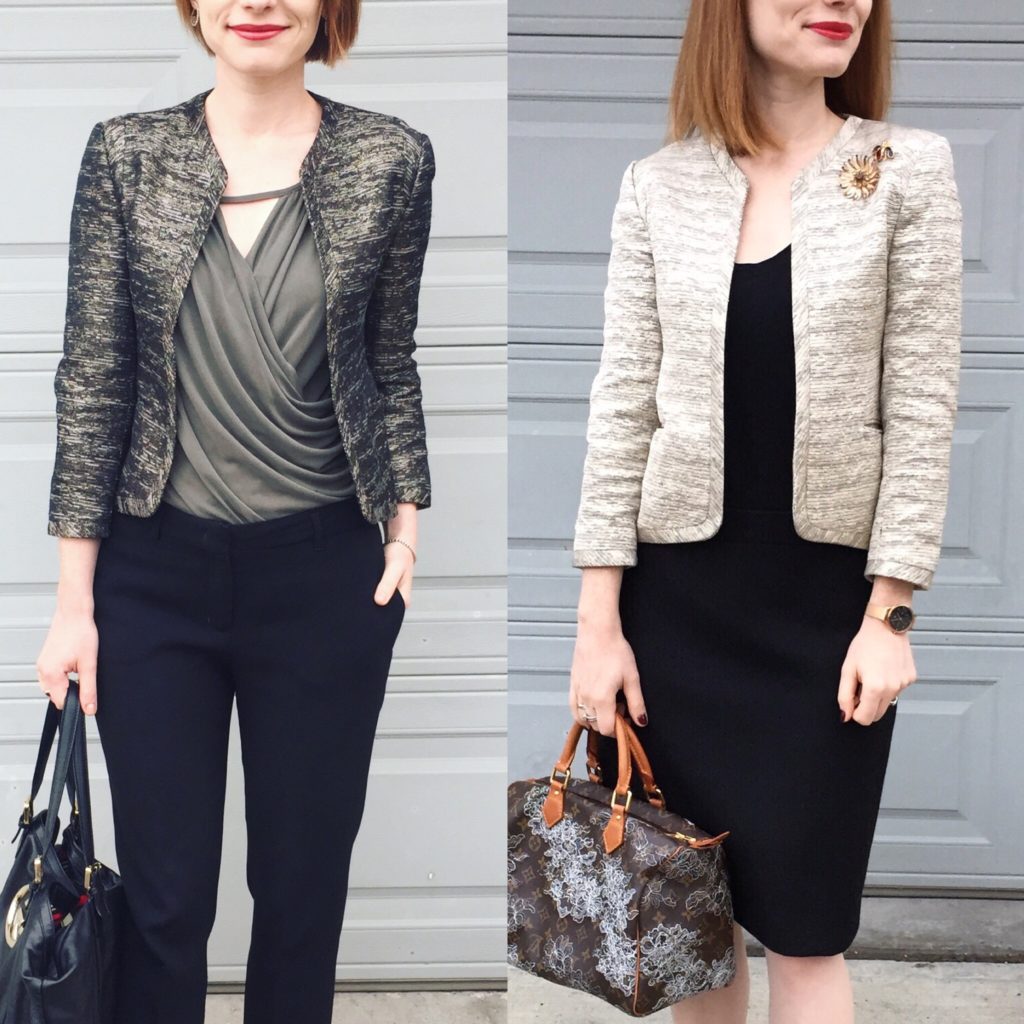 … and this Loft82 greige number: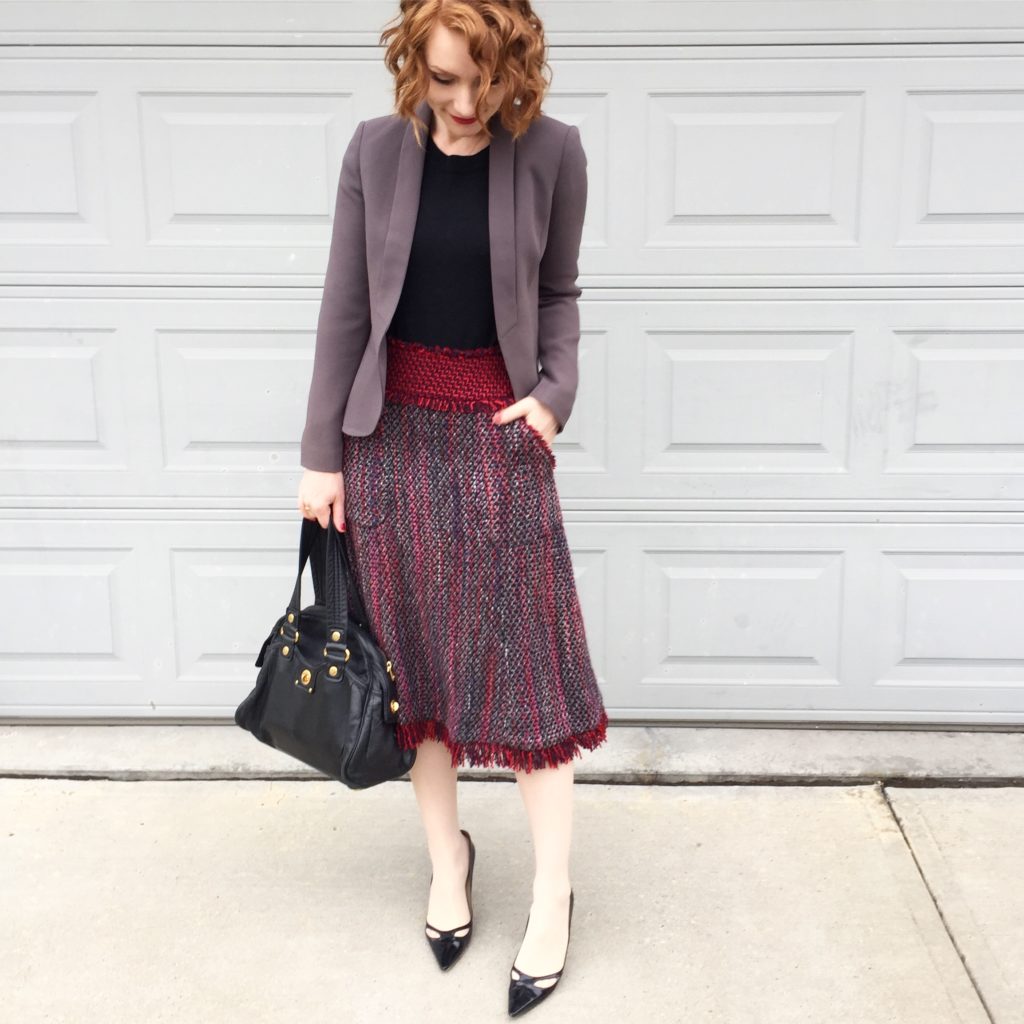 Sadly, Loft82 was a local boutique that went out of business, so the chance of y'all finding this same blazer again are low. The Wilfred one does pop up on eBay all the time, and I have seen it in black (want!) along with the metallic versions I have. I own both a size 4 and a 6, and the 6 fits better so I would say that if you are in between sizes (like me), go with the larger size especially if you have broad shoulders.
The Statement Blazer
Not everyone needs a statement blazer; I'd say this is for people who need/like to wear toppers, and want some variety. A statement blazer will be the focal point of any outfit, so it lends itself to formulas like the "column of colour" (in my case, that colour is usually black). My favourite statement blazer is this Tabitha boiled wool jacket, which I have in 3 – yes, THREE – different colours.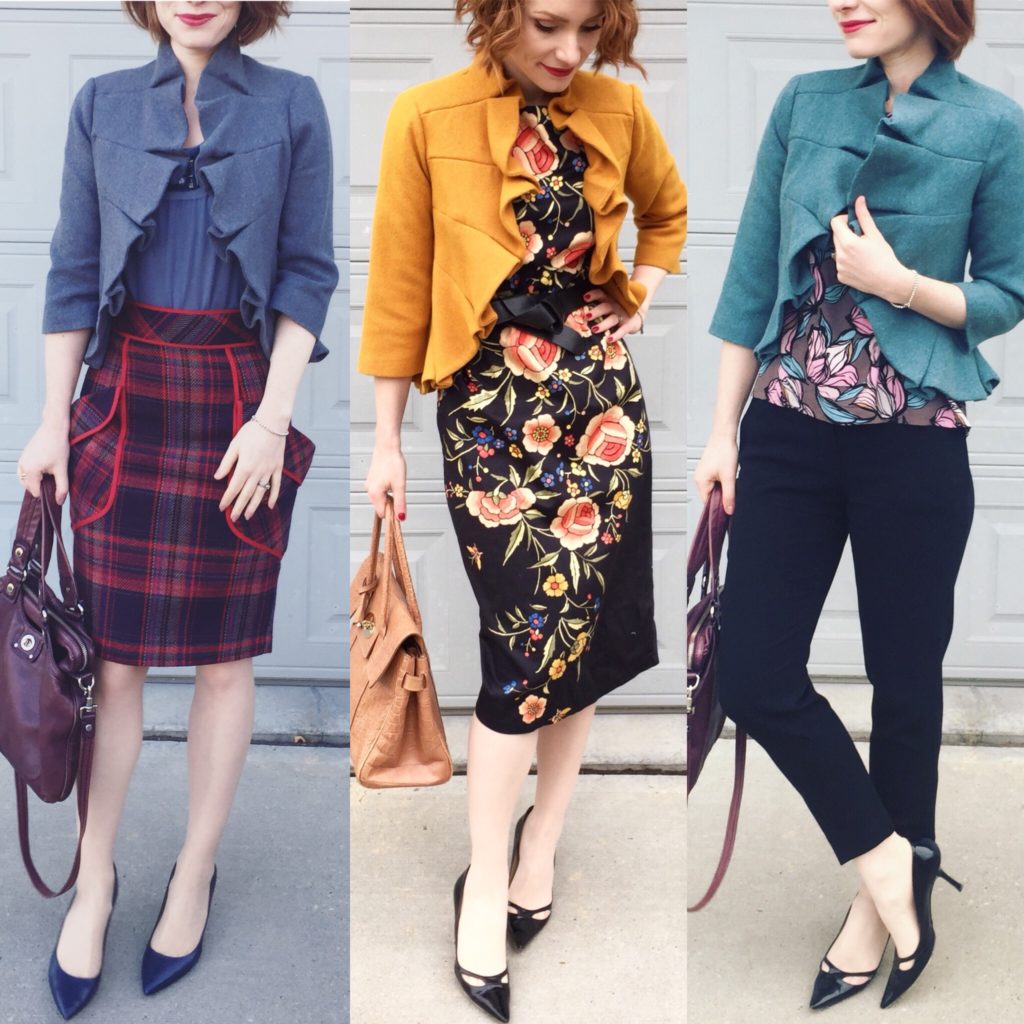 This fits TTS, though it is fairly accommodating. I have worn both the size 4 and 8, for reference. The 8 gives me more room in the shoulders, which I always appreciate, without making me look like a line-backer, but it's looser through the trunk. There is still enough shape to it that it doesn't look baggy. The 4 is more form-fitting, which is good (around the waist) and bad (in the shoulders). For reference, in the pics above, the yellow version is a size 8 and the others are size 4.
Questions? Wanna share your favourite blazer? See you in the comments.