I've decided to switch things up a bit with my OOTDs; rather than individual posts, I am going to do regular round-ups of my favourite recent outfits. Almost all of my outfits end up on IG, so they don't really need the double exposure, but this is supposed to be a style blog so sprinkling a few photos here and there is probably still a good idea. As much as possible, I will try to focus in on pieces I find most useful/versatile, as this is information that's most likely to be of use to you guys.
My plan is to sprinkle a few of these posts throughout the month, but since January has come and gone, I figured I would do a larger recap to kick things off. So, in no particular order, here are my fave outfits from last month.
1) The Red Blazer-Coat Thingie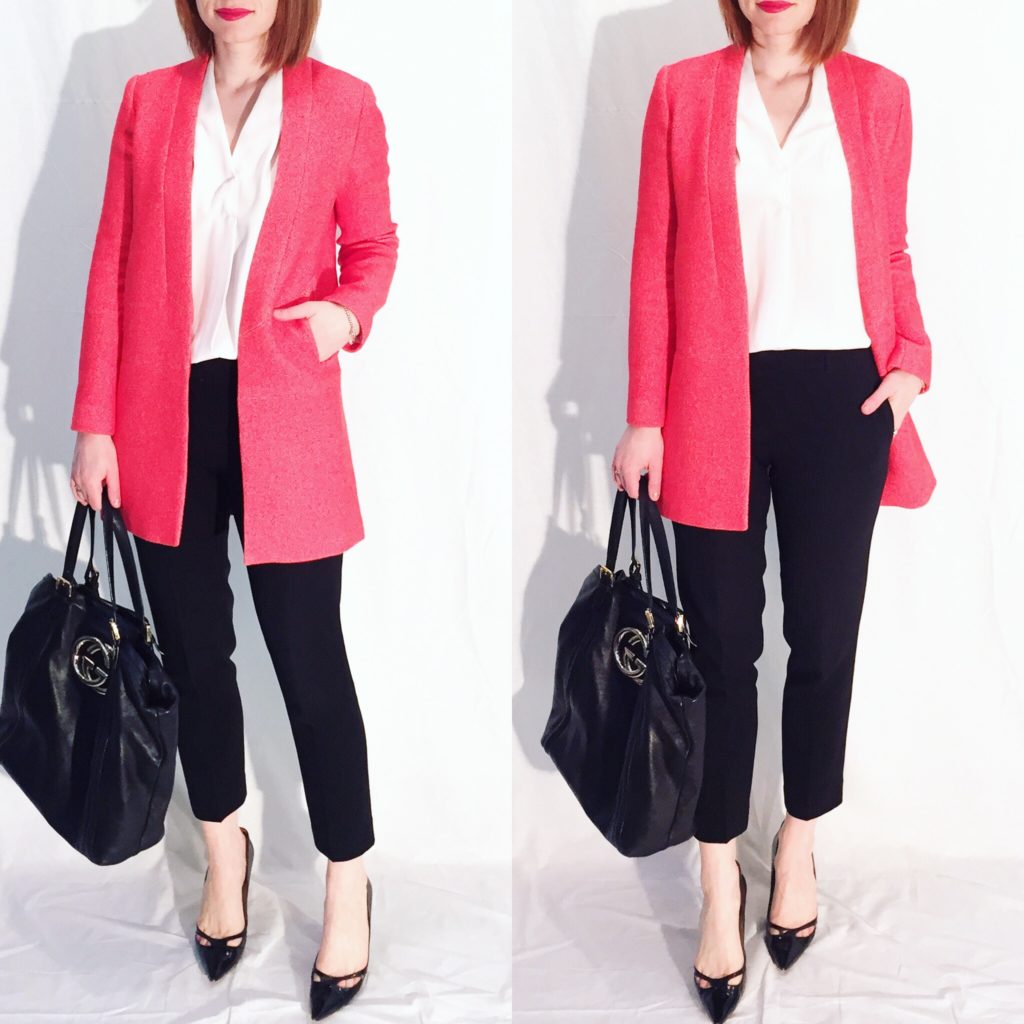 What do we call this? Is it a coat? Is it a blazer? I'm not sure, but I like how it switches up the traditional topper-trousers outfit formula. The "punched up" simplicity here – everything is plain and basic, but the silhouette is a bit unexpected and there's that pop of coral – makes this a Peak Outfit. The blazer-coat is a Zara piece which … on one hand, yes, it's fast fashion and not something I would normally thrift … but on the other hand, the clean aesthetic is very much my jam, and it is thrifted. The whole outfits is, in fact, thrifted/secondhand. Minus the bag, it cost something like $27. That might be a record.
2) The Rediscovered Dress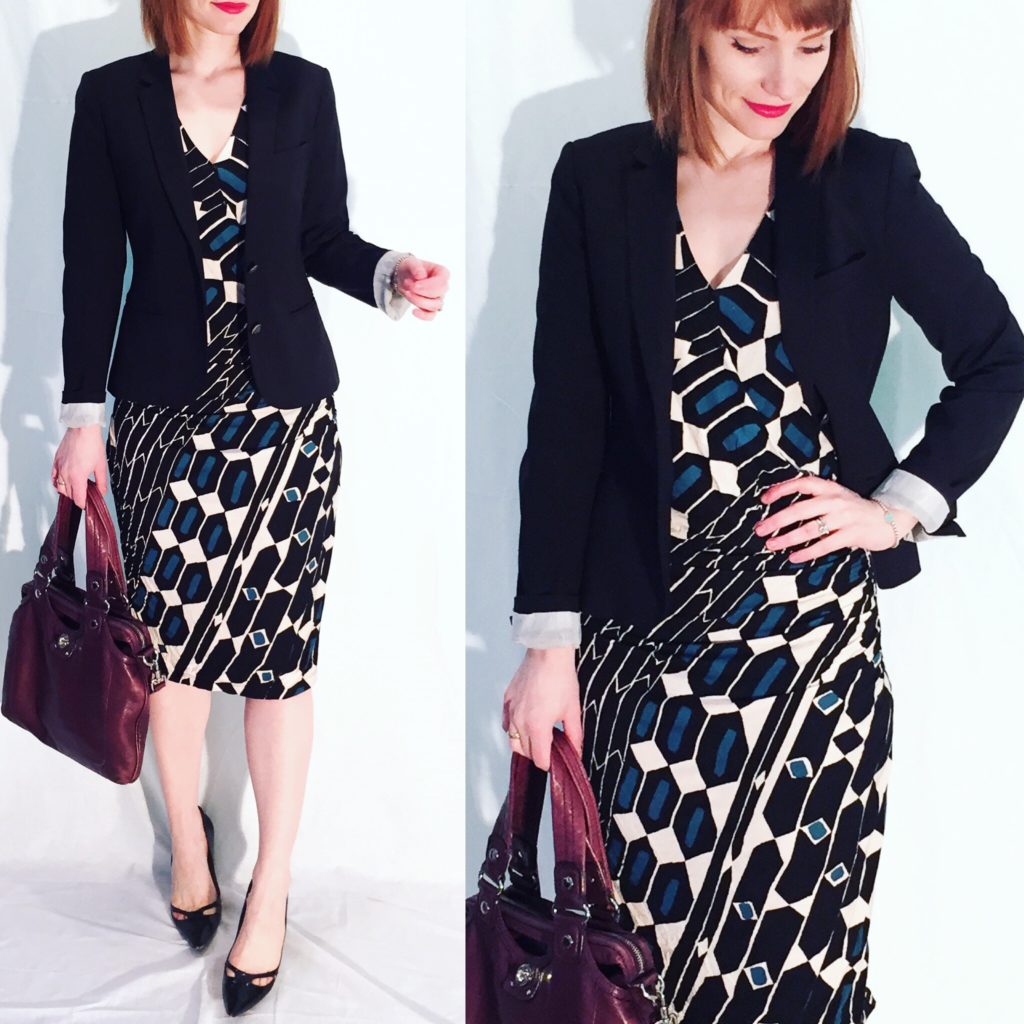 I've had this Tracy Reese dress in my closet for more than 3 years. It was relegated to my swap/sell/donate pile ages ago, after I lost weight and went down a couple of sizes. For some reason or another, I've never been able to part with it. It has nice stretch, and it feels heavenly soft, without being unflatteringly clingy. I was going through the aforementioned pile during the holidays and decided it was just the thing to wear given that I have a few extra pounds of indulgences on board at the moment. Although it's still on the looser side, it's not noticeably "too big", which is in many ways my "happy spot" with clothes. Anyway, nothing remarkable about this outfit except that every piece feels nice to wear, which makes me feel great, and that is all that one can ask for in the middle of the frigid wasteland that is early January.
3) All the Teal in the World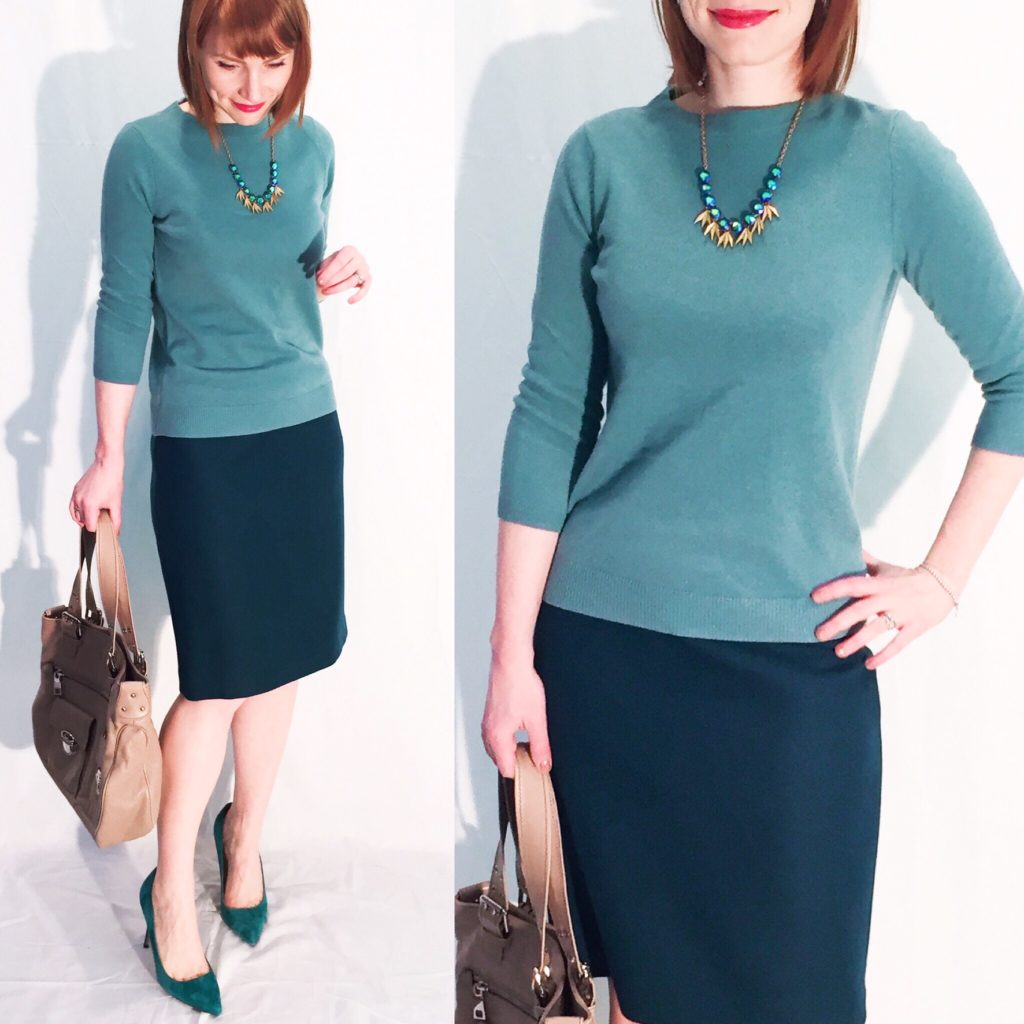 As soon as I thrifted this cashmere sweater, I knew I would try to work it into one of my monochrome outfits. Late last year, I rediscovered my old J. Crew wool pencil skirts, which are perfect for the same purpose. An outfit – not exactly matched, but close enough – was born. I threw in some teal shoes because why not. The sweater-skirt combo is a little more "ladylike" than my current aesthetic, but it's also a classic silhouette that's hard to fault.
4) Casual Friday
Another all-thrifted/secondhand outfit. Minus the bag, total cost would be something like $30 and change. Ah, but the bag! It's a good one. I found it on eBay while browsing the "Anthropologie bag" listings. Who knew Moulinette Soeurs made bags? The details are very Peak Anthropologie – the travel-inspired design (which carries over to the inside pocket as well – very cute), the inner striped lining, the contrast handles. Mine was in mint condition, which is miraculous given the cream canvas involved, but I think it's the kind of bag that will look no less charming for a bit of wear and tear. We shall see. In the meantime, it's the perfect size for work. As for the rest of the outfit, I love the playfulness of this Elizabeth & James linen top, especially paired with the leopard pumps. And the jeans are Adriano Goldschmied and they are typically soft and comfy; next to my similar Madewell pair, they are my new favourite denim.
5) Fancy Feet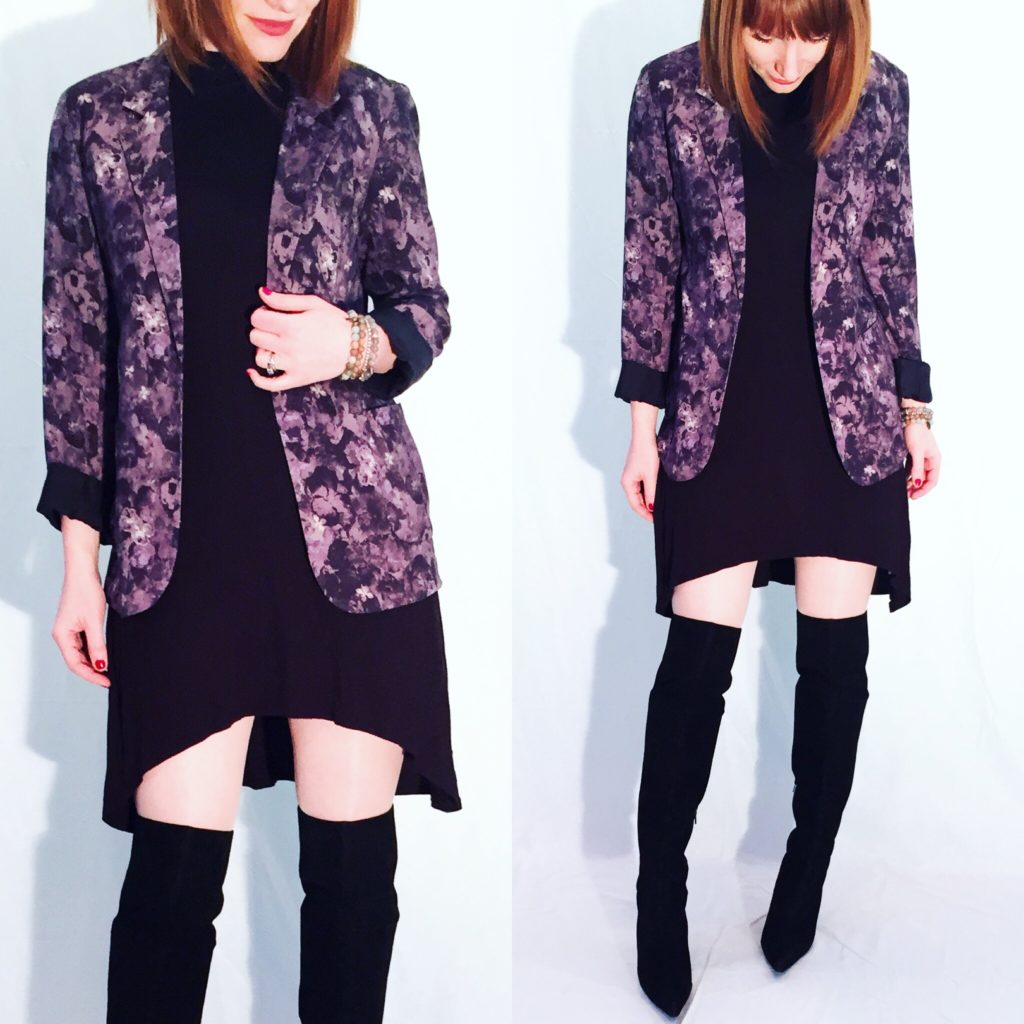 I am a late adopter of many trends, which is probably why I was never destined for fashion blogging greatness. Take OTK boots; it took me until the year 2018 AD to finally give them a try — and that is only because I lack the internal fortitude to say "no" to a like-new pair of real leather, made in Spain boots for $17. I mean, I'm only human after all. Trying these on at home was the first time in the last, oh, 15 years that I found myself uttering the phrase "I really need a mini skirt". Well, I don't have a mini skirt, but this Antistar dress is one of the shortest I have, so it served for my plan. Specifically, my outfit. I like it. My husband hummed "Pretty Woman" the entire drive to our friends' party. I didn't even care because, yeah – I felt pretty damn good.