They tell you to "never say never", and that is solid advice because, inevitably, "never" proves far shorter in duration than one expects. For example, in my case, "never" lasted about 5 years.
It was sometime in 2012 that I decided I would NEVER EVER get a pixie cut again. And you know what is happening on top of my head as I write this? That's right, a pixie cut. Granted, it's not as drastic a pixie as my last one. It's really more of a very, very short bob … except at the back, where it sure feels like a pixie. Did I mention there is a touch of undercutting going on at the sides as well? No? Well, that's what one gets for saying "never".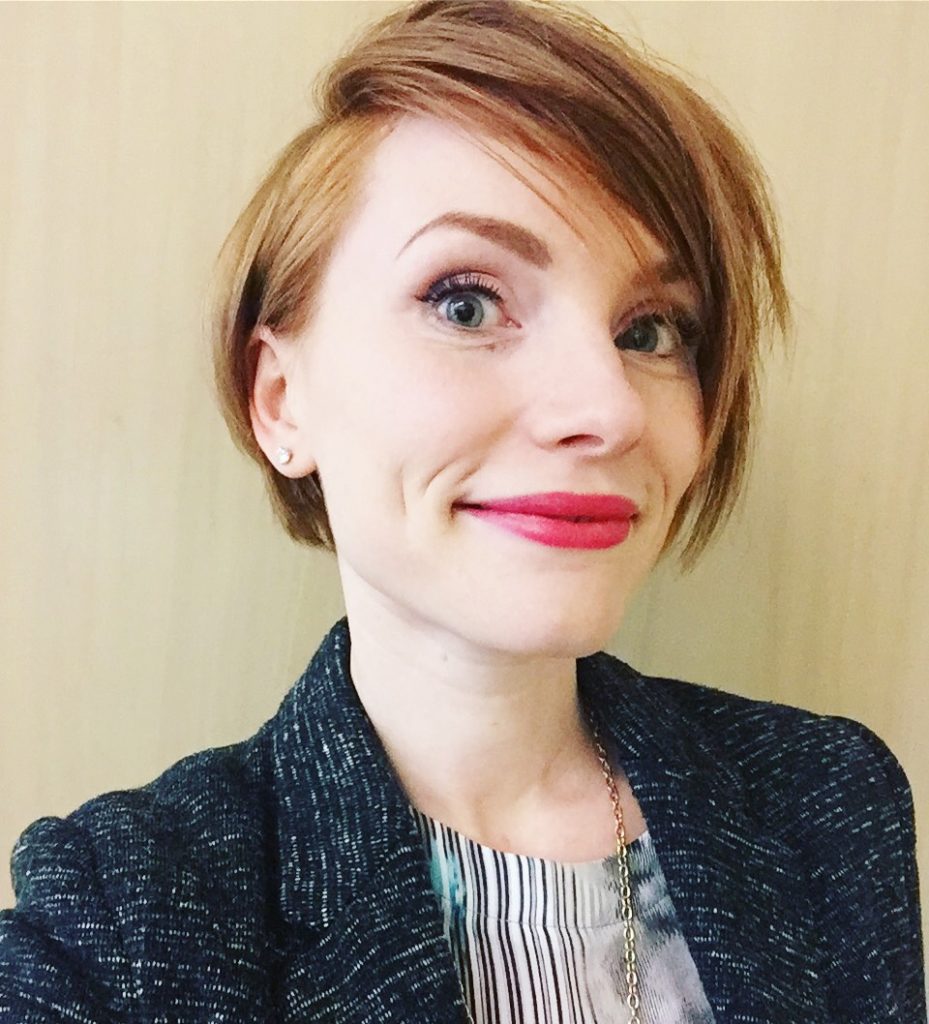 As with all my hair decisions, this pixie cut was an entirely impulsive move. "Maybe I should get a pixie again," I told myself one morning on the way to work, and by 10 AM that same day, I had a hair salon appointment booked. The appointment itself was not until the following morning, and I hate how life sometimes tries to make me reconsider my dubious decisions before it's too late. Silly life! I always double down on dubious decisions. I did have a brief moment of serious doubt on the eve of my haircut (more on that in a moment), but I plunged on. As for the result … I'm pretty happy with it. A part of me wishes I had pushed myself a little further towards the "edgy" end of the spectrum; closer to, say, Michelle Williams' do. I ended up compromising a bit, and sticking with slightly longer layers on the sides just so that, in the event of an immediate change of heart, the re-growing process could bypass the whole Sergeant Pepper's Lonely Hearts Club-era Beatles phase. Depending on how I feel at my next appointment, I may ask my stylist to go a bit shorter on the (under)sides.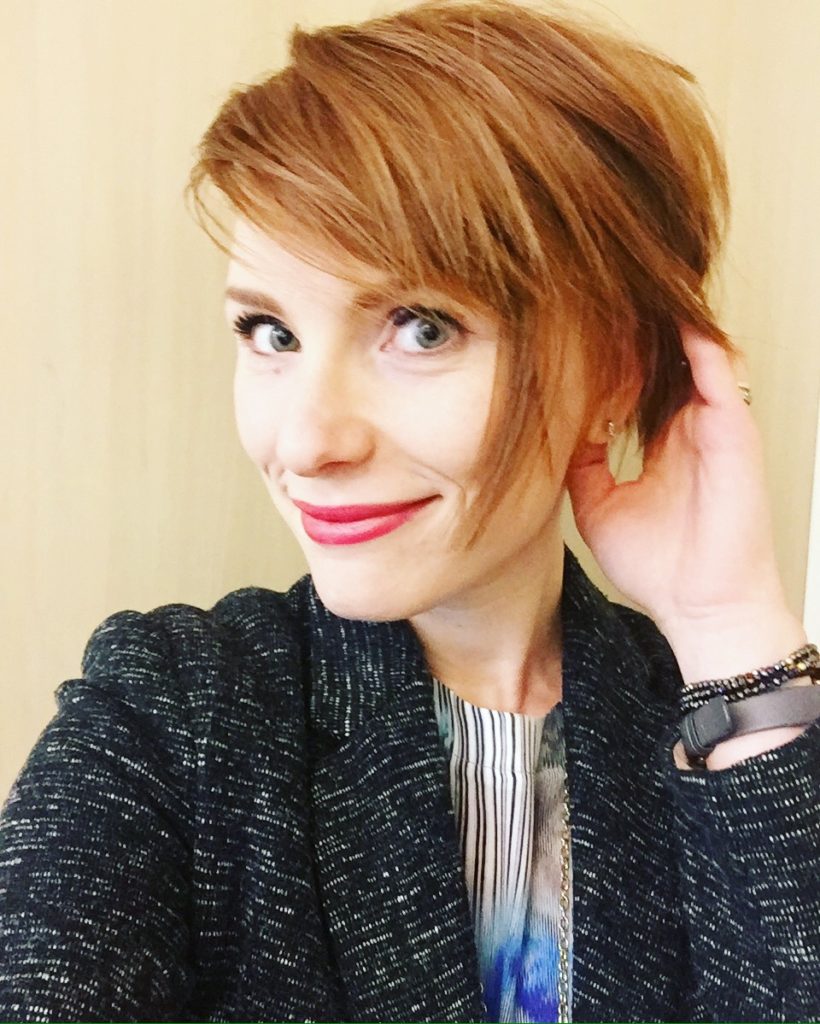 I love long hair. I really do. I just don't love my hair long; it's not the right texture to be long (fine and kinda lifeless) and my hairstyling skills aren't good enough to completely overcome that. I think I look pretty good with long hair … but I also look OK with short hair. And here's the thing: I love a big change. Every few years, I need a big change. I stopped colouring my hair almost a decade ago, so now the only real impact-making change left within my control is, what else, a big chop. For better or worse, I'll probably be on the "pixie-bob-lob, repeat" cycle forever. Is there also a saying, "never say forever"? I guess I'll find out …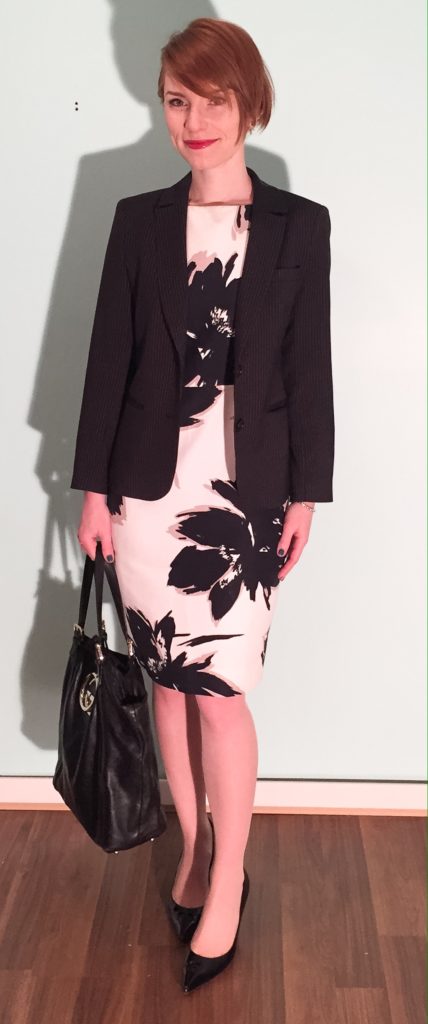 As it happens, the one thing that did have me second-guessing myself was the question of how a new haircut would affect my style. Many of the women whose pixie cuts I've admired in recent years tend to have a more minimalist aesthetic than I do, often with gamine leanings. Like Michelle Williams. While I admire that sort of look (and will, on occasion, pick outfits with a similar vibe), I also know that it's not my predominant preference. Would my favourite clothes look strange with a new haircut, I wondered. I ended up finding reassurance from an unlikely source; I adore Elisa Nalin's sartorial exuberance, but have long come to terms with the fact that I'm nowhere near cool enough to pull off a similar aesthetic. However, looking at pictures of Elisa rocking a short pixie AND lots of colourful prints was all the proof I needed that getting a pixie would not require me to embrace black, grey and white as my everyday rainbow.
Ironically, the first outfit I wore after getting my hair cut? Black, white and grey. In my defence, I had a hearing that day. Also in my defence: I did wear a bold floral. And I loved rocking my pixie.