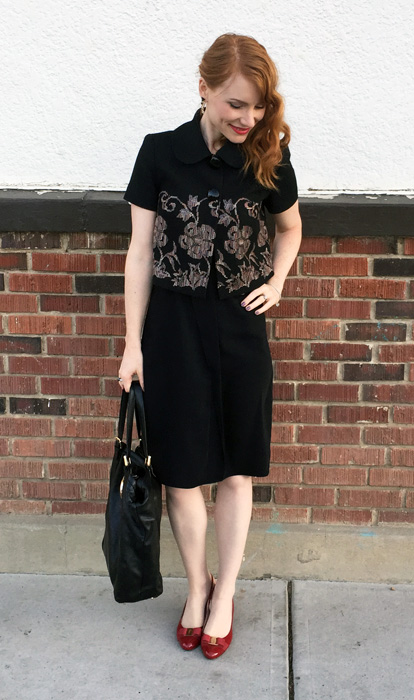 I bought this cropped jacket, from now-defunct Canadian retailer Tristan (previously Tristan & Iseult), back in early 2010 from a local consignment store. I remembered seeing it at the mall, at least a couple of years previously, and lusting over it and its matching skirt. Alas, it was too expensive for my budget at the time, so I was thrilled to find it for a more manageable price ($32) secondhand. (Too bad I never found the skirt as well. Sad face.) It's a beautiful piece – the detail work is quite impressive, and it looks expensive – and I always get compliments on it when I wear it.
The truth is, I haven't worn it very often in the last 5 (almost 6!) years because the cropped silhouette never seemed to lend itself to my wardrobe. Here are a few of my attempts: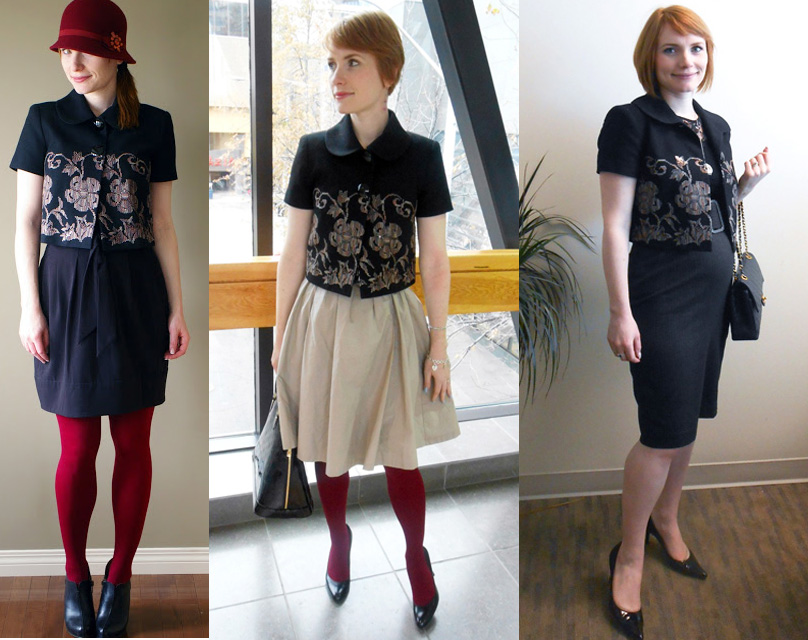 However, I held on to it through the years (even when it didn't fit) because it always felt like a "special" piece to me. And now, I'm determined to find new ways to wear it. Well, this first effort is not exactly new … it's just the same jacket + dress combo, except with a different dress. I'll wait to blow your socks off with my creative styling till next time. (All the LOLs, but let's roll with it.)
Speaking of the dress, this is the Tahari number I mentioned in my last thrifting post. It's a very nice dress for all of the $8 I spent on it. It does have this weird tie thing at the back: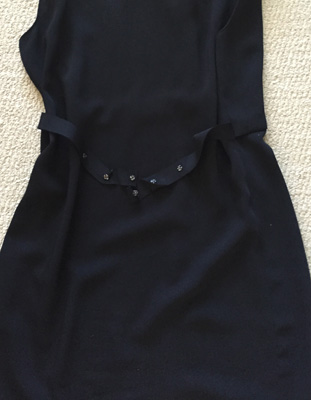 At first, I thought it was super cool because you can adjust the waist tighter or looser depending on mood, size of lunch, etc. However, I quickly realized that if I use the last snaps (I.e. tightest "setting"), they immediately un-snap as soon as I bend down or make any similar movements. So, I'm stuck using the middle snaps, which makes the dress quite loose through the waist – admittedly, not the biggest problem as the dress still has some definition to it. I've debated having it tailored, but it doesn't seem worth it; I think I'll keep it as is, as insurance against weight fluctuations.