What I Wore: Bookstore Browsing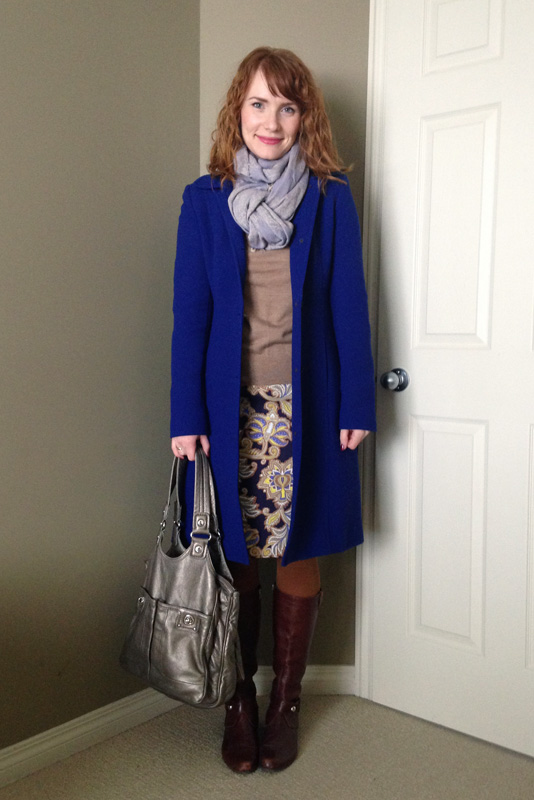 With the never-ending-winter-we-shall-not-speak-of-again, I routinely run out of warm places to take the kids every day. And take them out I must, because my son starts climbing walls around 2 pm every afternoon. So, Chapters it is; they have a train set, and crayons, and occasionally a doll house – all excellent things in Luka-land. Anyway, I wore this. Because … I just get tired of jeans, you know? And this skirt has an elastic waist, and it's washable poly, and with one of my omni-present J. Crew Factory sweaters, it's just easy. Easy and done.
I like the colours going on here, and pat on the back for not throwing black into the mix (see "easy", above). But I hate these boots. Hate 'em with a fiery fire. They're fine, I guess, but that reddish brown colour goes with absolutely nothing in my wardrobe. I use them as my stand-ins for cognac boots (which I still don't have, sigh), but they. do. NOT. work.
And looky here … snow.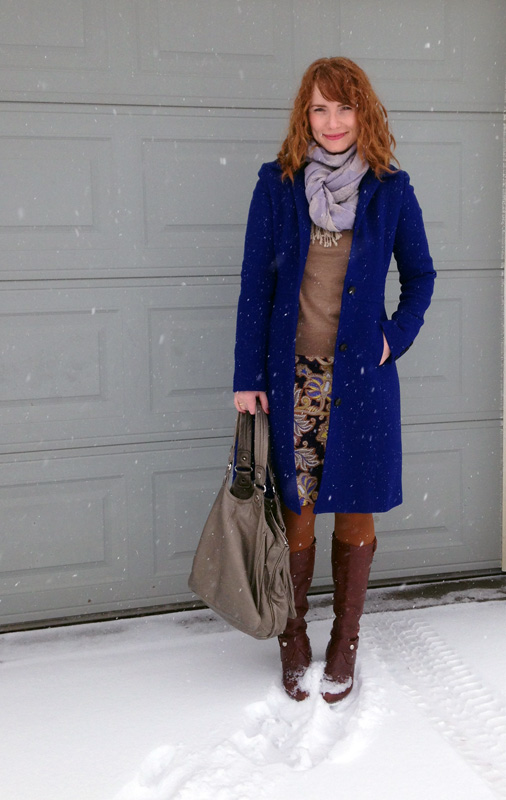 Let's talk about the skirt for a second: total impulse buy on eBay. The print got me, again. The fit is … weird. There is that elastic waist, which is great, but the poly lining is oddly tight … and there is a random little slit on one side … and the skirt puckers strangely in the front creating a visual pooch. Honestly, I have no idea what's going on with this skirt. I wouldn't have bought it if I had tried it on first. Chalk another one up to the risks of buying on eBay. Fortunately, I like the print and overall style enough to try to make this work … and it's gonna take some work. When will I ever learn not to be seduced by a print? Don't answer that, purely rhetorical question.