What I Wore: Grocery Shopping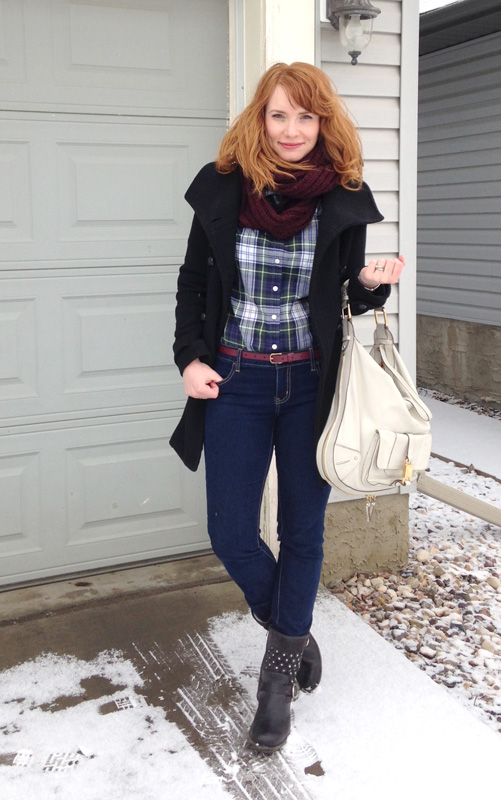 This outfit has a definite eau de lumberjack about it, doesn't it? Something about that plaid shirt, tucked in and belted. But, you know, je ne regrette rien.
Actually, not quite. I regret whatever the hell is going on with my hair here. Oof! Let's blame it on the snow because … because … the snow. The snow in late April. Enough said. Hey, want to see a close-up of my Medusa head? Too bad, you're getting it.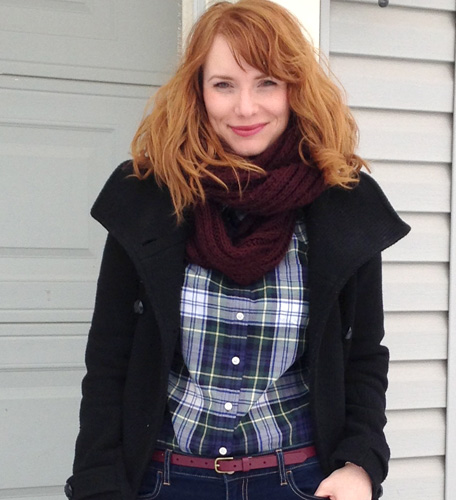 I look entirely too pleased with myself considering my follicular situation. Some people have bitch resting face, I have bitch smiling face. Sigh.
What, you come here to read about outfits? Naaaaah …
How about a reader question? I swear I did not make it up.
Hi there! I was wondering what lipstick you wear in your blog photos?
It really depends on whatever is closest at hand, but it's usually one of two things: Stila Stay All Day Liquid Lipstick in Beso (the bright red, matte one), or Clinique Chubby Stick in Chunky Cherry (the more sheer, pinkish-red one – see above). I find the latter infinitely easier to apply, which helps me avoid ending up with clown mouth. But I get a ton of compliments when I wear the Stila (and it photographs really nicely too), so sometimes it's worth the extra effort. I've taken to lining my lips first, before using it, because one skill I did master as a child was colouring inside the lines. I use a NYX lip pencil called … hang on, let me check … Hot Red.