What I Wore: Erranding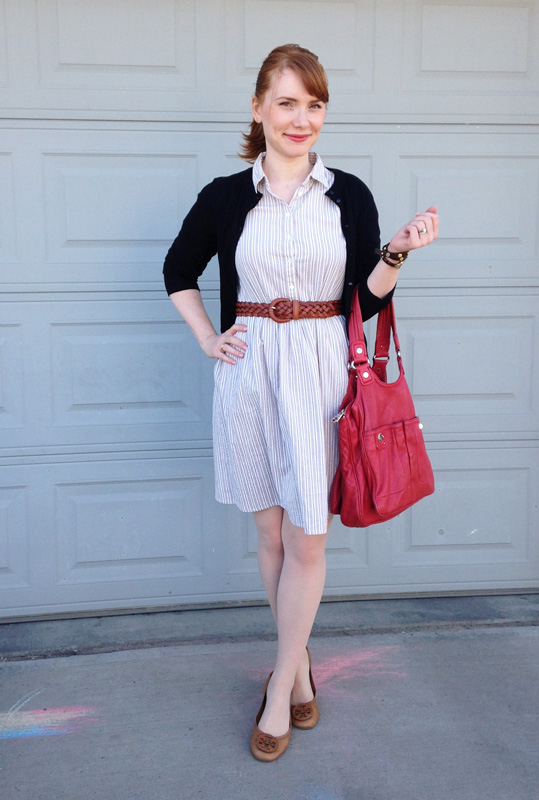 Here's the scoop. Last year, I decided I needed a shirt dress. Why? Well, somehow I became convinced it was a classic wardrobe staple missing from my closet, and that it was imperative that I redress the oversight. Don't ask, just go with it. Initially, I had my eye on a Sophie Theallet for Limited dress, but the bidding on eBay went above my budget, so I had to reconsider. This J. Crew dress is … nothing remotely similar, save for meeting the generic shirt dress criteria. The photos on the listing were bad, but the price was pretty good, so I took a chance.
And then.
If you guys think this dress looks borderline dowdy now, you should have seen it when I first got it. My husband took one look, and proceeded to laugh for thirty minutes, give or take. Picture it about 5 inches longer, and firmly in Duggar family territory. Still, nothing makes me want to double down on questionable fashion choices more than my husband's ribbing. Length issues aside, the dress fit well and had a nice hand-feel (seersucker-ish, perfect for summer). I decided to have the hem taken up above the knee to try to de-dowdy-fy it as much as possible. And there you have it.
At least we're in hausfrau territory now. I'll take it.
Here's a closer look at the details, and my fifty shades of mismatched brown.