Hey, look! It's Friday again. How did that happen? Or when? I seem to have lost track of days sometime around Wednesday, which might mean I had a lot of fun things in my calendar, but doesn't. All the more reason to ogle some pretty things, yes?
Diane Von Furstenberg Ikat Wrap Dress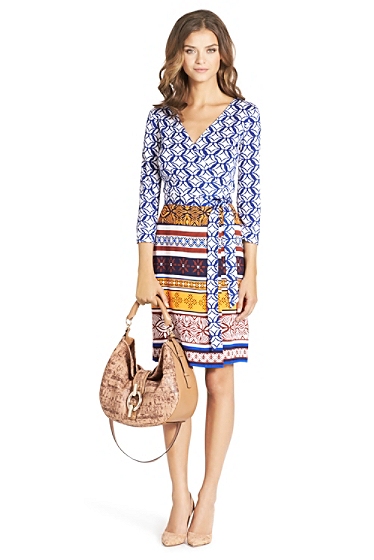 You can see this dress on Jean, here, to understand why I really, really love it. I don't really need another wrap dress, but I would happily make room for this one in my closet. The mixed prints might be too much for most people (and, possibly, my work dress code) but I think it's to die for. Alright, that may be a slight exaggeration; I'm not about to blow my meagre current budget on it, but if perchance you consider it … well, don't tell me. I want us to still be friends.
Marc Jacobs Blake Bag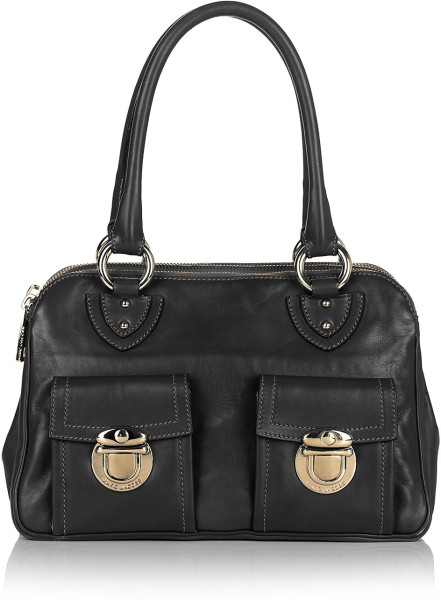 One thing I would most definitely blow my budget on (this month, next month, and every month) is this MJ bag. I know Adrien has been a fan for ages, but I've been obsessed with my MbMJ Totally Turnlock bags recently, and paid this beauty no mind. Until … I saw the way it's all laid out inside. Check it: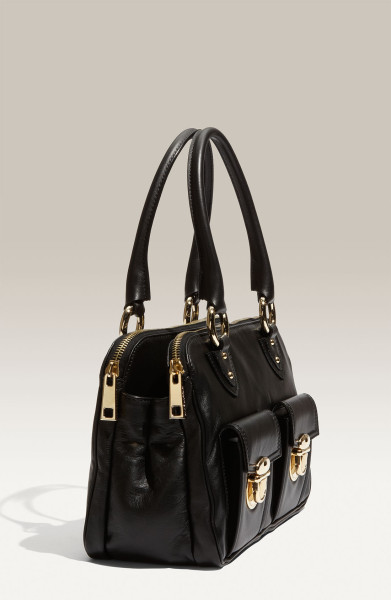 It has two zippered compartments, plus an inner one with a magnetic closure. That's very similar to my Kate Spade Gold Coast Elizabeth bag, which is my favourite bag when it comes to keeping my ish organized. It's just good bag feng shui, OK? This means, of course, that I absolutely need a Blake in my life. I'm a woman on an eBay mission, hear me … click away.
J. Crew Factory floral shirt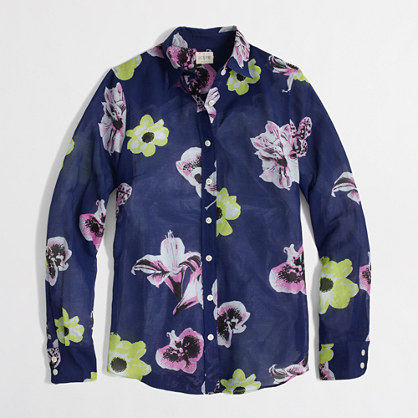 I liked the green "punk floral" print that the retail J. Crew store put out last year, but I couldn't justify the price to actually buy a piece. Luckily, the Factory store has come out with its own version this year. While I like the Clare cardigan in the (close to?) original print, I really love the blue version of this shirt. I'm keeping an eye on it, and waiting for a good sale.
RACHEL Rachel Roy floral maxi dress
Speaking of … this wouldn't be a Weekend Shortlist if there weren't at least two floral items featured. So. This dress. I randomly found it on eBay while looking for something else, and came thiiiiiis close to buying it. It was a tad too expensive for my taste, though, so I exercised supreme willpower and passed on it. But I still, kinda, maybe want it. It would replace a plain black, thrifted maxi dress I wore last summer (heavily pregnant). Does that sound like a reasonable plan? I'm all for plain basics (like a LMBD) in principle, but I always seem to gravitate towards the Liberace end of the spectrum in reality.
Old Navy blue top
I'm really digging this pale blue colour, and I think it would be a fab addition to my summer closet. (It looks really crappy in the stock photo, so I'm not including it – trust me, it looks waaay better in real life). I'm also digging the blouse-like features, the fact that it's sleeveless, and the 100% rayon fabric. Not digging the retail price ($25). It's not a lot, but, frankly, Old Navy quality is also not exactly high. But this top is definitely on my shopping list … if I can find it for under $15.
There is also this Joe Fresh top, which is a deeper blue colour but also lovely. (Again, the stock photos don't do it justice). I'm not really sold on the butterfly cap sleeves – they favour the well-toned arms, which mine most certainly are not – or the fact that it's 100% polyester (not even rayon, Joe Fresh?!). And it also costs $24. Boo.
Have a great weekend!