I did a couple of these posts before (here and here), and y'all didn't hate them so here we are: time for another round of changing room selfies. F–k yeah! It's like we get to go shopping together. Breaking down the fourth wall, etc. This is gonna be awesome.
This time, I wanted to check out Joe Fresh. I want to do that every week when I go grocery-shopping, but usually there is no time. So, last week, when the boy was with his grandparents, I ditched my husband and the baby in the produce aisle, and made a beeline for the clothes racks. I ended up trying on a mixed bag of things, but there were a few winners in there. All of these should still be available in stores, in case you want to check them out for yourselves. (Spoiler: there are a couple you really really should.)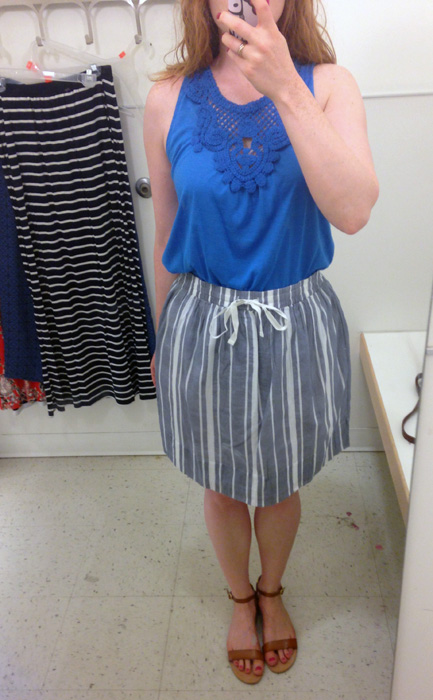 I was drawn to this burlap-y skirt despite the fact that it is, well, a fancy burlap sack. What can I say – stripes. Vertical stripes are kinda rare, no? Anyway, the skirt was ok. Too puffy on me. It's not a skirt for the pear-shaped, but it could be cute on the right girl. But $29? Um, nope.
(For reference, I'm wearing the medium here.*)
The top was a random pick, because I needed something to wear with all the bottoms I was trying, but it's actually not bad. Very nice colour. Cotton, which is always nice. I can't find it on the Joe Fresh website, which is not surprising because they have eleventy million products and zero helpful names/descriptions.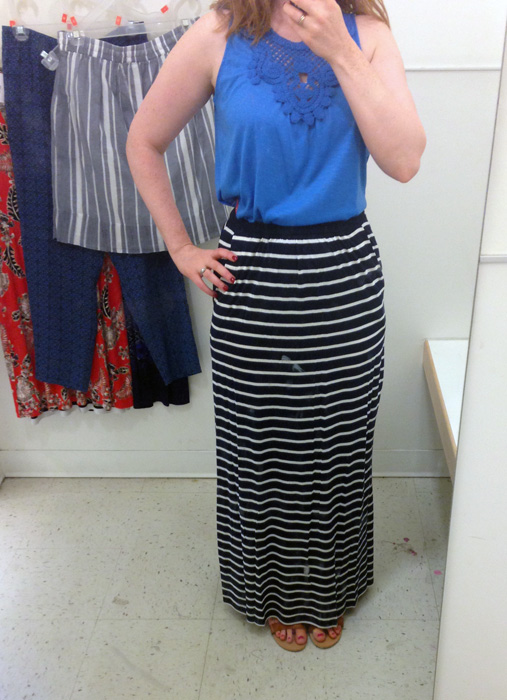 The best part about this maxi skirt is that it doesn't come with that stupid fold-over waistband that all maxi skirts seem to possess. Am I the only person annoyed by that? My pooch doesn't need help being poochy; it manages just fine on its own. Anyway, this skirt has a plain elastic waistband instead. And, yet, it still does weird things to my lower torso – probably because of the pockets.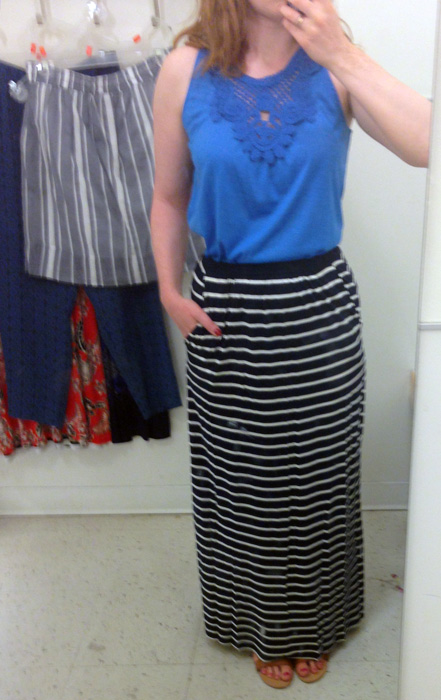 Oh yeah, it has pockets. Now, normally this is a good thing. I love pockets. Who doesn't? Except, in this case, they bug. Your mileage may vary, obviously.
(I'm wearing a small, and the skirt is $29.)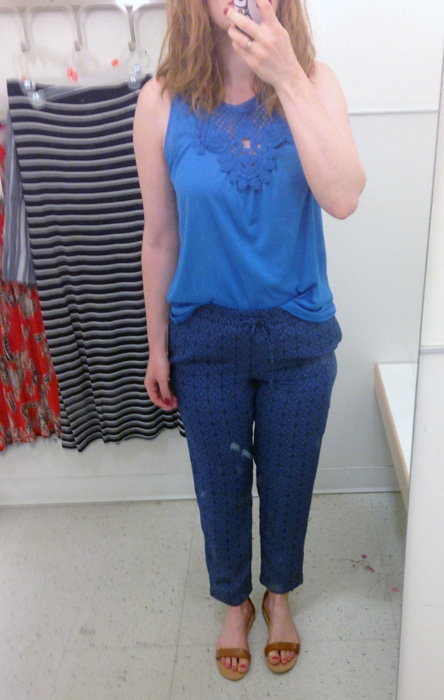 Oh boy. I tried on these pants mostly as a joke, but the joke ended up being on me. These are pretty much my worst nightmare in pant form. 100% polyester. In warm weather, these are basically a sweat sack for your legs. To top it off, they are cut insanely tight across the hips … but, like, at a weird spot, which is not even my widest point. I would burn these with fire, except they're not my property and that would be arson.
(I'm wearing a medium. The pants are $29.)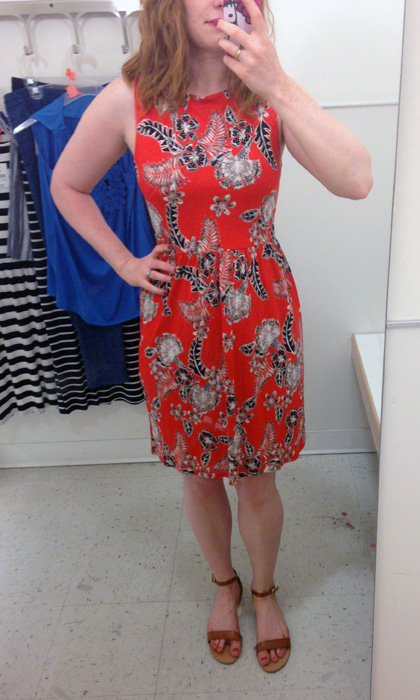 Very cute print, nice rayon jersey ($24). My only issue with this dress is that the waist sits a leeeeettle bit high, as if the dress was cut for petite sizing. The small fit me well otherwise, so I don't think that sizing was the issue. I hate when dresses have too-high waists. Oh well.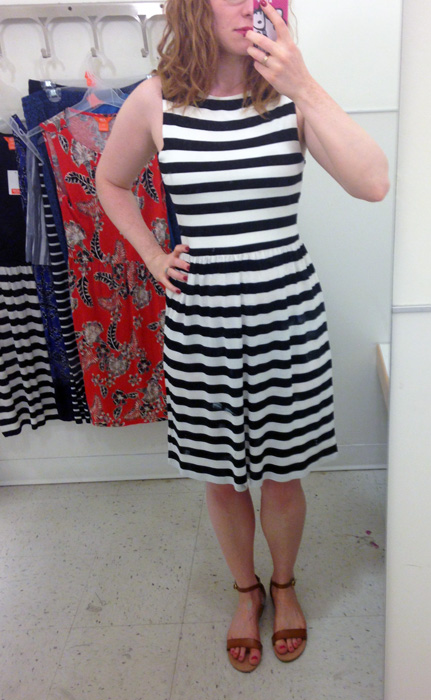 This was really nice. A lot of black-and-white striped dresses in this price range ($24) are made from super thin material that requires some careful selection of undergarments. Not this dress. This one had a nice opacity, top and bottom. And the waist hit the right spot on me. I didn't end up getting because (a) I have too many dresses (although, to be fair, that has never stopped me from buying more), and (b) I was getting a wee bit of a Hamburglar vibe looking in the mirror, and I just didn't feel adventurous enough to say "why the heck not".
(I'm wearing a medium.)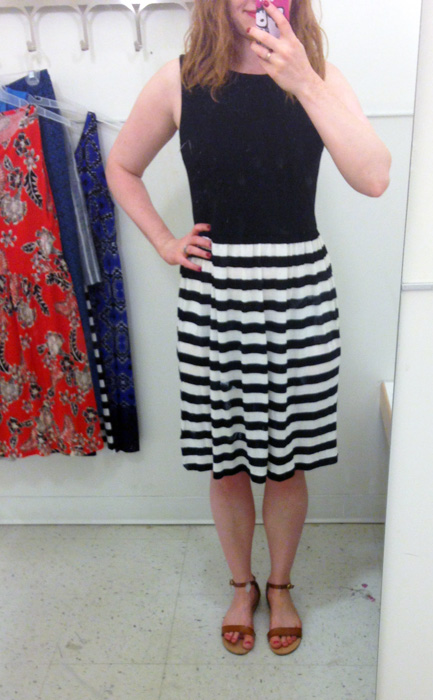 I loved this one! And this was my husband's favourite too. But! The material is flimsier than for the previous dress, and you get those transparency issues I talked about before. Also, the medium was huuuuuge on me, and they didn't have a small. (I can't find this dress on the Joe Fresh website, and there were limited sizes available in the store. I'm not 100% sure of the price anymore, but it was either $19 or $24.)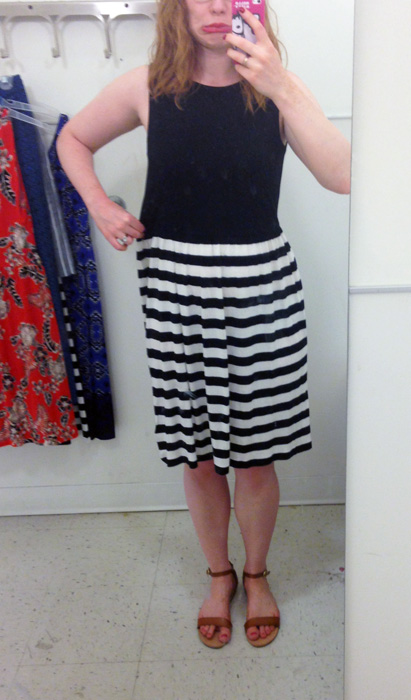 See, I had the sadz. Joe Fresh, why the hell is your sizing all over the damn place?
Ok, this dress. Is good. So good. Comfortable, flattering, perfect for summer. It's an empire waist that will not make you look pregnant, but will, in fact, discreetly accommodate any food baby you might be gestating. For $19, it simply doesn't get better. I hemmed and hawed over it for a good long while, and it took a supreme act of willpower to leave it behind. And that only because I already have a million summer dresses (see above) – plus, I had already completely blown my June budget by the time I found this dress. But you guys need to go buy this dress. Now. Run!
And, while you're there, don't forget to check out my 30 x 30 striped dress; the coral version is currently on sale for $20.
So, that's it. You got questions, I'll have answers for you in the comments. Hit me up!
Oh, and do let me know if you enjoy these posts, or if you'd rather gouge your own eyes with a rusty spoon than go anywhere near another changing room with me.
* To give you a sense of fit, I am 5'7, and normally wear size 6-8 in dresses, and size 10 in pants.