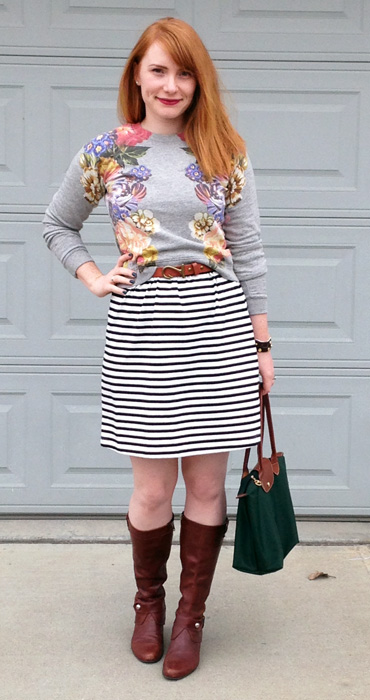 I don't know, you guys. I really don't know how I feel about this outfit. It was pretty cool in my head, but I feel like the reality comes up short, somehow. I guess I'll just have to keep working with the layering potential of this J. Crew cropped sweatshirt.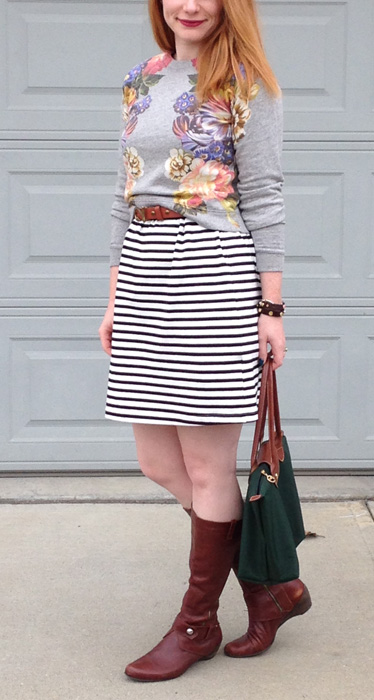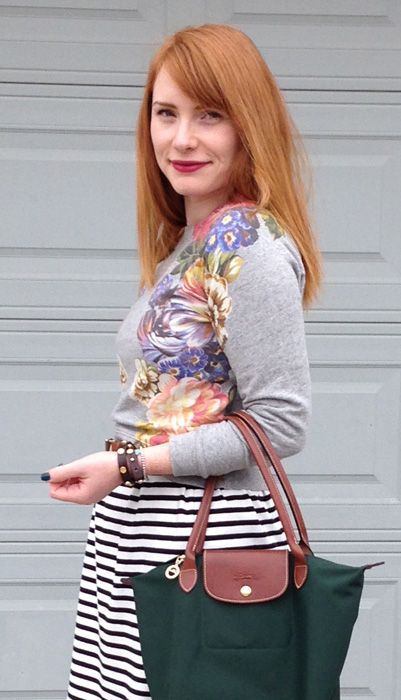 Story time: I knew I wanted to get my hands on this sweatshirt as soon as I saw it. That print, of course. J. Crew offered a 30% off dealio over the Thanksgiving weekend, so I had every intention of taking advantage of it. But then that turned out to be the weekend we were all down with Toddler Plague. Except my husband. Naturally, I made him go and buy it for me; naturally, he did, because he's awesome like that. I guesstimated the size, and erred on the safe side – I told him to pick the Medium (I'm usually a Small in J. Crew tops).
Aaaand … I was way off. Way. The Medium looked oversized on me, with a weird neither-regular-nor-cropped length, and hugely bunchy sleeves. Since I paid almost-retail for it, I was definitely not happy. So, once everyone was feeling better, I dragged the family back to West Ed (my least favourite shopping experience) to see about a return. The store had exactly two sweatshirts left in stock: XXS and L. At first, I thought I was screwed … and then I tried on the XXS, just for the hell of it. And proceeded to spend about twenty minutes in the changing room, trying to overcome my disbelief that, yes, in fact, I was wearing an XXS and, no, it didn't look absurd on me. Oh, J. Crew! Your vanity sizing is so silly.
So, there you have it: if you're inclined to buy this sweatshirt, go down at least one size. Maybe two, depending on how cropped you want your "cropped sweatshirt" to be.