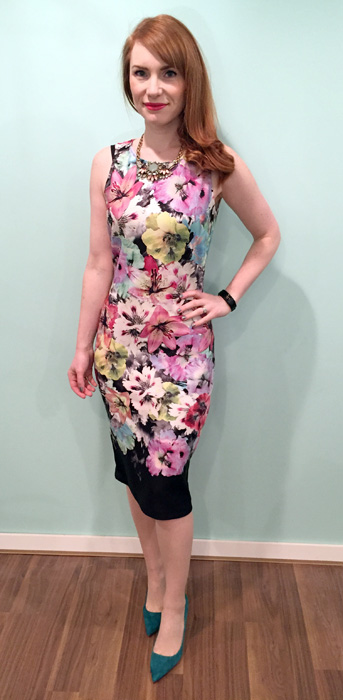 I saw this dress in the window at Red Pony, and I had to try it on right away. Lucky for me, it fit perfectly. Very lucky, considering it was NWT, and only $30. For someone who loves florals as much as I do, this one was a no-brainer. And, of course, I couldn't wait to wear it. Since I was wearing it to work, I had to throw on a blazer. But, look — still cute (and now, office appropriate):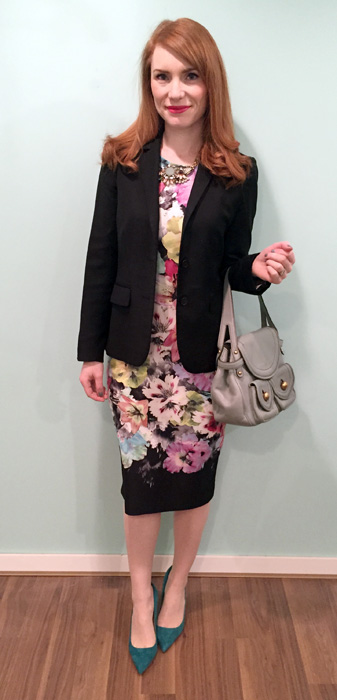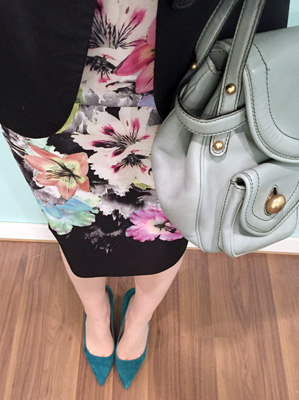 I love how easy it is to accessorize bright prints like this one; there are so many options. The sage bag and jade shoes were a nice, non-matching but non-clashing option. These J. Crew Dulci pumps are quickly becoming favourites, and I really wish I had bought them in more colours when I found them on sale. I'm afraid to look online to see how much they cost regularly… #sadface.
As for the dress, I'm not super familiar with the New York & Co. brand, but judging from what I've seen online, they have a ton of cute dresses in this "scuba-like" material in a variety of lovely prints, and reasonably priced. I will be keeping my eye open for more, both on eBay and consignment stores. One can never have too many loud florals, after all.