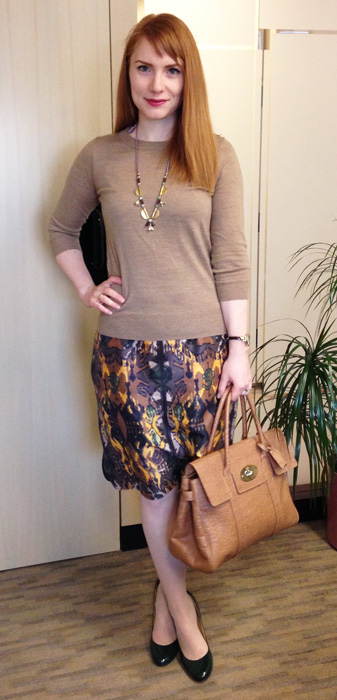 I wear a lot of black to the office. Black and white and blue. Part of it is the whole New Look thing. Part of it is … well, black is just easy. Easy and safe and conservative. But you know what is also easy and safe and conservative? Tan. Yeah, there's a risk of looking like a walking bowl of oatmeal; but, honestly, black doesn't always do a pale complexion any favours either. Anyway, I don't have a lot of brown in my closet, so whenever I need a "warmer" neutral, I pull out my tan sweater and, hey presto! Outfit.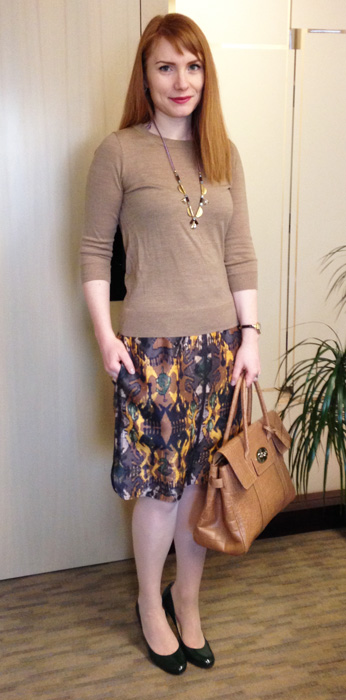 My one pet peeve about these sweaters (the Factory version of the retail Tippi, the name of which escapes me at the moment) is that they wrinkle and pill like nobody's business. I really probably should invest in some better quality versions but (a) I hate spending money on sweaters (yep, another weird shopping quirk), and (b) I feel like I need to refine my sweater colour palette first. I have a rainbow of these J. Crew sweaters, and if I'm going to splurge on the next level s**t, I need to be more selective. I do think that "tan" will make the cut, though. And black. Of course.
Oh, and the post title? The skirt feels very autumnal to me because of the colours in the print, and it feels strange to wear it any other time of year. Which is, erm, a stupid reason to not wear a perfectly serviceable skirt. So, here we go: fall in January.