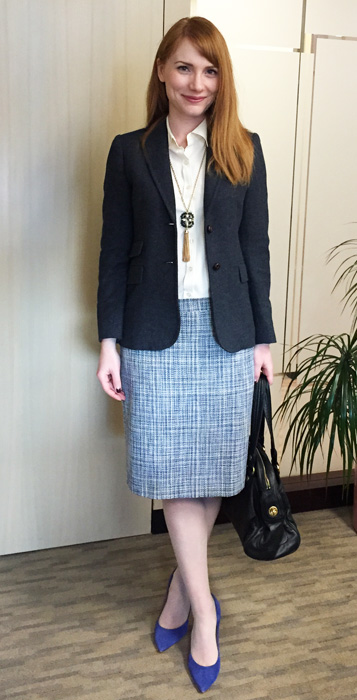 Here's something you don't hear every day around here: I really loved this outfit, you guys. I didn't think to pair the tweed blazer with this skirt … until I did, and they look great together. I also initially thought the blue shoes might be a little too bright and too matchy matchy, but I think they livened up the whole outfit just enough, without being over the top.
I don't know why I look like Office Barbie here, but the outfit is on point, anyway.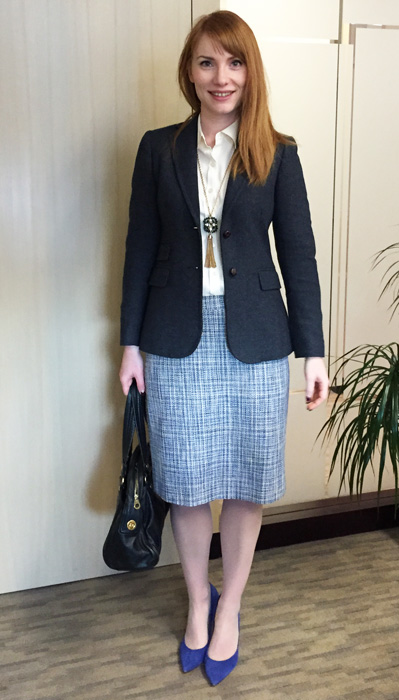 I haven't been the biggest fan of this blazer in the past, for reasons that I can't now remember for the life of me, but I've come to realize that it's actually one of the most flatteringly cut jackets in my closet. In fact, I think it works better for my proportions than the retail J. Crew schoolboy blazer. I tend to be wary of J. Crew Factory quality, which is why I've never paid a lot of attention to their suiting options, but this blazer is making me want to take a closer look.
[Edited to add: On further reflection, I think I've figured out why this blazer seems to fit better than I remembered. Because it does fit better, duh. It's a (Factory) size 2, and my regular schoolboy blazer is a size 6. I'm currently somewhere around a size 6, but vanity sizing being what it is, the size 2 works better. These numbers are basically meaningless.]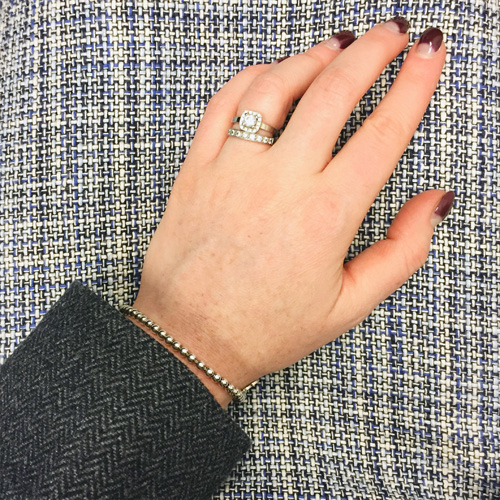 At the risk of beating the deadest horse in all the land, can I just say how much I'm loving subtle print mixing? It's slowly replacing my love of florals. Who saw that one coming? No one, that's who.