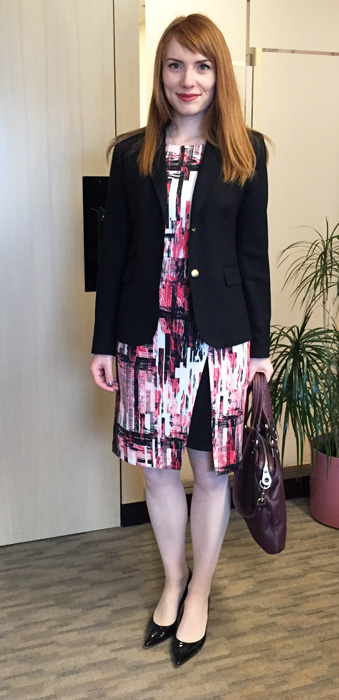 Judging by all the compliments I got (at work and on Insta) on this dress, I think we can say that it was a good buy for $36. And a good way to start a new week, and a new month. Onwards and upwards (and drama free)!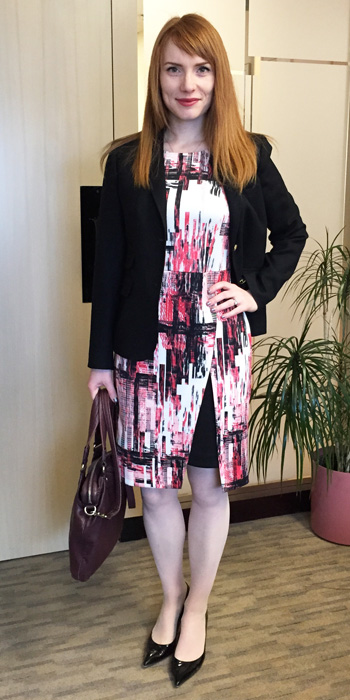 Let's take a moment to run down the positives of this dress. The colours are palette-approved. The silhouette is flattering and pretty classic, but with a wee twist. Let me just add that the slit is for effect only, and there is no chance in hell that I could accidentally flash the managing partner. (The black underskirt thingie is sewn to the rest of the dress.) I briefly pondered if the dress might be a bit too edgy when I tried it on with black tights – and realized that it looked like the slit was going half way up my thigh. So, scratch that remixing idea.
Back to the dress. The only thing I'm still a little iffy on is the fabric. It's not very … breathable. On the plus side, this dress should survive the Apocalypse, no problem; it seems pretty indestructible. Right now, with our temperatures still hovering firmly near the "arctic" end of the spectrum, the material does not seem to be too much of a problem, even under a blazer. In the summer, it could be another story. We shall see.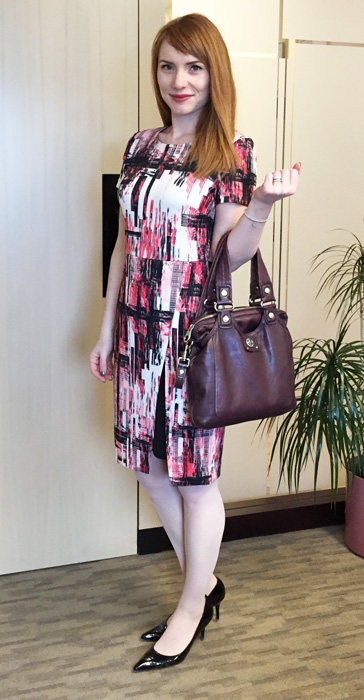 Want to hear a funny story? This was the day that I decided I just couldn't stand my bangs for one moment longer, and took matters into my own hands – with a pair of office scissors in the bathroom at work. OK, maybe this is not so much a funny story as a cautionary one. Don't do this at home, friends, because you too might accidentally almost cut off a finger in the process. (I'm not kidding. I wish I was.) Still, the end result did not look too terrible … and I got to feel like a true MacGyver for the day. (The real MacGyver is, like, "bitch, take a seat." Whatever, guy. When was the last time you cut your own bangs with dull scissors in shitty lighting? Huh?)