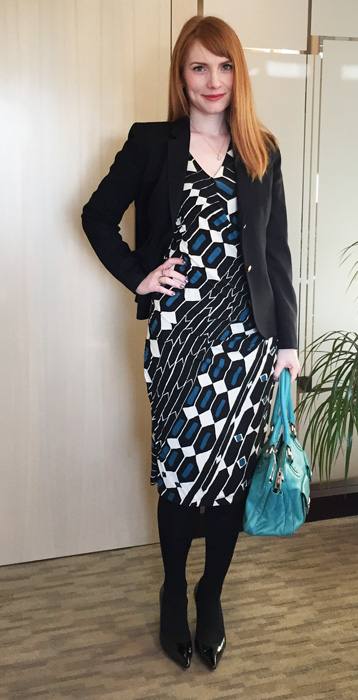 Another day, another new dress. As the post title says, minimalism fail. I clearly have a problem: a pretty dress problem. I just can't seem to resist 'em. I thought this Tracy Reese number would be a good option for work, and I was right. Although the print is definitely bold, it's not too twee or juvenile for the office, and the colours are bang-on for the colour palette I'm working towards. The dress looks great under my ubiquitous black blazer, but it's also lovely on its own. And, look, sleeves!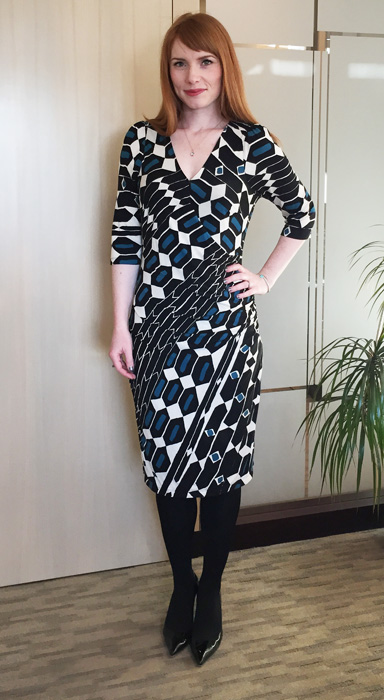 Word of warning for those who might want to hunt this down on eBay: I would suggest sizing up. I'm wearing a Large here, and while it's not quite fitted on me, I would call it "pleasantly loose". As in, just loose enough to not cling to every bump, and to allow me to eat a decently sized lunch. The only parts that are a little bigger than I'd like are the arm holes, as you can (kinda) see in the photo above. I should also mention that I added a snap to the front of the dress so I could avoid the necessity of wearing a camisole; the dress does come with a snap, but it's placed fairly low and, on me, that translated to a some office-unfriendly cleavage.
(To give you a sense of the sizing issue, I am currently a size 6 in Banana Republic pants, and can generally wear a Small in dresses from most mall brands.)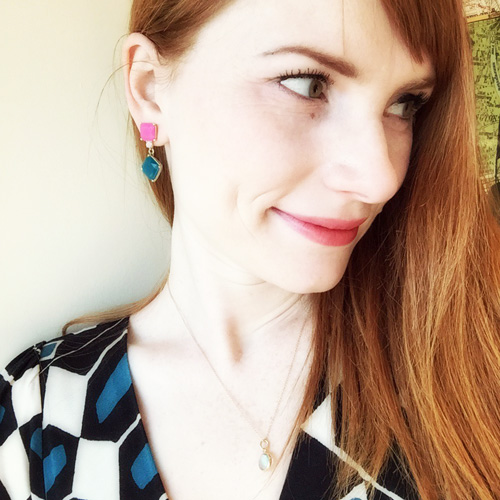 Sizing issue aside, this is a really nice (looking and feeling) dress. The fabric is lined and has a good weight to it, which I find to be key for a dress with a fitted silhouette like this. The length hits me a bit below the knees, although I would not consider it a midi dress. This may be a function of the size being a touch bigger than what I need, or it could be the dress design; either way, I don't find that to be a drawback. Below the knees hemlines can be stumpifying, but I think the streamlined silhouette balances it all out in this case.
Whew, that was quite the essay! I guess that's a sign of true dress love: pontification for days.