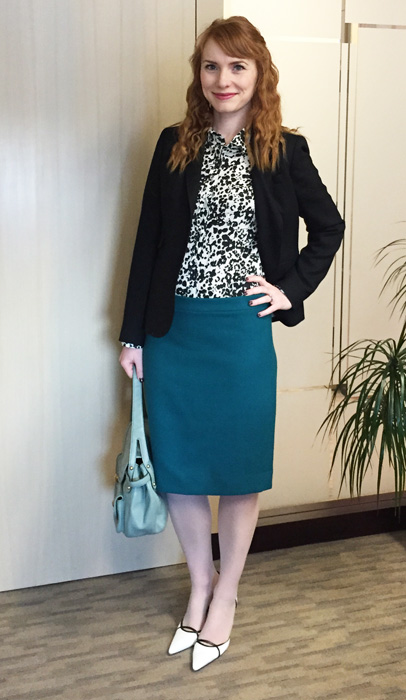 So, this is a pretty straightforward outfit, except for one question: black or white?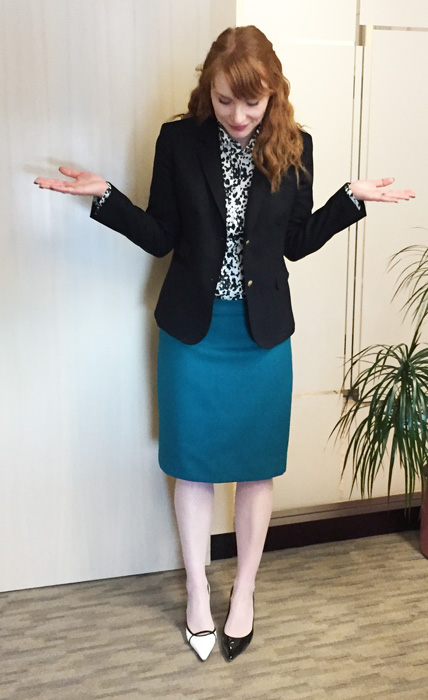 The white Manolos are so matchy matchy, you know they were my first pick. But then I started thinking that maybe they could be a little too "edgy" for a hearing (even a simple appearance on the peanut gallery). So I went with the "safe" black option …
… and then changed back into my preferred footwear once I was back in the office. But I may have been in the minority with my choice. When I posed my "dilemma" on Instagram, the reaction was mixed, though mostly in favour of the black. What's your take on it?
Leaving the all-important shoe question aside, can I just say: how nice does this celadon green pair with teal? It's so … soothing. Maybe I'm just being swayed by my love for this pretty Marc Jacobs bag. With the whole serious-business-neutrals-with-a-side-of-neutrals approach I've been taking lately when it comes to my work wear, I've been using my neutral colour bags a lot more (surprise surprise) – which is a shame because it means less time for this beauty. Note to self: I need to find more opportunities to wear it.