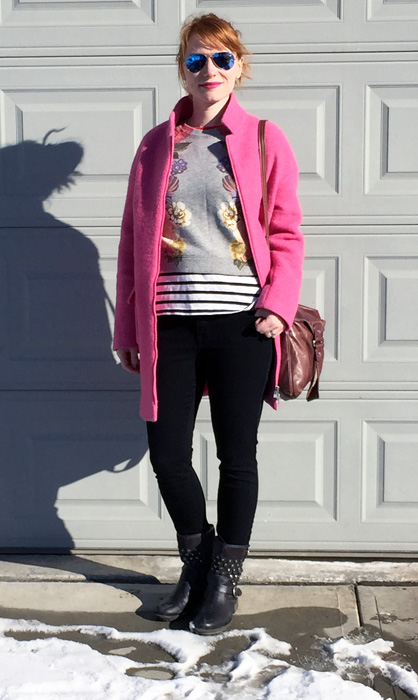 Weekends have been a little rough over at Casa J over the last few weeks. The kids have been sick a lot, my grandmother was in the hospital for a bit, and I had to work, work, work. With everything going on, there wasn't any time left for doing much except surviving. If left to my own devices, I tend to allow myself to wallow like you wouldn't believe, so I've been working on staying focused on the things I need to do, and the people I need to help, rather than the negatives. With that said, I won't lie: it was really nice to get a couple of hours "off" last weekend to spend alone with my husband. We went on a non-date date, and it was lovely.
And I wore my joy-sparking pink coat because, well … see description.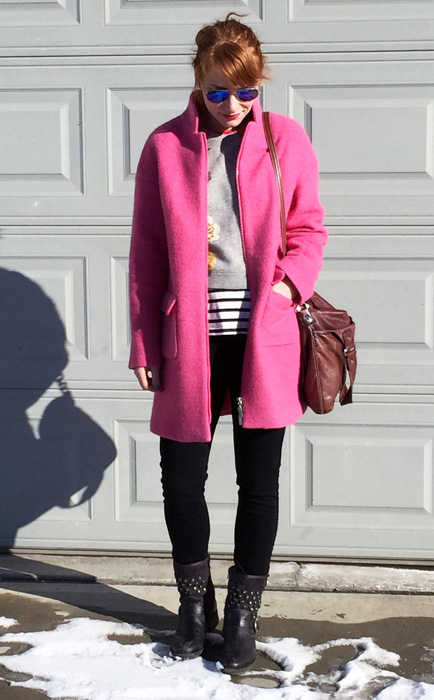 Admittedly, I didn't get very good photos of this outfit (it was cold and time my husband's patience was limited), but you get the general idea. After wearing this floral sweatshirt non-stop for while last year, I kinda forgot about it – I don't even know how. Rediscovering it now (with joy, needless to say) made me remember that I had toyed with the idea of getting the pants version of this Dutch floral print. I need you guys to talk me out of it, because eBay beckons … and we all know how that ends.