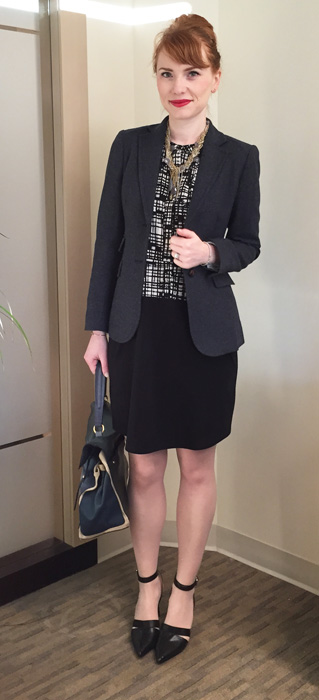 I feel like I've shown you this dress a million times, and let's face it, there aren't a million different ways to wear it. But I still love it, and this particular outfit does feature new shoes and bag, so you will forgive the unoriginality repetitiveness, yes?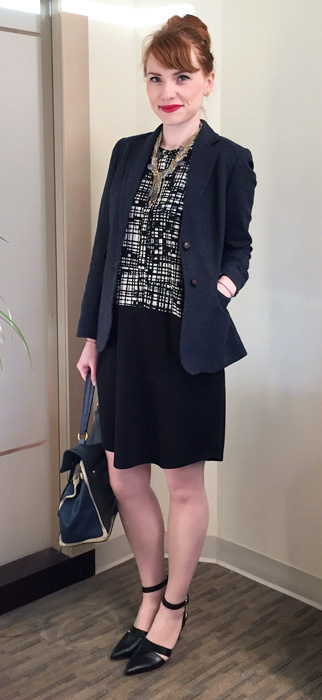 I've typically worn this dress with flats before, because the hemline is a wee bit short for the office. I think it's passable in this case because the cut of the dress is quite loose, and the neckline is very conservative, so the overall look is not particularly provocative. (Also, I have seen colleagues rock the shorter hemlines, so maybe I'm just the old fashioned exception.)
Speaking of old fashioned preoccupations, how do we feel about nylons? I've never been a huge fan of nylons – I refuse to say the "p" word – and that hasn't changed, but I'm starting to feel quite strongly about their usage in the office. I know that some of you guys will vehemently disagree, but just as yoga pants have no place in the conservative office so, conversely, I feel like there is never an appropriate time to not wear nylons. If that rules out cute sandals in the summer, so be it. Go ahead, tell me that I'm hopelessly behind the times.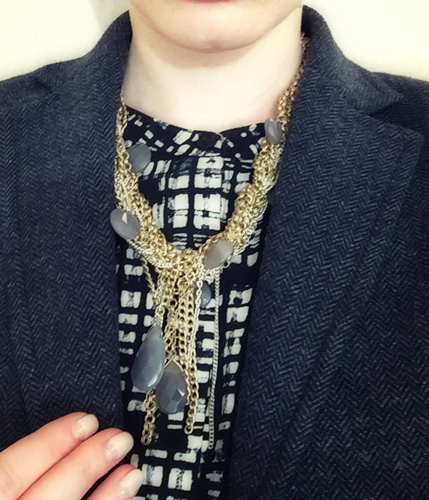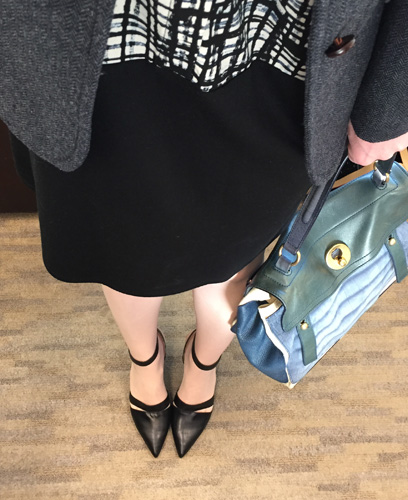 In other news, I hate my top knot/bun situation, but I've been struggling with work-appropriate up-dos for my current length of hair. Suggestions? Keep in mind that I have two left hands, limited time, and an aversion of excessive bobby pins (they give me major headaches). Oh, and also: tiny insect head syndrome.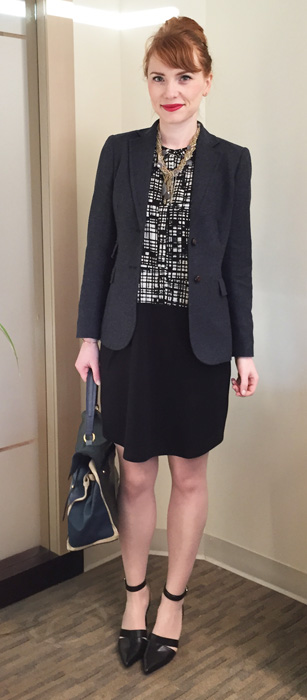 Note: Thanks to a lovely reader, I finally managed to figure out how to add a Like (and Share!) button to every post. Hopefully this will make it easier for everyone to say "hi" without, well, actually having to say anything. Of course, comments are just bomb awesome, so keep 'em coming. Thanks, gang!