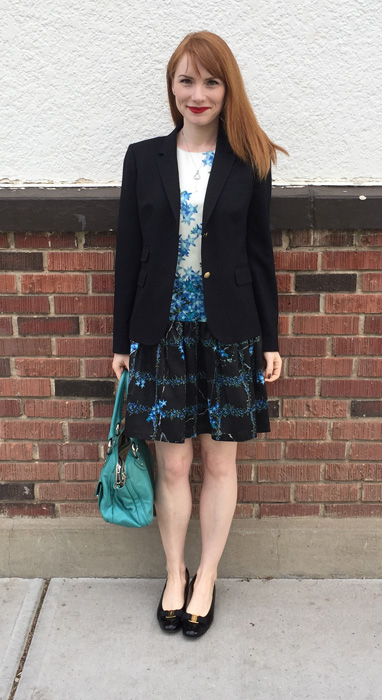 I know, you guys: WORST punny title ever. But, I couldn't resist. Or, more specifically, I couldn't think of a more creative answer than the umpteenth variation on "floral … something or other". Wardrobe rut? I prefer to go with signature style. Pota-toe, pota-toh.
Anywhoodle.
I scored this dress for a steal of a deal, and I will bore you with the details here again, even though I've already crowed all over Instagram. So. I noticed this dress months ago at Winners, and started eyeing it seriously when it hit the clearance rack. Still, at $120, it was too pricey for my taste. That might seem wholly arbitrary but hear me out. It's (a) a pretty memorable print in a dressier silk fabric, (b) a non-versatile silhouette (dropped waist plus a low, open back that's NSFW when worn alone), both of which mean I can't really wear it at the office very often. It's a once-a-month-tops kind of dress. I already have a lot of special occasion dresses I rarely wear, so I can't justify buying a new one on that basis. However, when the price finally dropped – to $60! – you can bet that I was all over it. At that price, it will only take about 2 years to get to a reasonable CPW, which is doable. Plus, I can now brag about getting this dress for 90% off the original retail price which, as a friend pointed out, is practically FREE. That's a pretty good brag. [Winky face emoticon firmly in cheek]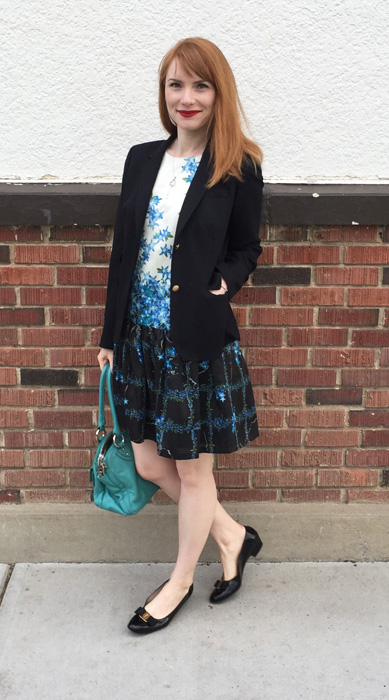 So, the outfit. It's cute, yes? Dropped waist silhouettes can be tricky – they have a tendency to look toddler-esque – but the dark floral and office-appropriate hemline (plus the always classy Ferragamo flats) balance things out.