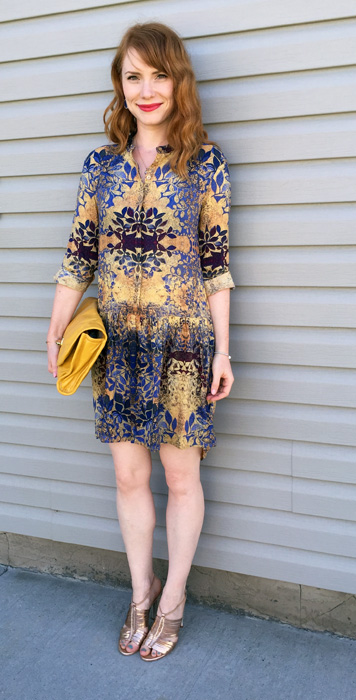 I have a lot of dresses in my closet, and they are all lovely in their own way. Every so often, though, there comes along a magical dress. The magical dress is a cheap, comfortable, no fuss, could-wear-it-all-the-time kind of dress. I've been lucky to run into a few in my time, and this is my most recent one. For $40 (full price), it's not exactly cheap considering it's just Joe Fresh, but that's relative, I suppose. It's made from super soft, floaty rayon, and it has a gorgeous print that will work perfectly with my wardrobe colours. A good thing, since the remixing possibilities are endless. I CANNOT wait to transition this dress to fall (though I CAN wait for fall a while longer, kthanxbye).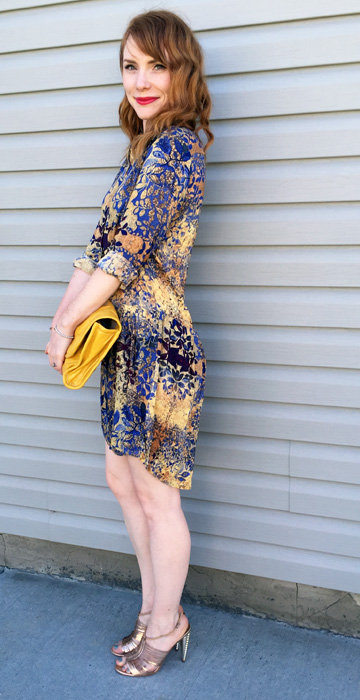 For a friend's baby shower, I wore it with my recently thrifted Giuseppe Zanotti sandals. If you follow me on IG (or read Monday's post, hah) you know I found these gorgeous shoes at a Salvation Army store in Vancouver for a mere $20. They're in excellent condition, and if the heel is a little higher than I'm used to these days, that is a small price to pay, I think. Love the rose gold with my complexion.
All told, this entire outfit, minus the earrings, cost me less than $100, which is pretty impressive (if I do say so myself) considering the shoes alone retailed for around $700. Most importantly, I felt like a million bucks. That's some serious magic, right there.