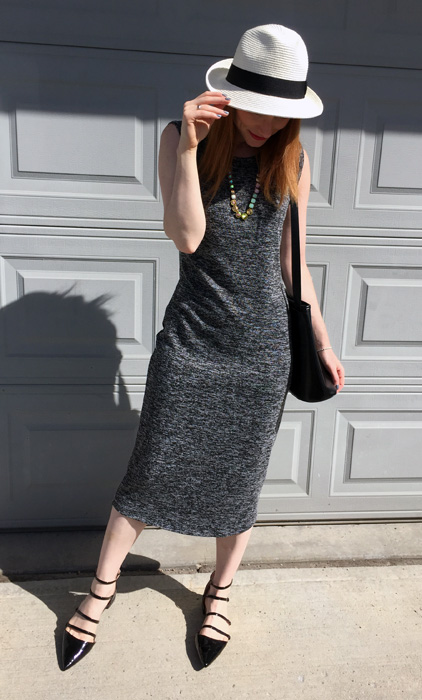 A grey tube dress is the height of minimalism, yes? Of course, being me, I am going to add a bunch of accessories, but considering the restrained colour palette, I think we can still call this a minimalist look. Work with me here, people!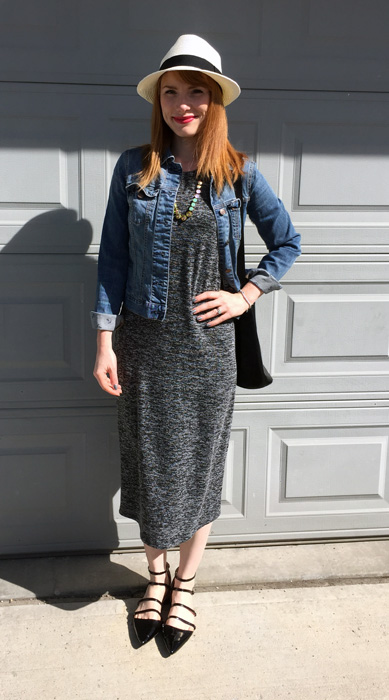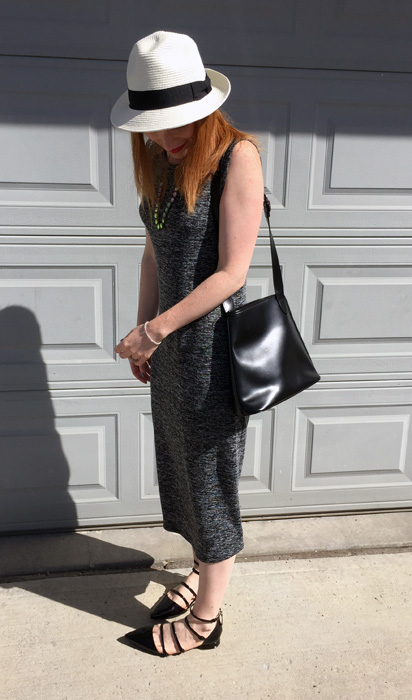 I have been thinking about this outfit since my trip to Van, where I picked up the hat, shoes and necklace, but decided to pass on the dress. In my mind's eye, these pieces went together well, but I hesitated over the dress because I wasn't sure if it was versatile enough to merit the price ($29 at Joe Fresh). A style like this can be too body-con for my taste, and I hate having to wear shapewear for anything less than the most special of occasions. But I kept thinking about the dress, and after seeing it on a co-worker, I decided to take the plunge. I bought a size up from my usual (I'm wearing a Medium) so I wouldn't (hopefully) have to worry about sucking in, but still enjoy the streamlined cut of the dress. And you know what? It's such a nice blank canvas, you guys. I have a ton of ideas for how I can wear it, and the heathered grey is a perfect dark neutral without being as stark as black. [As you know, I struggle with black dresses.]
Looking at these photos, I realize that these Zara flats make my (already big) feet look ginormous, but … I kinda don't care? They're sort of almost ugly in an interesting, high fashion way – which, come to think of it, is a good way to describe a lot of the stuff sold at Zara. That sort of thing is usually too "advanced style" for me, but I think it, well, sort of works in this case. Yes? Yes!
But, to be on the safe side, I've been experimenting with other footwear options too. To wit: