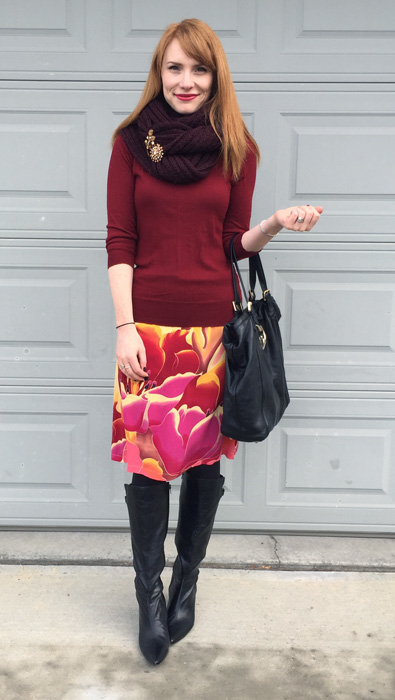 Twelve years is how long this dress (now skirt) has been in my closet. I know, because I remember clearly the day I bought it. It was June 2003, and I was on a Contiki tour of France. (Anyone else remember those? Are Contiki tours still a thing?) I saw the strapless version of this H&M dress worn by another girl on my tour, and fell in love immediately. Something about that Georgia O'Keefe-like print just spoke to me. And I don't even like yellow!
This was long before H&M came to Canada, but I was already familiar (and smitten) with the brand after a previous trip to Switzerland; it was a revelation – cute, trendy, and affordable, like a "grown up", European version of Forever21. Anyway, back in France, I lucked out. I spotted the dress (in a halter-neck style) at the H&M store in Paris on my second last day, and immediately bought it even though it was kind of expensive for my budget at the time. It's 100% silk, which may have had something to do with the price.
For years, I held on to it, even after I stopped fitting into it, because it was just too beautiful to give up. (Side note: this dress is proof of the vanity sizing madness that's taken over in the last decade. This dress was labelled a European size 36 (US 6) and truly fits like a current size 2 or smaller. If I hadn't converted it into a dress, there is no way I could fit into it.) I never really liked the halter style, though, so a few years ago, I asked my grandmother to turn it into a skirt, hoping the alteration would make it more wearable. The top part of the dress was just plain yellow anyway – no loss.
Sadly, it was not to be. After my second pregnancy, I bid adieu to my size 6-wearing days, and the skirt got pushed into the deepest recesses of my overflow closet. I almost got rid of it, on more than one occasion. But then! In a twist of fate, the skirt fits again once more. If that's not some kind of sign – that I should be wearing it! – I don't know what is.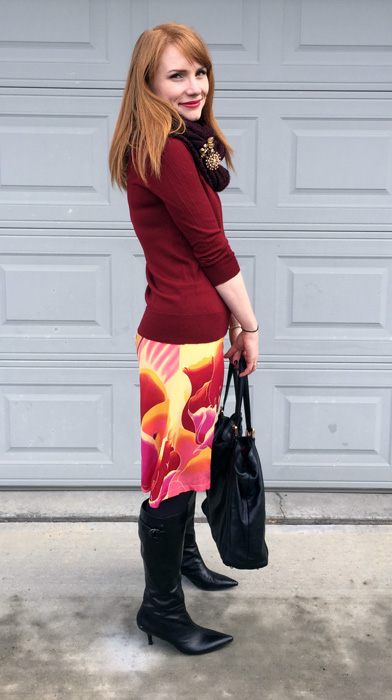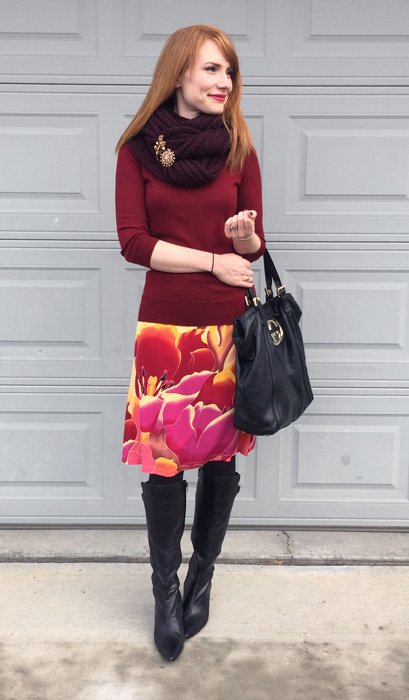 I kept the rest of the outfit here pretty simple, so as not to compete with that gorgeous print, but couldn't resist throwing in a couple of sparklies. I love me some brooch-on-scarf action. Almost as much as this skirt, and its long history.