I recently added another (yes) bag to my Marc Jacobs collection, and I thought it might be a good time to do another review. I previously did one for my MbMJ Totally Turnlock bags, so this time it's the turn of my MJ Classic bags. Readers, meet Blake, Sophia, and Stella: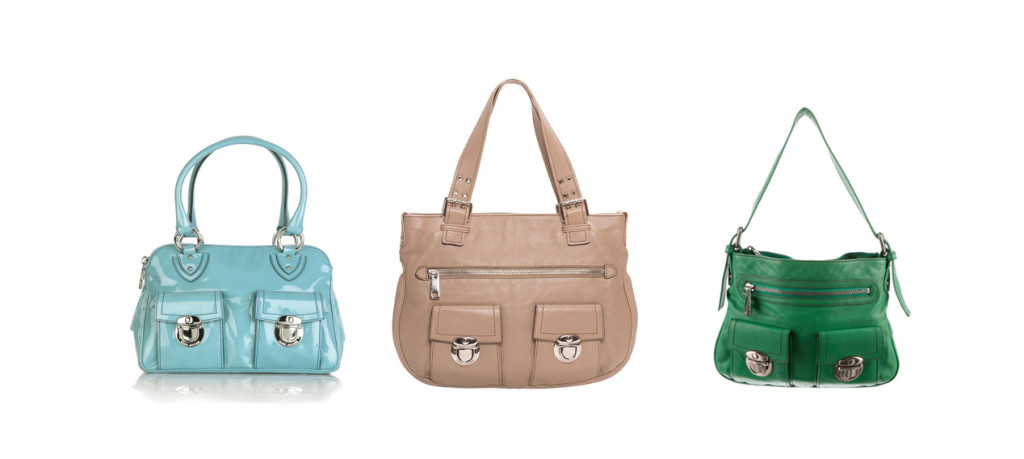 Generally speaking, I love these bags. All of mine date from around 2004-2006, and are still in amazing condition. The leather is soooo good, you guys – and each bag is lined in contrasting, rich suede, which feels incredibly luxurious. A lot of designer bags these days scrimp on details like that, and it's too bad considering that retail prices keep going up and up and up. But, enough generalities. Let's get down to the specifics.
Blake
The Blake is a top handle satchel of medium dimensions. For comparison, it's about the same size as my LV Speedy 30; however, because of the Blake's three compartments, it holds a little bit less.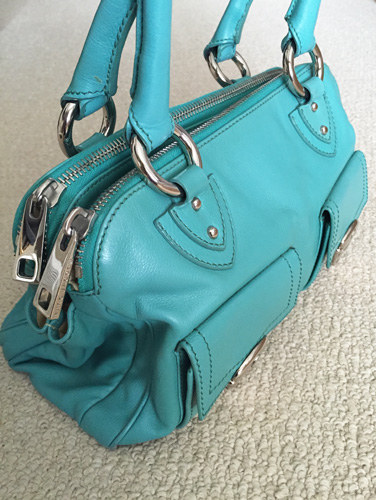 At the same time, the division helps keep things organized, and avoids the "black hole" syndrome (which can have you digging for your keys for hours). Two of the compartments are zippered, and the middle one has a magnetic closure. I will say that the magnet used in both the Blake and the Sophia is quite powerful – that inner pocket doesn't open fully easily. The back zippered compartment also has an inner pocket. And there are the two small front pockets with push lock closures (too small to be really functional, but I like the aesthetic). Lots of pockets all around.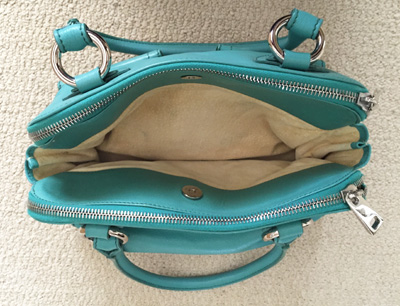 The handles are just long enough to wear on the shoulder, but it's definitely a very tight fit. Really, it's a carry-in-your-hand-or-crook-of-arm bag. I know that's definitely a big downside for a lot of people, but I don't mind it in a work bag.
In terms of wear, the Blake has held up very well. I bought it secondhand on eBay for $***, and I think that's a reasonable price for a bag of this quality and condition. There are minor signs of wear on the cream (!) suede lining, and some colour fading on the bottom corners of the bag and the handles; nothing super noticeable, though. The colour is still vibrant, and the leather supple after all these years.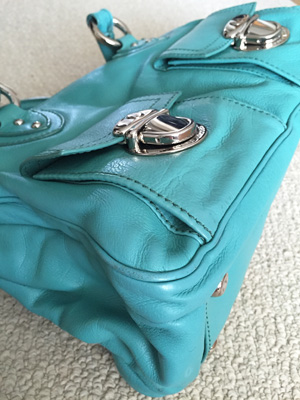 Stella
The Stella is Blake's tote cousin. This thing is HUGE. I can fit a couple of large binders, or a laptop, with room to spare, in addition to the usual stuff I carry (wallet, make-up bag, etc.). Because of the suede lining and the big hardware on the front pockets, it is not the lightest tote around, but it is very sturdy. This bag's a workhorse, basically.
The colour of my bag is "Stone", which is a sort of warm taupe – a very good neutral. The lining is my favourite: a deep, rich burgundy. It hides scuffs and pen marks very well, hah.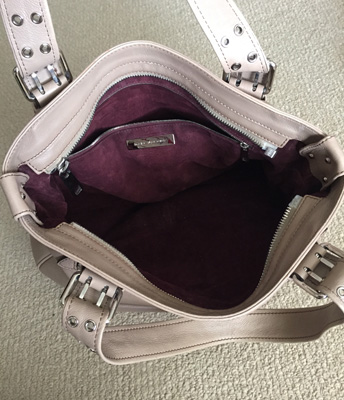 The handles are long enough that you can easily wear the Stella on your shoulder. There are no internal pockets, save for a small, inner zippered one. Did I mention that the bag holds a lot of stuff? Because it does. The bag does have a zipper, but I find that I rarely close it; I like having easy access to my stuff.
This bag came to me in a swap (and I am its third owner, at least), and it wasn't in as good of a condition as the others, but even with a few extra scuff marks on the handles, it's still holding up well (no colour transfer, for one thing). Some people shy away from buying lighter coloured bags because they're afraid that the bags won't weather wear as well, but I haven't found that to be the case with Marc Jacobs bags.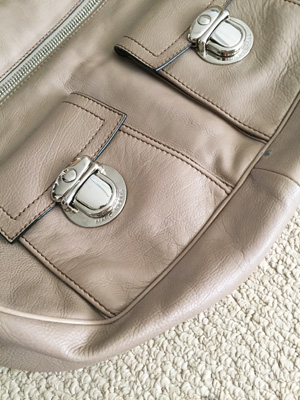 Sophia
Finally, the Sophia – Stella's baby sister. It's about half the size of the Stella, with three inner compartments, very much like the Blake, which further limit its "volume". Of the three, it's definitely the smallest, though still quite functional – and I say that as someone who loves big bags.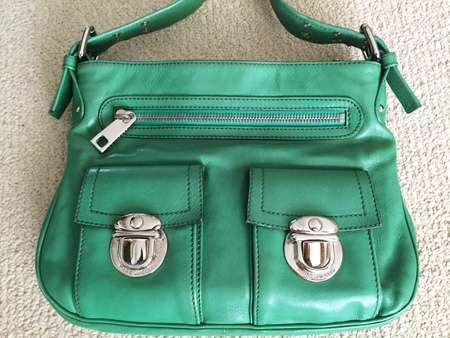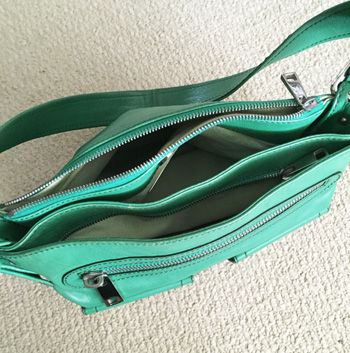 I'll be honest: although I certainly love its overall looks, I bought my Sophia mostly for the colour. I've been wanting a green bag for ages, and this particular shade ("Emerald") is perfect. (The light green suede lining is also lovely.) My bag is in good condition, with only a bit of wear on the bottom corner edges.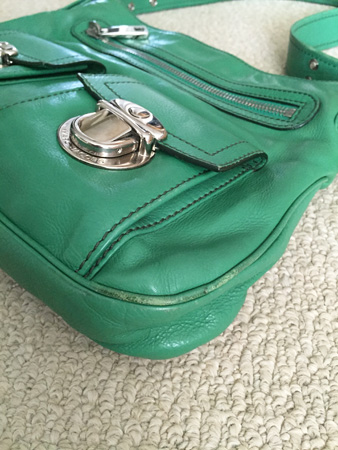 I'll be even more honest, and admit I overpaid for it. After shipping and customs (the seller didn't mark it as a "used" bag, grrr!), it cost me a bit over $220. The exchange rate is killing my eBay mojo, you guys. That price is not terrible, given the quality, and I was happy to pay a little extra for the colour I really wanted but … damn you, weak Canadian dollar!
If you live in the U.S., you should have no problem finding these older MJ bags in good condition for well under $150 on eBay, and I would definitely recommend them. The quality is fantastic (just make sure you get good, clear photos of the bag you're buying to verify the condition), the style is classic, and they are not bags you will see many other people carrying – probably a big reason why I always get a TON of compliments when I wear mine.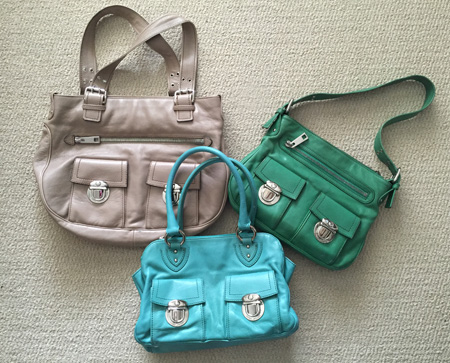 Got question? Hit me up in the comments.